George Alexander Hooker was born into a military family and joined the army in 1903. He landed in France in December 1914 and was killed in action near Ypres in March 1915. His father lived in Henry Road. A brother also died during the war. A brother-in-law was one of the men who flanked the 'Unknown Warrior' when he was carried to his grave in Westminster Abbey in 1920.
HOOKER, GEORGE ALEXANDER
Corporal, 4th Battalion, King's Royal Rifle Corps
George landed in France on 20th December 1914. He was killed in action on 2nd March 1915 while serving as Corporal 5576 in the 4th Battalion of the King's Royal Rifle Corps. He was aged 25 and unmarried. He is buried at Voormezeele Enclosure No.3, (grave: II. B. 22), some four kilometres south-west of Ypres town centre in Belgium.
News of George's death was reported in a letter dated 17th March 1915, sent from the officer in charge of records at the Rifles Record Office in Winchester, Hampshire to George's widowed father at 2 Pleasant Villas, Victoria Road, Ramsgate, Kent. The letter, using Army Form B 104-82 stated:
"Sir, it is my painful duty to inform you that a report has this date been received from the Office of Records 3 Echelon notifying the death of (No.) 5576 (Rank) Corporal (Name) G A Hooker (Regiment) 4 Bn King's Royal Rifles which occurred with British Expeditionary Force on 2nd March of injuries received, and I am to express to you the sympathy and regret of the Army Council at your loss. The cause of death was killed in action.
Any application you may wish to make regarding the late soldier's effects should be addressed to 'The Secretary, War Office, Whitehall, London S.W.', and marked on the outside 'Deceased Soldier's Effects'. I am sir your obedient servant L Russell Major for Colonel Rifles."
On 17th June 1915 the War Office wrote to the Rifle Record Office at Winchester informing them that article of George's personal property in their possession should be dispatched to George's father at Oxford House, 15 York Street. Gosport, Hampshire.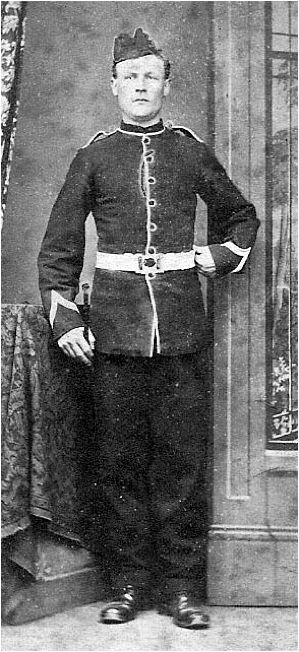 George was born in Dover, Kent in 1889, son of soldier John William Hooker and Elizabeth Ann Hooker (nee Sainsbury). His father had been born in Brighton Barracks, Sussex in 1845; his mother in Aldershot, Hampshire on 31st December 1860. George's paternal grandfather was also a soldier.
They had married in Devon in 1878, probably at Devonport and in 1881 had been resident at Aldershot in Hampshire where John's father was a bugle major in the 32nd Regiment Light Infantry.
George's siblings included Elizabeth Rose Hooker (later Barclay, born in Devonport, Devon in 1878, died in 1964), John William Hooker (born in Dover in 1881), Harriet Maud Hooker (later Bloomfield, born in Kohlstadt, South Africa c1884), Edith Daisy Hooker (later Barclay, born in King William's Town, South Africa c1886, died in 1933), Ethel Hooker (later Burgess, born in Dover in 1888, died in 1962), and Percy Maurice Hooker (born in Canterbury in 1890 and died there in 1891). The varied locations of their births were indicative of George's father's being a soldier.
At the time of the 1891 census one year-old George was living with his parents and six siblings at Freemason's Tavern in St. Margaret's Street, Canterbury, Kent. His father was a manager of a music hall and freemason's tavern. George's mother died in the Dover District, Kent later that year, on 22nd December, at the age of 30. After her death George and five siblings were placed in care.
The 1901 census found George, aged 11, living as a schoolboy at the Duke of York's Royal Military School in Chelsea, London. The school originally known as the Duke of York's Royal Military Asylum had been founded by Prince Frederick Augustus, Duke of York and Albany, son of King George III and Queen Charlotte and opened in 1803. At first it was an establishment to house with a)
regular army orphans, b) those whose father had been killed on foreign service c) those who had lost their mothers, and whose fathers were absent on duty abroad, and d) those whose fathers were ordered on foreign service or whose parents had other children to maintain.
In 1909 the School moved to new premises at Dover where it survives to this day. By then George was already in the army having volunteered from the Duke of York's Royal Military School. His long service (12 years) attestation papers, dated 10th October 1903, were completed at London when he was aged just 14 years. At the time he was four feet nine and one eighth inches tall, weighed 79 pounds with a 27-inch chest which expanded to 30 inches. George had blue eyes, brown hair and a fresh complexion and was an Anglican. He had eight moles on his chest and groin and a dot on his left wrist. He had been employed as a mender. Upon acceptance into the army George was posted to the headquarters of the 3rd Battalion of King's Royal Rifle Corps for training as a tailor for the 4th Battalion of the King's Royal Rifle Corps. He was posted to the latter on 1st July 1904. George is known to have been based in Cork in 1903, Gosport in 1905 and 1906, Colchester in 1906 and 1909, followed by Chakrata.
The 4th Battalion of the King's Royal Rifle Corps was a regular army battalion that was in Gharial, India at the outbreak of the war. It returned to England on 18th November 1914 when George was promoted to Corporal and became part of the 27th Division. A character assessment shortly before his promotion (dated 3rd November 1914) described George as 'sober, trustworthy, well-educated and intelligent. An excellent all round fellow, good musician'. It also noted that he had played in the band. George was in Winchester on 19th November 1914.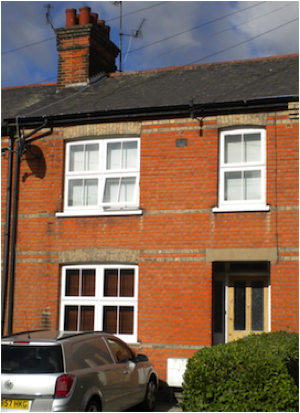 On 14th April 1919 George's father completed Army Form W5080, which required him to list George's surviving parents and siblings. They were: George's father and sisters Maud Bloomfield (aged 35) and Ethel Burgess (aged 30) all of Chale, 34 Henry Road, Chelmsford (pictured), and a further two sisters, Elizabeth Rose Barden (aged 40) of 35 Henry Road, Chelmsford, and Daisy Noble (aged 33) of 50 Normandy Street, Great Alton in Hampshire. Ethel Burgess was the widow of Frank Ernest Burgess who died from wounds on 28th October 1914 and is also commemorated on the Civic Centre Memorial.
On 23rd May 1920 the Rifle Record Office wrote to George's father at Chale, 34 Henry Road, advising him that his son's medals would be issued shortly. George was entitled to the Victory, British War and 1914 Star medals and his father signed receipts for them on 11th January 1921, 2nd April 1921 and 29th April 1921 respectively.
George is commemorated on the Civic Centre Memorial, Chelmsford and by the Chelmsford Parish Great War Memorial in Chelmsford Cathedral.
George's sister Edith Daisy Hooker married the Royal Navy sailor Francis George Noble in 1910. Francis was awarded the Conspicuous Gallantry Medal on 10th August 1917 'For conspicuous gallantry at the capture of Salif on the 12th June 1917. When a private of Marines was fatally wounded, and was lying in an exposed position, Noble went out from cover and brought him in. His behaviour throughout was most praiseworthy'. He was also awarded the French Médaille MIlitaire which was announced in the Supplement to the London Gazette, dated 17th March 1919. On 11th November 1920 when the 'Unknown Warrior' was carried to his last resting place in Westminster Abbey he was flanked by two lines of men who won the Victoria Cross or who had otherwise distinguished themselves by special valour during the First World War. They included representatives of the Royal Navy, the Army, and the Royal Air Force. Francis was one of the 28 Royal Navy men chosen to take part.
George's elder brother John William Hooker was killed on 2nd August 1918 and is also commemorated on the Civic Centre Memorial in Chelmsford.
After the war George's father lived at 110 Browning's Avenue, Chelmsford. He died in 1930.
131102