John William Hooker was a third generation soldier, who saw service in the South African ('Boer') War. After leaving the army he is thought to have been recalled at the outbreak of the First World War. He was killed in action in April 1918. His father lived in Henry Road, A brother was also killed during the war.
HOOKER, JOHN WILLIAM,
Corporal, 7th (Service) Battalion, Duke of Cornwall's Light Infantry
John is commemorated at Pozieres Memorial, Somme, France, some six kilometres north-east of Albert. The Memorial commemorates over 14,000 casualties of the United Kingdom and 300 of the South African Forces who have no known grave and who died on the Somme from 21st March to 7th August 1918 when the Allies were driven back by the Germans.
He is also remembered by the Civic Centre Memorial, Chelmsford, and by the Chelmsford Parish Great War Memorial in Chelmsford Cathedral. John was entitled to the 1914-15 Star, British War Medal, and Victory Medal.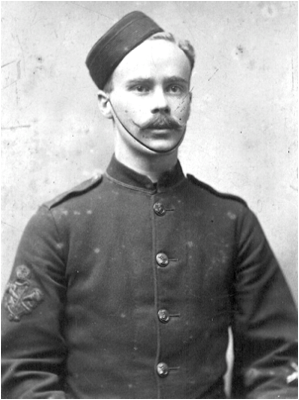 John was born in Dover, Kent in 1881, the son of John William Hooker and Elizabeth Ann Hooker (nee Sainsbury). His father had been born in Brighton Barracks, Sussex in 1845; his mother in Aldershot, Hampshire on 31st December 1860. They had married in Devon in 1878, probably at Devonport.
John's siblings included Elizabeth Rose Hooker (later Barclay, born in Devonport, Devon in 1878, died in 1964), Harriet Maud Hooker (later Bloomfield, born in Kohlstadt, South Africa c1884), Edith Daisy Hooker (later Barclay, born in King William's Town, South Africa c1886, died in 1933), Ethel Hooker (later Burgess, born in Dover in 1888, died in 1962) George Alexander Hooker (born in Dover in 1889) and Percy Maurice Hooker (born in Canterbury in 1890 and died there in 1891). The varied locations of their births were indicative of John's father being a soldier.
The 1881 census found three month-old John living with his elder sister and parents at Aldershot where his father was a bugle major in the 32nd Regiment. At the time of the 1891 census John was aged ten and was living with his parents and six siblings at Freemason's Tavern in St. Margaret's Street,
Canterbury, Kent. His father was a manager of a music hall and freemason's tavern. John's mother died in the Dover District, Kent later that year, on 22nd December, at the age of 30.
John lived in Oxford and enlisted at Stratford. He served in the South African Campaign and was awarded the Long Service and Good Conduct Medal. He is thought to have been in South Africa at the time of the 1901 census.
A decade later the census found 30 year-old at Gravesend Barracks in Kent.
John is believed to have been recalled to the army at the outbreak of the War and landed in France on 21st August 1914. On 2nd March 1915 his brother George Alexander Hooker was killed in action. He is also commemorated on the Civic Centre Memorial, Chelmsford. Their brother-in-law, Frank Ernest Burgess, had died from wounds on 28th October 1914. At the time of George's death John's father was living at 34 Henry Road in Chelmsford.
John was killed in action on 2nd April 1918 while serving as Corporal 9055 in the 7th (Service) Battalion of the Duke of Cornwall's Light Infantry. He was aged 38. His battalion was a New Army battalion that had formed in Bodmin, Cornwall in September 1914 and had landed in Boulogne, France in 1915. It was part of 61st Brigade in the 20th (Light) Division.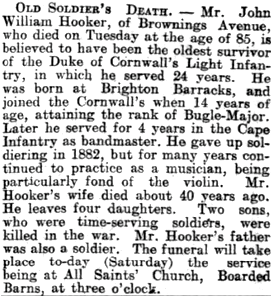 John's sister Edith Daisy Hooker married the Royal Navy sailor Francis George Noble in 1910. Francis was awarded the Conspicuous Gallantry Medal on 10th August 1917 'For conspicuous gallantry at the capture of Salif on the 12th June 1917. When a private of Marines was fatally wounded, and was lying in an exposed position, Noble went out from cover and brought him in. His behaviour throughout was most praiseworthy'. He was also awarded the French Médaille MIlitaire which was announced in the Supplement to the London Gazette, dated 17th March 1919. On 11th November 1920 when the 'Unknown Warrior' was carried to his last resting place in Westminster Abbey he was flanked by two lines of men who won the Victoria Cross or who had otherwise distinguished themselves by special valour during the First World War. They included representatives of the Royal Navy, the Army, and the Royal Air Force. Francis was one of the 28 Royal Navy men chosen to take part.
After the war John's father lived at 110 Browning's Avenue, Chelmsford. He died in 1930, aged 85.
131102