John Elliston Johnstone came to Chelmsford from his birthplace in Greenwich in the mid 1890s. He worked for Essex County Council and joined the army in December 1916. He went to France in early 1917 and was killed in action near Ypres in November 1918, five days before the Armistice. He had been gassed a few weeks before his death. His home was in Mildmay Road.
JOHNSTONE, JOHN ELLISTON,
Lance Corporal, 1st/14th (County of London) Battalion, London Regiment (London Scottish)
As the war drew to its concludion John was killed in action on 5th November 1918 by a piece of shrapnel while serving as Lance Corporal 513107 in the D Company 1st/14th Battalion of the London Regiment (London Scottish). He was aged 28.
He is buried at Angre Communal Cemetery, Ypres, West-Vlaanderen, Belgium (grave: I. A. 2. - west side). He is one of just eleven men commemorated there by the Commonwealth War Graves Commission.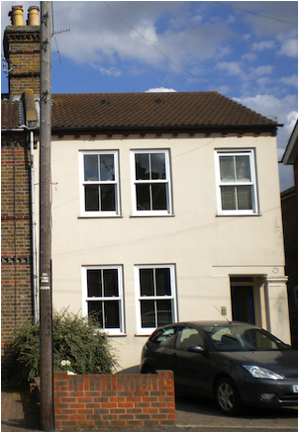 John was born in Lewisham, London in 1887, the son of Robert and Elizabeth Bertha Johnstone. His father had been born c1847 in Chelmsford; his mother c1849 in Bermondsey, London.
In 1871 the census had found John's father serving as a corporal aboard H.M.S. Bullfinch, a gun vessel, in Bombay Harbour, India. A decade later the next census had recorded him, unmarried, serving as a corporal in the Royal Marine Light Infantry at the Royal Marine Barracks in Chatham.
John's two siblings included Emma Ethel Johnstone who was born c1881 in Middlesex.
The 1891 census saw three year-old John living with his parents and a boarder at 1 Watkins Cottages in Greenwich. John's father was a naval pensioner, who died in 1896 in Chelmsford.
The 1901 census found 13 year-old John living with his widowed mother and sister Ethel at 13 Mildmay Road, Chelmsford (today's number 39). His sister was a milliner. A decade later the 1911 census recorded 23 year-old John, employed as an accounts assistant with Essex County Council, living with his widowed mother at 32 Mildmay Road (today's number 77).
John lived in Chelmsford and attested there on 10th December 1915. He was aged 28 years and one month, single, and worked as an accountant for Essex County Council. He was five feet seven and a quarter inches tall and had a chest of 37 inches, expandable by three and a half inches. John's next of kin was his mother, He was immediatley placed on the Army Reserve.
His initial service number was 7099 later joined the 1st/14th Battalion of the London Regiment (London Scottish).
John was mobliized on 6th March 1916 and on 21st October 1916 was appointed as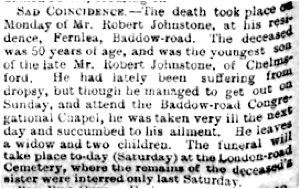 unpaid Acting Corporal. At the end of the ffollowing month he was promoted ti Acting Corporal.
He embarked from Southampton for France on 29th January 1917, in the process reverting to a rank of Private. He landed at Le Havre two days later. He joined his unit on 17th February 1917.
On 29th August 1918 he suffered gas poisoning and after recovering he rejoined his unit on 4th September 1918. He was appointed Lance-Corporal (unpaid) on 16th September 1917 and paid on 25th October 1918.

On 29th November 1918 the Essex County Chronicle reported:
"Among those killed in the war shortly before the close of hostilities was a son of Mrs. Johnstone, of 32 Mildmay Road, Chelmsford, John E. Johnstone, of the London Scottish, a well-known and very popular young man, who was formerly of the staff of the Essex Education Committee at Chelmsford, and a member of the London Road Congregational Church Choir."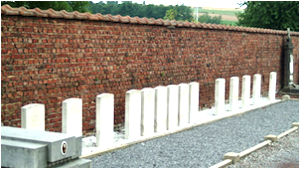 The day's Essex Weekly News carried news of John's death in a family announcement:
"Johnstone. - On Nov. 6th, killed in action in France, Lc.-Cpl. J. E. Johnstone, of the gallant London Scottish, dearly-loved and devoted son of Mrs. Johnstone, 32, Mildmay-rd., Chelmsford. and brother of Mrs. T. E. Wicks, Westcliff-on-Sea."
The paper also included a fuller report on his death:
"Killed in action. Sec.-Cpl. John Ellis Johnstone, of the London Scottish, son of Mrs. Johnstone, of Mildmay-rd., Chelmsford. is reported to have been killed by a piece of shell falling on his head on Nov. 6. Deceased, who was well known in Chelmsford and very popular as a vocalist, was for some years a member of the choir of the London-rd. Congregational Church, of which for a shorter period he was hon. secretary. On his last leave he attended the services at the church and tool his place among his old friends of the choir. Sympathetic reference to his death and to the loss sustained by his widowed mother was made by Rev. T. M. Mundle, pastor on Sunday morning. Cpl. Johnstone was 28 years of age. A member of the County Accountant's staff, being second clerk in the General County department, he joined the London Scottish in December, 1916, and went out to France in the early part of 1917. He came through the retreat from Cambrai without injury, nut a few weeks before his death he was slightly gassed."
John is commemorated on the Civic Centre Memorial, Chelmsford and on the Essex County Council War Memorial at County Hall, which records that he worked for the Finance Department and was killed in action in France – it records his middle name as 'Ellistone'. He is also remembered by the Moulsham Parish Memorial, St John's Church, Moulsham, and London Road Congregational Church War Memorial, Chelmsford. John was entitled to the British War Medal and Victory Medal.
The 1918 register of electors listed an absent John, and his mother still at 32 Mildmay Road, Chelmsford (now number 77, pictured).
131109