Ronald Herbert Jordan was born in Somerset and came to Chelmsford as a boy around 1910, having lived earlier in Glamorganshire. He was the son of an army veteran. He joined the army and was killed in action in October 1917. His home was in Coval Lane.
JORDAN, RONALD HERBERT,
Private, 1st Battalion, South Stafford Regiment (formerly of the Essex Regiment)
Ronald enlisted at Chelmsford and served as Private 10890 in the Essex Regiment. He subsequently served as Private 41746 in the 1st Battalion of the South Staffordshire Regiment, a regular army battalion that formed part of the 91st Brigade in the 7th Division. He was killed in action on 26th October 1917. He was aged 19.
Ronald has no known grave and is commemorated on the Tyne Cot Memorial, Zonnebeke, West-Vlaanderan, Belgium, on the Civic Centre Memorial, Chelmsford and by the Chelmsford Parish Great War Memorial in Chelmsford Cathedral. Ronald was entitled to the British War Medal and Victory Medal.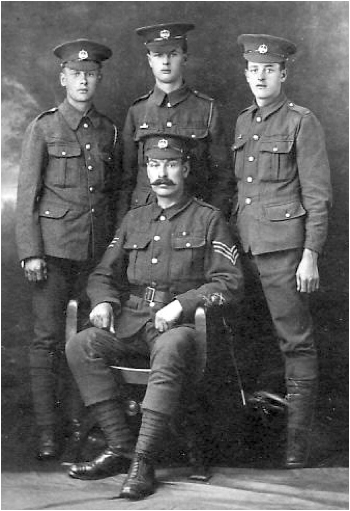 Ronald was born at Burnham, Somerset in 1898 (his forenames were recorded as 'Herbert Ronald'), the son of Ellis Woodard Jordan and Jane Jordan (nee Page). His father had been born in Wickham Market, Suffolk in 1864); his mother in St. George's, London c1868. The couple had married in Bath, Somerset in 1893.
Ronald's six siblings included Jessie Vera Jordan (born in 1894 in Bath, died in 1977), Ellis Allan George Jordan (born in 1895 in Swindon, Wiltshire, died in 1955), Douglas Wilfred Jordan (born in 1897 in Bath, died in 1980), Rose Edna Janet Jordan (born in 1906 in Ipswich, Suffolk, died in 1981) and Harry Woodard Jordan (born in 1909 in Chelmsford, died in 1931).
The 1901 census found three year-old Ronald living with his mother (a self-employed dressmaker) and three elder siblings at 16 Elm Street in Roath, Glamorganshire. Meanwhile his father is beleived to have been participating in the South African War,
A decade later the 1911 census listed 13 year-old Ronald living with his parents and five siblings at 36 Regina Road in Chelmsford. Ronald's father was a photographic artist; his brother Ellis a shop .
assistant at a furnishing ironmonger's; and sister Jessie a kitchen maid. The 1914-15 register of electors listed Ronald's father at 4 Coval Road in Chelmsford

The 1918 register of electors listed Ronald's mother and absent father still at 4 Coval Road. His sister Jessie lived at 28 Hugh Street, Victoria, London after the war.
The photograph to the left shows Ronald's father (Ellis Woodard Jordan) seated, with Ronald (back left), brother Douglas (back centre) and brother Ellis (back right).
As a 17 year-old Douglas had joined the 1/5th Battalion of the Essex Regiment, a Territorial battalion based at Chelmsford, on 4th March 1914 before the start of the war. The battalion was involved in fighting the Turks in Gallipoli, Egypt and Palestine. As a result of wounds sustained he was discharged on 30th December 1918.
Ronald's brother Ellis was a recipient of the Military Medal.
Ronald's mother died on 21st March 1925, aged 57 and was interred at Streatham Park Cemetery in south London.
101122