Arthur Frederick Juniper was born in Great Baddow, moved to Chelmsford by 1901, and worked as an apprentice hairdresser and then as a hairdresser. He married in 1905 and had four children. He served in the army and was killed by an exploding shell April 1917. His home was in Springfield Road. His brother-in-law was also killed during the war.
Arthur was born at Great Baddow in 1886, the only child of Frederick Juniper and Alma Juniper (nee Galley). His father had been born in 1866 in Little Waltham; his mother in 1867 at Great Leighs. The couple had married in 1885.
The 1891 census recorded five year-old Arthur living with his parents and an elderly lodger, at Russell's Green in Boreham. Arthur's father and the lodger were both agricultural labourers. A decade later the 1901 census listed Arthur, aged 15, living with his parents and a boarder at 1 Edward Terrace in Springfield Road (today's number 173). Arthur was a hairdresser's apprentice and his father was employed as a maltster's foreman at the Springfield Brewery.
Arthur married Harriet Rule in 1905. Their children, all Chelmsford-born, are thought to have included Ivy Alma Juniper (born 9th July 1905, died 1955), Cecil Arthur Juniper (born on 15th November 1907, christened at Holy Trinity Church in Springfield, and died in 1983), George Frederick Juniper (born on 22nd November 1910, died in 1979), and Vera Rosie Juniper (born 24 Sep 1915, died 1993). At the time of Ivy's christening on 2nd September 1905 Arthur was a hairdresser living in Springfield.
In February 1910 Arthur appeared at Chelmsford Petty Sessions with four other men on charges of 'being unlawfully found on premises at 16 Springfield Road (his home and shop) on 30th January, which was then a common gaming house." That night the police raided the premises where the men were playing the card game brag. Arthur said "I did not know I was doing wrong. I have been carrying this on ever since I have been here.' The men were all convicted and Arthur was fined 20 shillings. The Deputy Cheif Constable told then: 'I think you ought to be very much obliged to the police for pointing out the error of your ways.'
The 1911 census found Arthur, his wife, three children and a boarder living together at 16 Springfield Road, Chelmsford (later renumbered as 58). Arthur was still employed as a hairdresser. His parents lived next door.
In June 1914 Arthur was once again before the magistrates where he admitted permitting his shop at 3 Tindal Street to be used for betting purposes. Other men found on the premises by the police were charged with similar offences. This time he was fined £15 with 25 shillings costs.
On 2nd November 1914 Arthur's brother-in-law Sidney Walter Rule was killed in action while serving with the Essex Regiment.
Arthur enlisted into the army at Chelmsford. He was killed in action on 23rd April 1917 while serving as Private 26406 in the 9th Battalion of the Norfolk Regiment. Today he rests at Vermelles British Cemetery (grave: VI. B. 16).
JUNIPER, ARTHUR FREDERICK,
Private, 9th Battalion, Norfolk Regiment
always did his duty and any work which he was called upon to do."
Arthur is commemorated on the Civic Centre Memorial, Chelmsford and on the Springfield Parish Memorial at All Saints' Church. He was entitled to the British War Medal and Victory Medal.
"Juniper, - In loving memory of Pt. A. Juniper, only son of Mr. and Mrs. Juniper, of 171 Springfield Road, Chelmsford who was killed in France, April 23, 1917, aged 32.
One year has passed since that sad day. When our dear one was called away; No morning dawns, or nights begin, But what we always think of him. From Mother, Father, Wife and children."
The Essex County Chronicle carried news of death in its 25th May 1917 edition:
"Mrs. Juniper, 171 Springfield Road, Chelmsford, has received a letter from his officer particulars of the gallant manner in which her husband, Pt. A. J. Juniper, met his death. The officer writes: 'I am indeed deeply grieved at your great loss. He was a good soldier and a brave man, and he died at his post. He is and will be greatly missed both by his friends, the n.c.o.'s, and also by me. In your great bereavement it will be your consolation that he died fighting for you and for his country. Mercifully, he suffered no pain, for his end came suddenly. He was at his post when an enemy shell struck the trench immediately behind him and killed him and also two of his colleagues. I deeply sympathise with you in your great and irreparable loss, and I mourn the loss of one of my splendid men, who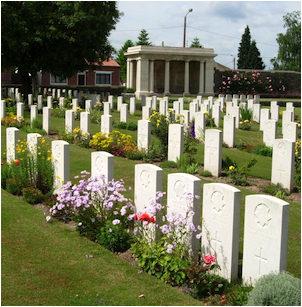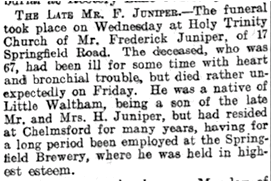 The 1918 register of electors listed Arthur's widow at 171 Springfield Road (later numbered 125 and demolished and now part of the site of Balmoral Court). Arthur's mother died in 1920, aged 53; his father in 1933, aged 67. Arthur's widow died in 1960, aged 75.
131010