George Edward Marshall was born in Springfield into an agricultural family. He joined the army in 1915 and was killed in action in November 1917. His family lived at Dukes Farm.
George was born in Springfield in 1898, the eldest child of Charles William Marshall and Florence Annie Marshall (nee Carter). His father had been born c1877 in Little Leighs; his mother c1878 at Springfield. the couple had married in 1897.
George was one of five children, two of whom were dead by 1911. His siblings included Percy Charles Marshall (born 1903 in Buttsbury, died 1971) and Dorothy Edith Marshall (born 1906 in Nevendon, died 1999).
The 1901 census found George, aged two, living with his parents at Writtle, where his father was a horseman on a farm. A decade later the 1911 census found George, his parents, two surviving siblings and a boarder living at Offen's Cottage, Cranes Fram, Nevendon where his father was horseman on the farm.
George later lived in Chelmsford and enlisted at Southend. He was killed in action on 20th November 1917 while serving as Private 51098 in the 8th Battalion of The King's (Liverpool Regiment). He had formerly served as 20779 in the East Surrey Regiment.
On 28th December 1917 the Essex Weekly News reported:
"Pte. George E. Marshall, King's Liverpool I.R., son of Mrs. C. Marshall, of Dukes Farm, Springfield, is reported missing since Nov. 2. he had been in the Army nearly two years, and went to the Front about four months ago. He is only 19 years of age."
George is commemorated on the Thiepval Memorial, near Albert, Somme, France, on the Civic Centre Memorial, Chelmsford and on the Springfield Parish Memorial at All Saints' Church. He was entitled to the British War Medal and Victory Medal.
MARSHALL, GEORGE EDWARD,
Private, 8th Battalion The King's (Liverpool Regiment) (formerly if the East Surrey Regiment)
On 22nd November 1918 the Essex Weekly News published an in memoriam notice from George's family:
"In loving memory of George E. Marshall, who lost his life 20th Nov. 1917.
We think we see his smiling face As he bade his last good-bye, And left his home for ever In a foreign land to die. But the hardest part is yet to come And we miss among the crowd The face of our dear one.
- From his loving Father, Mother, and Brother and Sisters, Dukes Farm, Springfield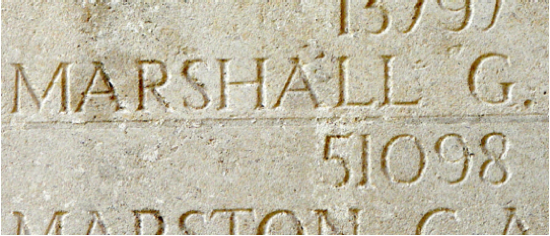 George's father later resided at Barnes Cottages, Springfield, according to a 1920 street directory. His mother died in 1967, aged 88.