Stanley Arthur (sometimes 'Arthur Stanley') Marshall was born and raised in Chelmsford. He worked at Chelmsford's Hoffmann's bearings factory before joining the army. He died from wounds in May 1917. His home was in Church Cottage's in Springfield.
Stanley was born on 29th April 1894 in Chelmsford, the son of the gardener Alfred Marshall and Mary Jane Marshall. His father had been born c1849 in Newton, a village east of Sudbury in Suffolk; his mother c1858 in Brotton, Yorkshire. the couple had married around 1877.
Stanley was baptised at the London Road Congregational Church in Chelmsford on 12th May 1895.
His eleven siblings (all Chelmsford-born except where stated) included: John Marshall (born c1878 in Lofthouse, Yorkshire), Thomas Herbert Marshall (born in 1878), Florence Marshall (born in 1880), Charles Ernest Edgar Marshall (born in 1883), Cecil Frank Marshall (born in 1885), Ada Eleanor Marshall (born in 1886), Maud Constance Marshall (born in 1888), Rose Marshall (1890-1890). Ethel May Marshall (1892-1978), Harold Marshall (born in 1897) and Reuben Owen Marshall (1889-1960)..
In 1881 Stanley's parents and three siblings had been resident at 2 Prospect Place in St. John's Road, Chelmsford (later renumbered). At the time his father was a gardener at a nursery. A decade later the family had been living at 4 St. John's Road (later renumbered as 10).
Stanley made his first census appearance in 1901. Then he was recorded aged seven living with his parents and seven siblings at 4 Reuben Terrace in Moulsham Street, Chelmsford (later renumbered). Stanley's father was employed as a gardener as was his brother Charles. Brother Cecil was a grocer's assistant.
The 1911 census found 16 year-old Stanley living with his parents and two younger brothers at Church Cottages, Springfield Green in Springfield. Stanley was an assistant at Hoffmann's ball-bearings factory in Chelmsford. His father was a gardener at Springfield Dukes.
Stanley lived in Springfield and enlisted at Ipswich, Suffolk. He served as Private 5680 in the Cambridgeshire Regiment.
Stanley died from wounds on 5th May 1917 having by then transfered to become Private 40297 in the 2nd Battalion of the Lincolnshire Regiment. Today he lies buried at St. Sever Cemetery Extension, Rouen in France (Grave: P. I. D. 3A.).
MARSHALL, STANLEY ARTHUR,
Private, 2nd Battalion, Lincolnshire Regiment (formerly of the Cambridgeshire Regiment)
In May 1917 the Essex Weekly News carried the following family announcement:
"Marshall: In loving memory of Pte. Sid. [Sic] Marshall of the Lincolnshire Regt., son of Mr. and Mrs. A. Marshall, Church View, Springfield, who died of wounds, May 5th, 1917, aged 23."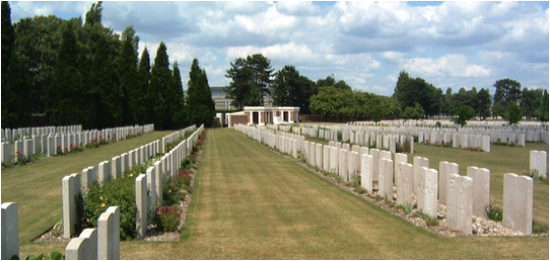 Stanley is not commemorated on the Civic Centre War Memorial in Chelmsford, but is remembered by the war memorial at All Saints Church in Springfield. He was entitled to the British War Medal and Victory Medal.
The 1918 register of electors listed Stanley's parents still at Church Cottages. His mother died in 1924. aged 66. His father died in 1932, aged 83.