Eric Elsdale Molson was born in Chelmsford, the son of a physician, surgeon and M.P., and a member of the family behind the Canadian brewing company which still bears their surname. He was educated at Chelmsford Grammar School. Cheltenham College, Rugby School, and Cambridge University. He joined the Royal Scots as an officer in September 1914 and landed in France three months later. He was killed in action near Ypres in April 1915. His family had lived in Rainsford House, Duke Street, but left for Sussex in 1906. Despite that he is commemorated on Chelmsford's Civic Centre war memorial, which is situated on the site of Rainsford House. Two brothers were killed during and immediately after the Second World War; a third brother was a Conservative politician.
MOLSON, ERIC ELSDALE,
Lieutenant, 2nd Battalion, Royal Scots (Lothian Regiment)
His Colonel wrote:
"I had great admiration for the boy. He was universally popular. We should have considered ourselves very fortunate to get him to come into the regiment permanently. He was such a delightful type of an English gentleman, I often used to think when I looked at him."
Another wrote:
"He was very popular with everyone in the battalion, and especially with his own platoon. Although he was a strict disciplinarian and insisted on things being thoroughly done, he always did the most dangerous work himself, such as going in front of his trench to put up the barbed wire, with the result that his men had absolute confidence in him. he did some particularly daring sniping work, which resulted in him being twice grazed by the German snipers, once in the head. For this work his name was sent to the General."
The July 1915 edition of King Edward VI Grammar School's publication, The Chelmsfordian Magazine reported:
"E. E. Molson, Lieut. in the Royal Scots Guards, was killed in action. He was with us from September 1902, to July 1903. Some of us can remember him as a jolly little boy in the Preparatory Form. Now he has made the great sacrifice."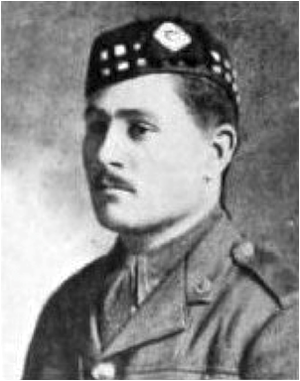 Eric was born at Coval Cottage, Rainsford Road, Chelmsford on 26th March 1894, the second son of John Elsdale Molson and Mary Molson (nee Leeson). His father had been born on 6th August 1863 in Quebec, Canada and was to die in 1925, and was part of the family that started the Canadian brewery which still bears the family surname. His mother had been born in Argentina, the daughter of Dr. Arthur Edmund Leeson, and was baptised at St. John's Cathedral in Buenos Aires on 16th June 1863. Eric's parents had married on 5th April 1891 at Christ Church, Marylebone, London.
The Medical Register for 1891 had listed Eric's father as employed at the Middlesex Hospital in London. having registered as a doctor on 19th September 1889.
Eric was christened at St. Mary's Church (today's Cathedral), Chelmsford on 29th April 1894. At the time Eric's father was described as a physician of Coval Cottage. Eric's five siblings included Harold Elsdale Molson (born in Quebec, Canada c1893, died in 1946), Gerald Hildred Elsdale Molson (born in Springfield 1896, died in 1939), Agnes Violet Alice Molson (born in Chelmsford in 1898), and Arthur Hugh Elsdale Molson (born in Chelmsford on 29th June 1903, died 1991). A fifth sibling had died by 1911.
In 1895 Eric's family moved from Coval Cottage to live in Springfield Road,

Springfield, to Rainsford House, in Duke Street, Chelmsford (pictured). The property was newly built for Eric's father, with planning permission granted in April 1895. A tender of £5,000 to build the property was accepted the following month. The plans for the house, designed by Arthur Bartlett, were displayed at the Royal Academy in the summer exhibition of 1896.
The 1901 census found Eric, aged seven, living with his parents and three siblings at Rainsford House – ironically the future site of Chelmsford's war memorial, which bears Eric's name. Eric's father was still working as a physician and surgeon. The large household also included six servants and another physician, Arthur E. Scoll, who was a boarder.
A portrait of Eric and his elder brother Harold by Gerald Fenwick Metcalfe was exhibited at the Royal Academy in 1902. Below is an extract from the painting showing Eric.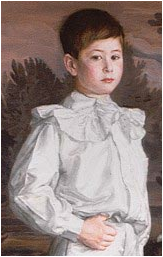 Eric was educated at King Edward VI's Grammar School, Chelmsford between September 1902 and July 1903. At the time of his admission his father was still a doctor living at Rainsford House.
The Molsons moved from Chelmsford to Goring Hall, near Worthing in Sussex early in 1906, with Rainsford House being purchased by Francis Henry Crittall. The family were at Goring Hall at the time of the census in April 1911.
Eric attended Cheltenham College in Gloucestershire, Rugby School, and Pembroke College, Cambridge. While at Cheltenham he was captain of the College Football XV, 1912-1913, a Prefect of the College and winner of the Horby Prize. He also served within Cheltenham College's Officer Training Corps between 1909 and 1st May 1911 when he resigned. The 1911 census recorded him, aged 17, and a boarder at Hazelwell, College Road in Cheltenham.
On 15th April 1912 Eric's father's second cousin, Harry Markland Molson, died when R.M.S. Titanic struck an iceberg and sank in the Atlantic Ocean.
On 6th August 1914, two days after the outbreak of the war and while still an undergraduate at Pemnroke College, 20 year-old Eric completed his application for a commission in the special reserve of officers. At the time his permanent address was Goring Hall and his occupation was a university student. On 28th August 1914 Eric passed his army medical at Cambridge. At the time he was 71 inches tall, had an expanded chest of 39 and a quarter inches, weighed 182 pounds, and had good hearing, teeth and vision, with normal colour vision.
He subsequently applied for a temporary commission in the regular army, giving his address as Pembroke College. That application was successful, as on 22nd September 1914 the London Gazette announced that he had been commissioned as a 2nd Lieutenant in the 3rd Battalion of the Royal Scots. He left the 3rd Battalion on 22nd December 1914 to join the 2nd Battalion of the Royal Scots, and two days later he landed in France.
On 16th March 1915 the London Gazette reported that Eric had been appointed Lieutenant.
Eric was killed in action on Good Friday, 1st April 1915 at Vierstraat near Ypres in Belgium while on duty in a gap between two trenches. He was aged 21.
He was originally buried behind the trenches where he fell, then at Ferme Godzonne on the Chemin de Perperinghe, and today lies at Godezonne Farm Cemetery, Ypres (grave: I. A. 9). Eight days later the Essex County Chronicle reported:
"Lieut. Molson Killed – Lieut. Eric Elsdale Molson, aged 21, 3rd Batt. the Royal Scots, second son of Major and Mrs J. Elsdale Molson, of Goring Hall, Worthing, formerly of Chelmsford, was killed in action on Good Friday.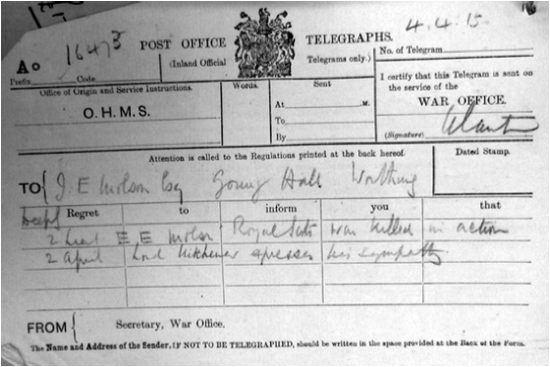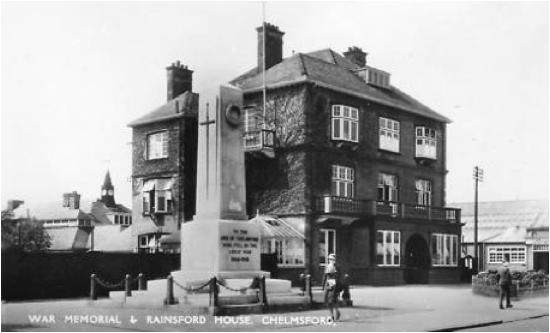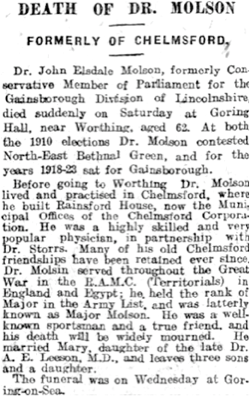 Eric is commemorated on the Civic Centre Memorial, Chelmsford and on the Goring War Memorial in Sussex. He was entitled to the 1914-15 Star, British War Medal, and Victory Medal. He left an estate valued at £185 1s 4d.
Eric's father held a commission as a major in the Royal Army Medical Corps (Territorials) and served at home and in Egypt from August 1914 to December 1918. He was also a Member of Parliament for Gainsborough. Lincolnshire from 1918 to 1923, having unsuccessfully contested North East Bethnal Green in the two 1910 general elections. Eric's father died on 28th November 1925, aged 62, and his funeral was held at St Mary's Church, Goring-on-Sea, Sussex on 2nd December 1925. He left an estate valued at £202,905.
Eric's mother died in 1932.
Eric's elder brother, Harold Elsdale Molson died on 5th February 1946 as a Major in Princess Patricia's Canadian Light Infantry, aged 53, and is commemorated by the Commonwealth War Graves Commission. Younger brother, Gerald Hildred Elsdale Molson, was killed serving as a Lieutenant Commander and second in command of H.M.S. Rawalpindi when she was sunk following action with the German warships Scharnhorst and Gneisenau on 23rd November 1939. Eric's youngest brother Arthur Hugh Elsdale Molson (1903-1991) was later a Conservative politician and was created Baron Molson in 1961. Goring Hall is now a private hospital.
131201