Arthur Benjamin Nokes (sometimes 'Noakes') found himself in the workhouse after the deaths of his parents. He joined the army before 1911, left and two years later married in Chelmsford. He worked as a painter and at Crompton's. He was recalled to the army at the war's outbreak and killed in action in February 1915 near Ypres. His brother lived in Hamlet Road.
NOKES, ARTHUR BENJAMIN,
Private, 1st Battalion, Bedfordshire Regiment
9 Feb 1915 - Bus Farm, Cooker Farm etc., Wulvergem
Brigade returns to trenches. Hd.Qrs. & two companies of the Battn to 'Bus Farm' near Lindenhoek Cross Roads, two remaining companies in support to 1st Cheshires in Cooker Farm & Farms near Dressing Station, respectively.
10-12 Feb 1915
Remained as above.
13 Feb 1915
Took over 'D' Sector Trenches from 1st Cheshire Regt.
Quiet day, a little desultory shelling.
14 Feb 1915
No casualties. Heavy Artillery & Infantry fire to Northwards during night. Baling & pumping carried on all night in order to reduce water in trenches.
15 Feb 1915
Quiet except for sniping during the day: heavy artillery & rifle fire to North during the night. Baling & pumping in trenches all night. Casualties - Lt. Landon (attached) killed, 4 wounded.
16 Feb 1915
Nothing special.
Casualties 2 killed, & 3 wounded.
17 Feb 1915
Orders for relief by 13th Brigade cancelled. Casualties - 2 killed. 2 bombs fired at enemy who at once replied with eight.
18 Feb 1915
Orders for relief issued, but cancelled shortly afterwards, 2 companies 1/Dorset Regt. took over firing line in section, the 2 Bedford Companies relieved going into Section Reserve. Casualties 1 killed, 1 wounded. "
The Essex County Chronicle carried a short report on his death on 19th March 1915:
"Bandsman A. B. Nokes, who was killed in the trenches on Feb. 18., was the brother of Mr W. Nokes, 5 Hamlet Road, Chelmsford."
A week later the Essex Weekly News reported:
"Killed in action. - Pte. A. B. Nokes, of the 1st Bedfords, was killed in action on Feb. 18. Deceased was previous to the war employed at the Arc Works, and a member of the Works Band."
5 Hamlet Road was later given the number 19 (pictured).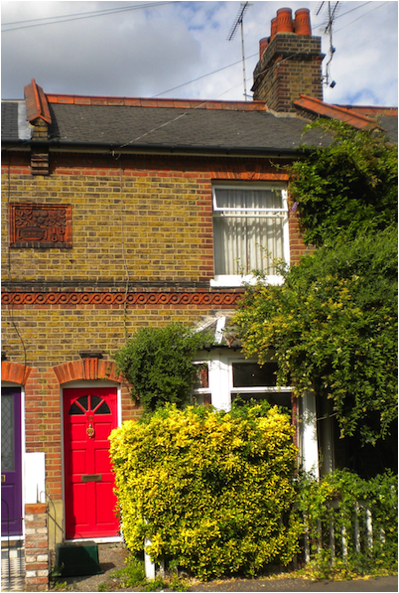 Arthur was born in Springfield on 24th April 1888 (at the time his forenames were recorded as 'Benjamin Arthur'), the son of William Nokes and Elizabeth Nokes (nee Skingley). Arthur's father had been born in 1863 in Great Baddow; his mother c1865 in Springfield.
The couple had married at All Saints' Church in Springfield on 28th November 1887. At that time Arthur's father was 24 and employed as a labourer. His bride was a year his junior and both lived in Springfield.
Arthur was baptised at Holy Trinity Church in Springfield on 3rd June 1888 as 'Benjamin Arthur'. His siblings included William Nokes (born c1886), Ada Lois Nokes (born in 1891 and baptised at Holy Trinity Church in Springfield on 5th May 1891), George Robert Nokes (1893-1983) and Florence Emily Nokes (1896-1989). All were born in Springfield.
The 1891 census found Arthur, his parents and two siblings at Stacey's Farm, Springfield. Arthur's father was an agricultural labourer. However, both
parents would be dead within a decade. First his mother died in 1898, aged 34. His father died three years later. Both are buried at Holy Trinity Churchyard in Springfield.
The family then fell on hard times. The 1901 census listed Arthur and two younger siblings living at the Chelmsford Union Workhouse (later St. John's Hospital) in Wood Street. Arthur was described as a 12 year-old pauper. His brother, William, was recorded with their grandparents, Thomas and Sarah Skingley in Arbour Lane, Springfield.
A decade later the1911 the census found Arthur's 20 year-old sister working as a domestic servant at 31 Methuen Park in Muswell Hill, London. His eldest brother, William, was living with his wife, Beatrice, and two young children at 6 Waterhouse Street in Chelmsford. Meanwhile Arthur, aged 22, was in the army at Maida Barracks in Aldershot, Hampshire where he was a musician. He had enlisted in London, while living in Chelmsford.
Aged 25, Arthur married Norah Whittlecroft on 20th December 1913 at St. Mary's Church, Chelmsford. At the time he was a painter of 8 Townfield Street, Chelmsford. His bride, aged 22, lived at the same address and was the daughter of the late William Whittlecroft.
Arthur was recalled to the army at the start of the war and served in the 1st Battalion of the Bedfordshire Regiment, a regular army unit, which was based in Mullingar in Ireland. As part of the 5th Division it left Belfast on the S.S. Oronsa on 14th August 1914 and arrived at Le Havre on the night of the 15th August 1914, embarking the next day. He was killed in action on 18th February 1915 while serving as Private 8101 in the 1st Battalion of the Bedfordshire Regiment. The regimental diary entry for that period records: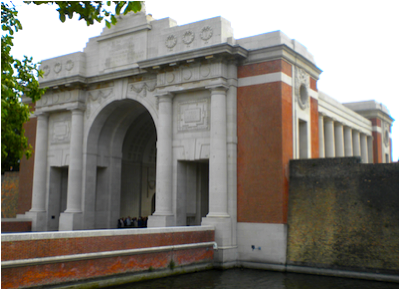 Arthur was entitled to the Victory, British War and 1914 Star medals. Arthur has no known grave and is commemorated on the Ypres (Menin Gate) Memorial in Belgium and on the Civic Centre Memorial, Chelmsford.
140323