Alfred Edward Oliver came to Chelmsford from London as a boy. He worked for the Essex County Chronicle before joined the army. He was killed in action near Arras in April 1918 by an exploding shell. His home was in Victoria Road.
Alfred was born in West Kensington, London on 28th May 1893, the second son of the butcher William Elijah Thomas Oliver and Annie Oliver (nee Joyce). He was baptised at on 18th June 1893 at St. Matthew's Church in Hammersmith, London. At that point his father was a butcher living at 42 Havelock Road
Alfred's father had been born in 1868 in Chelmsford; his mother in 1868 in Braintree. They married in on 23rd October 1888 at St. Philip's Church in Dalston, London. At the time Alfred's father was age d 22 and working as a butcher. His mother was a year younger and both were living at 44 Mildmay Park in Dalston.
Alfred was one of seven children, two of whom were to die by 1911. They included a Evelyn Annie Oliver (born in 1895 in West Kensington, died in 1924), Ronald Percy Oliver (born in 22nd November 1901 in Acton Green. Middlesex, died 1971), Douglas Albert Oliver (born on 20th September 1904 in Chelmsford, died in 1984) and Frederick Jack Oliver (born in 1911 in Chelmsford).
At the time of the 1901 census seven year-old Alfred was recorded with his parents and sister at Wolseley Road in Acton. Middlesex. His father was a butcher. Around 1903 the family moved to Chelmsford and in 1911 the census recorded 17 year-old Alfred living with his parents and four surviving siblings at 45 Victoria Road, Chelmsford. He was a clerk while his father was still employed as a butcher.
Alfred enlisted in Chelmsford. and served as Private 62947 in the Welsh Regiment. By the time he was killed in action on 5th April 1918 he had transferred to Sapper 530204 in the 218th Field Company of the Royal Engineers. He was aged 24. He is buried at Bienvillers Military Cemetery, 18 kilometres south-west of Arras, Pas de Calais, in France (grave: X. C. 3).
On 12th April 1918 the Essex County Chronicle reported:
"Sapper Alfred Edward Oliver, R.E., second son of Mr. and Mrs. William Oliver of 45 Victoria Road, Chelmsford was killed in France on April 5th. He was working with other members of his section when a shell fell among them and he was killed. It was found possible to bury the body properly behind the lines. Mr. Oliver at the outbreak of the war was a valued member of the staff of the Essex County Chronicle and was liked by everyone at the Chronicle Offices."
A week later the paper included the following acknowledgement from Alfred's parents:
"Mr. and Mrs. William Oliver wish to thank all kind friends for the very many expressions of sympathy shown to them on their recent sad bereavement - Victoria Road, Chelmsford."
OLIVER, ALFRED EDWARD,
Sapper, 218th Field Company, Royal Engineers (formerly of the Welsh Regiment)
Alfred is commemorated on the Civic Centre Memorial, Chelmsford and by the Chelmsford Parish Great War Memorial in Chelmsford Cathedral. He was entitled to the British War Medal and Victory Medal.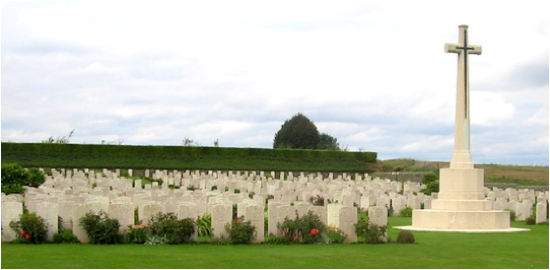 The 1918 register of electors listed Alfred's parents still at 45 Victoria Road (now demolished). His father died in 1932.
131207