William Oxley Parker (often 'Oxley Wiliam') worked as an agricultural labourer and married before the war, producing at least one child. He died from wounds in September 1918.
PARKER, WILLIAM OXLEY,
Private, 8th Battalion, Princess Charlotte of Wales's (Royal Berkshire Regiment)
Oxley married Rosetta Attridge in 1912. She had been born around 1891 in Romford, the daughter of Joseph and Jane Attridge. In 1911 she had been living with her parents and a sister at 11 Waterhouse Street in Chelmsford.
Oxley and Rosetta's one confirmed child was Joseph Oxley William Parker (born 1913). When Joseph was baptised at St. John's Church, Moulsham on 16th March 1913 Oxley was a labourer living at his in-laws' house - 165 Upper Bridge Road, Chelmsford (pictured).
Oxley later lived at Stock, enlisted into the army at Chelmsford and landed in France on 16th December 1915. His father died in 1917, aged 63.
Oxley died from wounds on 21st September 1918 while serving as Private 18152 in the 8th Battalion of the Royal Berkshire Regiment. He is buried at Doingt Communal Cemetery Extension, Somme, in France (grave: I. B. 10). The cemetery was used by the 20th, 41st and 55th Casualty Clearing Stations in September and October 1918.
Oxley is commemorated on the Civi14c Centre Memorial, Chelmsford. He was entitled to the 1914-15 Star, British War Medal, and Victory Medal. He may be the 'William Parker' commemorated on Stock's War Memorial as his widow is known to have lived at Stock after the war. She remarried in 1920.
Oxley's mother died in 1933.
131208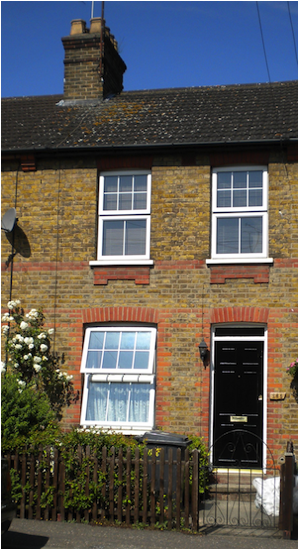 Oxley was born at Woodham Walter in 1891, the son of John Parker and Harriett Parker (nee Boreham). His father had been born in Clare, Suffolk around 1854; his mother in Maldon also around 1854. The couple had married in 1875. In 1881 they had been living in Mayland; and early in 1891, prior to Oxley's birth, had been living near the Bell Inn in Woodham Walter. On both occasions Oxley's father had been an agricultural labourer.
Oxley's six siblings included Bertha Matilda Parker (born 1877 in Mundon), Alice Mary Parker (born 1879 in Mundon), Charles William Parker (born 1882 in Latchingdon), John Edmund Parker (born 1885 in Mundon), and Harry Parker (born 1888 in Mundon). The sixth had died by 1911.
The 1901 census found Oxley living with his parents and three elder brothers at Little Farm, Buttsbury near Ingatestone. His father and eldest brothers were horsemen on a farm, his brother John a stockman on a farm.
In 1911 the census recorded Oxley living with his parents in Roxwell. Oxley was a farm labourer; his father was a horseman on a farm.