Henry Richard Rablin was born into a military family and served in the Royal Field Artillery in the latter part of the 19th century. He married in 1902 in Essex and after leaving the army came to Chelmsford around 1910, where he worked at Hoffmann's bearings factory. He had at least eight children. Recalled to the army at the outbreak of the war he was sent to Egypt in March 1915. He later returned to England and died in a military hospital six days before the Armistice. His wife and children lived in Upper Bridge Road.
RABLIN, HENRY RICHARD,
Regimental Sergeant Major, Royal Field Artillery
without affection on both sides turned out a dismal failure, and I am now cut off from what I most prize in this world, the kiddies. I won't insult you by asking to be good to the kiddies, for you always have been that. You need not answer this. H.R."
Witness added that her husband's pension was from his having been a sergeant in the Artillery. In another letter the husband said he would look round for a house, but that if she did not wish to go there would not insist upon it. He had had a meeting with all the family, and had "told them everything, my cruel treatment of you, and everything else. Their pity is for you, as is natural. They promised to help you to the best of their ability if you came.
The Mayor: It seems rather a pity to have all this* read.
Witness: I thought you would understand the case better.
A letter from the defendant to the Bench was read, expressing astonishment at receiving a summons, applying for month's adjournment, pointing out that he left only last Saturday after quarrel with his mother-in-law and wife, that he at once wrote to his wife offering to make a home for her, that there was desertion, actual or implied, and that had given her authority to spend his pension, which was about 14s. a week, for goods.
The Mayor said the application would be adjourned until Jan. 2. and in the meantime Mr. Crabbe, the Probation Officer, would be asked to look into the matter."
The outcome of that hearing is not known, but the birth of another child to Henry and Martha, Richard Rablin in 1916 ,suggests there was some sort of reconciliation between the couple.
Henry rejoined the army at the outbreak of the war and served in the Royal Field Artillery, with an initial service number of 14786. He landed in Egypt on 17th March 1915.
Henry died on 5th November 1918 aged 47 at the Military Hospital in Norwich. At the time he was Regimental Sergeant Major 715781 with the Royal Field Artillery with his home still at 84 Upper Bridge Road, Chelmsford.
News of his death appeared in a family announcement in the Essex Weekly News of 8th November 1918:
"Rablin. - On Nov. 5th, at Norwich Military Hospital, Reg.-Sergt.-Major Rablin, of the R.F.A., of 84, Upper Bridge-rd., Chelmsford. R.I.P."
He was buried at Chelmsford Borough Cemetery in Writtle Road on 18th November 1918 in grave C2385. The funeral service was conducted by the Reverend Monsignor Walton, Roman Catholic Priest.
Henry is commemorated on the Civic Centre Memorial, Chelmsford, and the Moulsham Parish Memorial, St John's Church, Moulsham. He was entitled to the 1914-15 Star, British War Medal, and Victory Medal.
The 1918 register of electors listed an absent Henry, and his widow still at 84 Upper Bridge Road, Chelmsford. Henry's widow married Frederick Storey in 1921, and eventually died in 1970.
On 26th May 1922 Henry's daughter Evelyn Maud Rablin was buried in the same grave as her father having died aged 19.
Henry's mother died in 1936, aged 86.
131221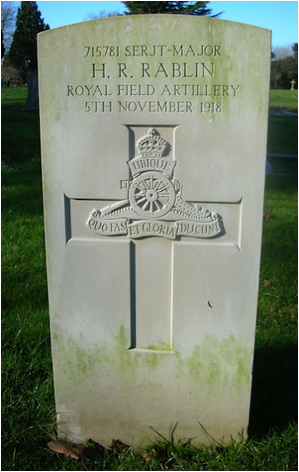 Henry was born in Calcutta, India around 1871, the son of a soldier Henry Rablin and Elizabeth Rablin. His father had been born 1838 in Chartham, Kent; his mother c1849 in Ireland.
Henry's siblings included Mary A. Rablin (born c1870), Florence Rablin (born c1871), Letitia Rablin (born c1878), William Rablin (born in 1881), Charles Edwin Rablin (born in 1883), John Rablin (born in 1885), Elizabeth Rablin (born in 1887) and Harriet Rablin (born in 1889). The elder three were born in India, the remainder in Portsmouth, Hampshire, indicating that his father settled in the town after leaving the army around 1884.
The 1881 census recorded Henry, aged eight living with his parents and two sisters at 3 Red Lion Court, Portsmouth. His father was a Chelsea Pensioner and warehouseman at a stay factory.
A decade later the census recorded Henry's family at 33 Osbourne Street in Portsmouth. Henry's father still worked as a warehouseman, while Henry was absent from the address, by then probably serving in the army like his father had done so before him.
The 1901 census found Henry at Deepcut Barracks Frimley Surrey, serving as a sergeant in the 33rd Brigade Royal Field Artillery.
On 27th February 1902 Henry married Martha Mary Clarry at West Mersea. At the time he was aged 27, a Sergeant in the Royal Field Artillery of Thornley in Surrey. His father was described as a factory manager. Henry's bride was aged 20, had been born on 10th February 1882in West Mersea, lived in West Mersea, and was the daughter of George Clarry, an agricultural labourer.
Henry and Martha's eight known children were Evelyn Maud Rablin (born 1902 in Ireland, died in 1922), George Henry Rablin (born in 1904 in Ireland. died 1942), Charles Edwin Monteith Rablin (born on 24th December 1905 in Yorkshire, died in 1980), Margaret Elizabeth Rablin (born in 1907 in Devon, died in 2004), William Patrick Rablin (born in 1909 in Devon), Sidney James Rablin (born on 17th July 1911 in Chelmsford, died in 1981), Ida Louise Rablin (born in 1914, died in 1999), and Richard Rablin (born on 28th November 1916, died in 1985).
Henry's father died in 1907 in Portsmouth.
In 1911 the census found 38 year-old Henry, his wife and five children living at 73 Upper Bridge Road in Chelmsford (renumbered as number 84 by 1913). He was a lathe grinder at Hoffmann's ball-bearings factory in Chelmsford.

On 28th November 1913 Henry appeared before Chelmsford magistrates having been summoned by his wife for desertion. The Essex Newsman reported on his appearance a day later:
""Matrimonial Differences. —Henry Richard Rablin, steel grinder, formerly of Chelmsford, now of Southsea, was summoned by his wife for alleged desertion.
The wife said she asked for a separation order, as she could not live with her husband again after the way had treated her.
He left her on November 22nd at 2.30 a.m. When he came home earlier at night he said he would not give her any of his money. He also told her he would make her "smell brimstone," and threatened throw her out of the back door. He began to push her, and hurt her arm. Her mother came in and defended her. He struck her mother, pushed them about, spat in their faces, and went out. He returned about 20 minutes past one, and searched for witness; but she was in the front bedroom with some people who lived with her, being afraid of her life.
He packed his things, smashed all the things on the table downstairs, and went off. She had not seen him since, although he had twice written.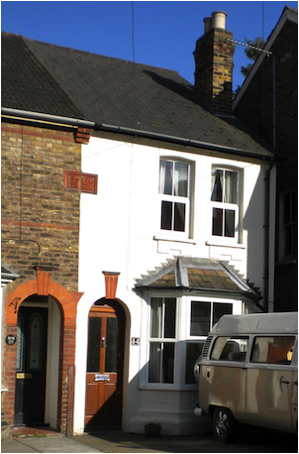 She had had about ten years of this off and on. He was an Army pensioner. She had six children, the eldest being ten.
Witness produced two letters she had received from her husband, in which he stated that he returned to the house, found that she had left - that was when she was in the front bedroom--so had "taken your tip and come to Portsmouth, but you must not think I am coming back to neglect you or your children. You can count on my full pension, which is £9 a quarter. As soon as I get anything I will send you some money. I am content long as I pay for my 'grub' here. But as you know, all is over between us. You have made Chelmsford a place I could, not hold my head up in, so I have to leave it. If you think of having revenge, and try to make Pompey (Portsmouth) a ditto place, you will find it will re-act on you, for while out of work I can send you nothing."
The letter also said he had placed his week's money in a vase, before he went out, but the wife denied this, saying did not leave a penny piece. The letter proceeded, "As usual, your tongue got in front of your brains, all ends. You think I have been bad to you, but I don't think any man can be true to a woman for whom he has no affection. I have tried to hide that fact for years. You must remember I did not seek you the first place. As you know, marriage