Bertie Radley came from Heybridge, married in London where he had three children and settled in Chelmsford around 1910 where he worked at Hoffmann's bearings factory. Having joined the army he was killed in action on the opening day of the Battle of the Somme in July 1916.
RADLEY, BERTIE*,
Lance Corporal, 2nd Battalion, Essex Regiment
In 1911 the census recorded 30 year-old Bertie living at 169 Moulsham Street in Chelmsford (pictured), with his wife, three children and a boarder. Bertie was a grinder at Hoffmann's ball-bearings factory in Chelmsford.
Bertie was recorded by the 1914-15 register of electors at 2 Park Avenue, Chelmsford.
During the First World War Bertie served as Lance Corporal 16354 in the 2nd Battalion of the Essex Regiment.
Bertie was killed in action in the Battle of the Somme on 1st July 1916. Today he lies in Serre Road Cemetery Number 2, Somme, France (grave: I. E. 8.).
Bertie's widow later lived at 14 Wilson's Road in Higham's Park near Walthamstow. She died in 1949.
The Essex Regiment Museum in Chelmsford includes a cigarette on display with the following caption:
"Last Half Woodbine Cigarette, 1 July 1916. From the body of L/Cpl Bertie Radley, 2nd Bn. killed near Serre on the first day of the Battle of the Somme. His body was found and buried on 20 July and his effects returned to his Chelmsford family."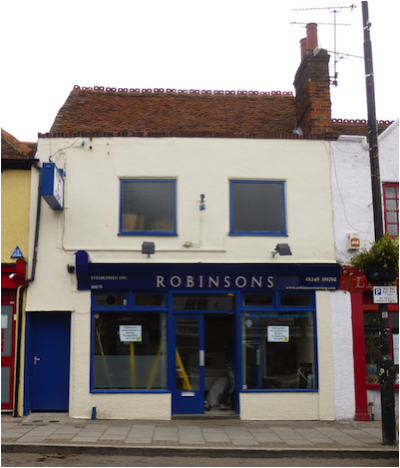 Bertie was born in Heybridge on 8th December 1880, the son of James Radley (1851-1936) and Agnes Jane Radley (nee Mott) (1853-1940). Bertie had a sister Agnes, who was born in Heybridge in 1878 and died in 1955.
In 1881 the census found 3 month old Bertie living with his parents at Roothings in Heybridge. His father was blacksmith at Bentall's iron works. A decade later the family of four was still there when the next census took place, and Bertie's father remained employed as a blacksmith.
Bertie was listed by the 1901 census, aged 20, and employed as a a labourer in a shipbuilding yard, living with his parents at Roothings in Heybridge.
On 4th November 1902 Bertie married Emily Jane Taylor in Islington, London. The couple had
three children by 1911: Douglas Bertram Radley (1903 – 1983), Gladys Ella Radley (1908 – 1921), and Doris Maud Radley (born 1910).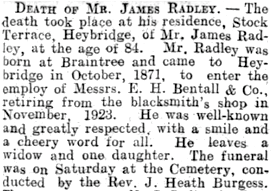 Bertie is not commemorated by the Civic Centre Memorial in Chelmsford nor the Moulsham War Memorial. However, he is commemorated by the Hoffmann's War Memorial at Chelmsford Cathedral.
140504