Thomas 'Tom' Sharpe was born in Kent, married and had eight children. He joined the Australian army in October 1914 and left Australia in February 1915 bound for Gallipoli. He was wounded there in May 1915, was evacuated to Egypt and died in Alexandria later that month. His connection with Chelmsford has yet to be established.
SHARPE, THOMAS,
Private, 8th Battalion, Australian Infantry, Australian Imperial Force
In 1911 the census recorded 36 year-old Tom living with his wife and seven surviving children at 1 Railway Terrace in Stone. Tom was a cement labourer.
Tom volunteered for the Australian Imperial Force on 1st October 1914 at Melbourne, Victoria, Australia. His attestation papers show that his next of kin wife was Thirza Augusta Sharpe, of 3, Amhurst Terrace, St. Vincent Road, Dartford, Kent (later at 120 Highett Street, Richmond, Victoria). He was employed as a florist. He was described as being 39 years eight months old, five foot six inches tall, weighed 11 stone and three pounds, with a 37 inch chest. He had a medium complexion, hazel eyes, brown hair, and was a member of the Church of England.
Tom was posted as Private 1236 in A Company of the 8th Battalion of the Australian Infantry, A.I.F. He embarked from Melbourne on H.M.A.T. A46 Clan MacGillivray on 2nd February 1915, part of the second reinforcements to the battalion.
He suffered a gunshot wound to the right thigh while in action on 1st May 1915 at Gallipoli and was evacuated on the hospital ship Guildford Castle fifteen days later. However, he succumbed to his wounds on 24th May 1915 in Alexandria, Egypt. He is buried at Alexandria (Chatby) Military and War Memorial Cemetery (grave: M. 160) in Egypt.
Private Sharpe's widow was granted a war gratuity pension in the amount of £58 per annum from 25th July 1915, and each of their children was granted £13 per annum from the same date. His personal effects were sent to her in a brown paper parcel from Egypt on the S.S. Ulysses on November 16, 1915. The parcel contained his wallet and some letters.
Tom is commemorated on the Civic Centre Memorial, Chelmsford and the Dartford War Memorial in Kent.
His widow died in Australia around 1941. Tom' connection with Chelmsford has yet to be ascertained.
140104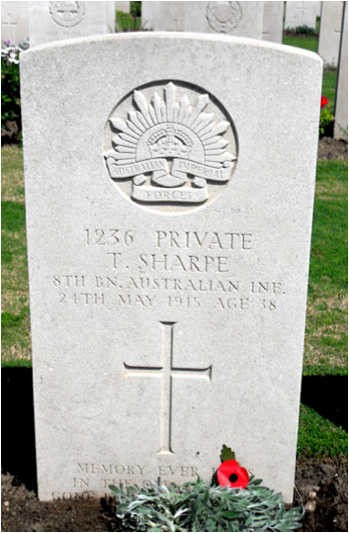 Tom was born in Dartford, Kent in February 1875, the son of Thomas Sharpe and Annie M. Sharpe. His father had been born c1845 in Cranbrook, Kent; his mother c1846 in Woodchurch, Kent. His siblings included Jesse Sharpe (born c1868 in Cranbrook); George W. Sharpe (born c1870 in Durham); Anna M Sharpe (born c1873 in Cranbrook) and Caroline Sharpe (born c1877 in Stone, Kent).
He married Thirza Augusta Wilson at Strood, Kent on 14th November 1896. Thirza had been born there in 1873. Their nine children were: Frank William Sharpe (born in Stone c1899), Dorothy Caroline Sharpe (born in Stone in 1900), George Sharpe (born in 1903), Albert Arthur Sharpe (born in 1905), William Edwin Sharpe (born in 1906), James Sharpe (born c1909), Frederick Sharpe (born in 1910), John Holstock Sharpe (born in 1911), and Annie H. M. Sharpe (born in 1913, died in 1914).
The 1881 census listed 6 year-old Thomas living with his parents and four siblings at 6 Lamb Cliff in Stone. His father was a labourer in cement. He has yet to be found in the census a decade later. However, the 1901 census recorded 26 year-old Tom, employed as a labourer, living with his wife and two children at 6 Railway Terrace in Stone, Kent, next door to his in-laws.