Sidney Victor Taylor was born and brought up in Chelmsford. After working at the town's Hoffmann's bearings factory he joined the army in the latter stages of the war. He died from pneumonia in Hampshire, two days before the Armistice. His home was in Baddow Road. He was just 17 years old.
TAYLOR, SIDNEY VICTOR,
Bugler, 3rd Battalion, Essex Regiment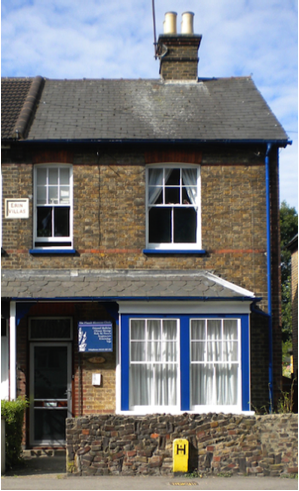 Sidney was born in Chelmsford in 1901, the eldest son of the jeweller and clockmaker William Arthur Taylor and Annie Taylor (nee Redfearn). Sidney's father had been born in 1865 in Cheltenham, Gloucestershire; his mother in 1871 in Bradford, Yorkshire. The couple had married at Ripon Cathedral in Yorkshire on 4th October 1890.
In 1891 they had been resident in Ripon, and in 1901 were living at 18 South Primrose Hill, Chelmsford (today's number 76), having arrived in the town around 1894.
Sidney was baptised on 30th June 1901 at St. Mary's Church, Chelmsford (today's Cathedral). At the time his father was a jeweller living at 18 South Primrose Hill.
Sidney was one of ten children. His siblings were: Gladys Ada Taylor (born in 1891 in Ripon), Annie Hilda Taylor (born in 1892 in Ripon), Harriet Lily Taylor (born in 1894, died in 1896), Francis WIlliam Hyatt, Taylor (born in Chelmsford in 1896, died in 1896), Edith Dorothy Taylor (born in 1896 in Ripon), Florence Alice Kate Taylor (born in 1898 in Chelmsford), Beatrice Rosabella Claray Taylor (born in 1903 in Chelmsford, died in 1948), Elizabeth Amelia Taylor (born in 1906 in Chelmsford) and Eric William Cecil Taylor (born in 1910 in Chelmsford, died in 1966).
The 1911 census found ten year-old Sidney living with his parents, seven surviving siblings and a cousin at 22 South Primrose Hill (the same house as 1901, but since renumbered). His 46 year-old father was a
jeweller, clock jobber and shopkeeper; his sister Gladys was a domestic nurse; while sister Edith was a domestic day girl.
After leaving school Sidney worked at the Hoffmann Manufacturing Company's large factory in Chelmsford.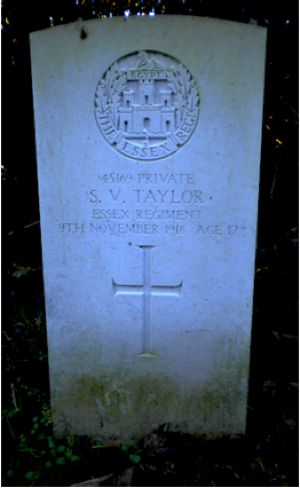 Sidney lived in Chelmsford and enlisted into the army at Warley. He died from pneumonia on 9th November 1918 at Hazeley Down Camp in Hampshire while serving as Private (Bugler) 45169 of the 3rd Battalion of the Essex Regiment. He was aged 17. At the time of his death his parents were living at Skelgate in Baddow Road between Goldlay Road and Goldlay House. The property, which stood on the southern side of the road was later given the number 94 and was demolished when Parkway was built in the early 1970s (see map).
Today Sidney lies at Chelmsford (Rectory Lane) Cemetery (grave: F. 67).
On 15th November 1918 the Essex Weekly News included the following family announcement:
"Taylor. - On the 9th inst. at Hazeley Down Camp, of pneumonia, Bugler Sidney Victor Taylor, eldest son of Mr. and Mrs. Taylor, of Skelgate, Baddow-rd., Chelmsford aged 17 and a half years."
The day's Essex County Chronicle reported:
"Bugler Sidney Victor Taylor, Tank Co., O.T.C., died at a camp in Hampshire on Saturday from pneumonia, at the aged of 17 and a half years. He was the eldest son of Mr. and Mrs. W. A Taylor of Skelgate, Baddow Road. Before enlisting he was employed at the Hoffmann's Works."
Sidney is commemorated on the Civic Centre Memorial, Chelmsford (which records his regiment as the Royal Tank Corps) and by the Chelmsford Parish Great War Memorial in Chelmsford Cathedral.
A 1929 street directory listed Sidney's father at 82 Baddow Road, Chelmsford (now number 252, pictured). He died in 1941, aged 76.
140118