William Taylor was born in Suffolk. After his mother's early death his father remarried and settled in Springfield. William joined the army in 1904 and remained until 1913. In 1905 his sister was one of the fatalities in a major railway accident at Witham. As a reservist he was recalled at the outbreak of the war and was among the first to arrive in France in August 1914. He was killed in action near Bray-Sur-Somme in France in August 1918. His family home was in Roman Road.
TAYLOR, WILLIAM, Private,
44th Auxiliary Steam Company, Royal Army Service Corps
At the inquest it emerged that Ellen and Mrs. Sewell had boarded the train at Chelmsford, accompanied by another nurse, Mrs. Sewell's three children and her niece. The party had been enroute to Sheringham in Norfolk for a holiday. Mrs. Sewell's husband was a brewer.
William was appointed Lance-Corporal on 20th April 1909 and moved from general duties to become a traction engine driver. William had a fairly eventful time over the next few years. On 26th July 1909 at Tipperary in Ireland he was found to be drunk on returning to barracks after midnight. He was reprimanded as a result. On 17th April 1911 he was sentenced to 14 day's imprisonment in civil custody and fined a total of 13 shillings after refusing to pay a five shillings cab fare at The Curragh in Ireland. He spent his time in custody at Mountjoy Prison In Dublin, Ireland.
Meanwhile the 1911 the census recorded William father, step-mother, two half-siblings and a boarder at 15 Roman Road in Chelmsford (pictured). William's father was a labourer.
On 1st March 1912 William was promoted to Corporal, returned to general duties, and on 15th April that year William extended his service to 12 years with the Colours. On 28th October 1912 again at The Curragh he neglected to follow and order and was severely reprimanded. On 16th November the same year he was again severely reprimanded having been found to be drunk in town two days earlier at Newbridge, Ireland. Further severe reprimands followed on 27th January 1913 and 9th April 1913 for offences of being absent from duty. A further severe reprimand followed on 23rd May 1913 for being absent from duty; he received another one on 28th August 1913 for being drunk in camp. When he repeated that offence the following month he lost his Corporal status and was reduced to the ranks. William left the army that autumn. On 11th November 1913, ten days before his discharge, a character report described him thus: "A good traction engine driver, honest and very capable if left to himself. Dislikes restraint and impatient and unreliable under orders".
As a reservist William was recalled to the army on 5th August 1914. He embarked the S.S. Appollo at Avonmouth on 8th August 1914 and disembarked at Le Havre in France two days later among the first to arrive there. His previous army service had all been 'at Home'.
On 7th August 1915 William was convicted of drunkenness on duty in charge of a steam lorry, for which he was awarded 56 days field punishment number one. Further offences continued during the remainder of his time in France. Among them, on 6th June 1918 he was given 14 days field punishment number 2 for hesitating to follow and order in the field. He had been ordered to assist in offloading a lorry.
On 26th July 1918 William was temporarily attached to the 1st Battalion of the London Regiment. He was killed in action on 24th August 1918 while serving as Private M/22165 in the Motorised Transport section ('44th Auxiliary Steam Company') of the Army Service Corps. William had served in the army for 14 years and 127 days.
Today William lies at Bray Hill British Cemetery, Bray-Sur-Somme, Somme, France (grave: III. A. 20), some nine kilometres south-east of Albert. Bray-Sur-Somme had fallen into German hands in March 1918 but was retaken by the Allies on the day William died.
William is commemorated on the Civic Centre Memorial, Chelmsford, and the Moulsham Parish Memorial, St. John's Church, Moulsham. He was entitled to the 1914-15 Star, British War Medal, and Victory Medal.
William's death meant that his father had lost his first wife in her thirties and both of their children prematurely.
A year after William's death the Essex County Chronicle carried the following 'in memoriam' notice:
"TAYLOR - In loving memory of our dear son and brother, Pt. W. Taylor, A.S.C., killed in action in France, Aug. 24, 1918.
He fought for King and Country, He died for his dear Homeland: He died a truce-hearted soldier; Now he lies in a foreign land. He sleeps beside his comrades In a hallowed grave unknowing; His name is written in letters of love In the hearts he left at home. From his sorrowing Mum, Dad, Sister, and Brother - 15 Roman Road, Chelmsford."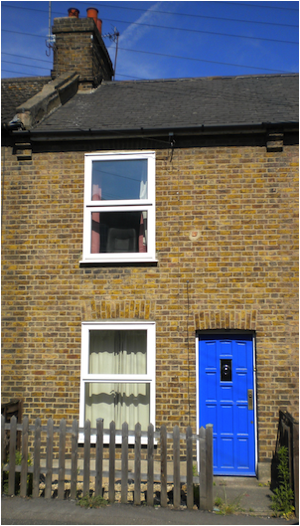 William was born in 1885 in Redgrave in Suffolk. the son of Samuel Joseph Taylor. His father was born c1856 in Botesdale, Suffolk. His mother had been born c1858 in Northamptonshire. William's sister was Ellen (sometimes 'Helen') Muriel Taylor (born in 1888 in Redgrave).
In 1891 the census recorded four year old William visting his grandparents, Edmund and Alice Boston along with his sister and mother at Keeper House Park in Redgrave, where his 65 year-old grandfather was a gamekeeper. Meanwhile William's father was living at Great Braxted where he was also a gamekeeper.
In 1893 William's mother died aged 35 in Suffolk. The same year William's father married Elizabeth Milton - she had been born in Felsted in 1864.
The couple produced three siblings: Violet Gladys Taylor (born in 1896 in Chelmsford), Constance Milton Taylor (born on 4th March 1898 in Chelmsford, baptised on 28th August 1898 at Holy Trinity Church in Springfield and died in 1948), and Francis Samuel Taylor (born on 13th April 1901 in Chelmsford, baptised on 28th July 1901 at Holy Trinity Church in Springfield and died in 1978).
In 1901 the census found William's father, step-mother, sister and two half-sisters (Ellen, Violet and Constance) at 6 Park Terrace in Springfield. William's father was a general labourer. The following year Violet died, aged six.
On 20th April 1904, when aged 18 years and six months William attested at Dorchester in Dorset to join the Army Service Corps Mechanised Transport and serve three years with the Colours and nine years in the Reserve. He was employed at the time as an engine driver, five feet six inches tall, weighed 127 pounds with a 36.5 inch chest; he had a fresh complexion, grey eyes and brown hair and was a member of the Church of England. He was tested and found to be a good engine driver. He was described as 'a strong healthy intelligent lad who has been trained up as a steam roller engine driver'.
A week later William joined the Army Service Corps at Chatham in Kent. On 4th August 1904 he extended his service to eight years with the Colours. He spent most of that period in Ireland.
On 1st September 1905 an horrific railway accident at Witham Station claimed the life of William's 17 year-old sister Ellen and nine other people. Fifty others were injured. The ill-fated train was the one leaving Liverpool Street at 9.27 a.m. for Felixstowe and Cromer. It stopped, as usual, at Chelmsford at 10.18, and then had a fast to Colchester, but at Witham, travelling at 50 m.p.h. it left the rails, mounted the platforms and smashed into some of the station buildings. All fourteen coaches left the line and nine passengers were killed in those which leapt upon the platform, while a Foreman-Porter was killed in the porter's room in which he was seated at the time. Helen was on the train as nursemaid to 35 year-old Mrs. Julia Frances Sewell of Great Baddow, who was among those killed. Her baby, who was injured, survived. William's father went to the mortuary, and there he identified his daughter's body among the deceased.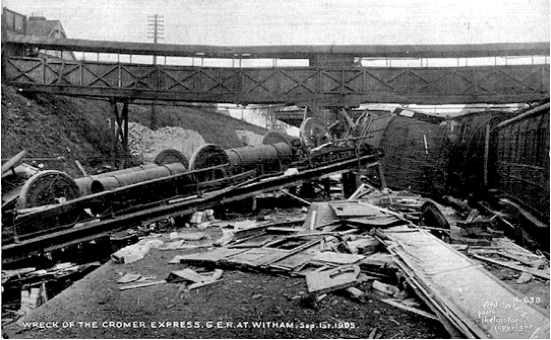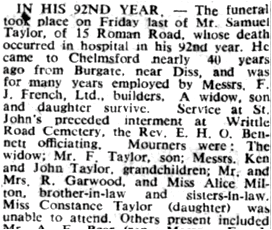 The 1918 register of electors listed William's father and step-mother still at 15 Roman Road, Chelmsford.
In 1919 William's only surviving siblings were his half-brother Francis and half-sister Constance. On 1st December 1921 William's step-mother acknowledged receipt of his 1914-15 Star.
William's father died in 1947.
140118