Sidney William Tinsley was one of thirteen children and worked as cycle repairer before coming to Chelmsford around 1901. He later worked as a bricklayer's labourer before joining the army during the war. He was fatally wounded at the opening of the Battle of the Somme in July 1916. His home was in Manor Road.
TINSLEY, SIDNEY WILLIAM,
Private, 2nd Battalion, Essex Regiment
The Germans who have been shot down lie in front of our trenches, and some of them swell up as large as barrels, and they smell a bit warm, too, when the wind is the right way. We dare not get out of the trenches to bury them or we should be shot down, and I know the Germans dare not come out, so there the dead have to lie.
We have been in the fighting line ever since we have been out here. The snow has gone off, but the rain has set in, and we cannot get a proper fine day to enable us to dry ourselves. There is a rumour that we shall stop in the trenches for another eight days, and then have a rest for a fortnight. We can do with that, I can assure you.
You asked me what I should like for a birthday present. Well, I will let you know. I should like a nice drop of old, but cannot get one out here!"
At the end of June 1916 Sidney's battalion, part of the 12th Brigade of the Army's 4th Division was in Bertrantcourt, to the north of Albert in the Somme region of France. On the evening of 30th June 1916 troops of the battalion left the village and proceeded to assembly trenches, ready to form part of the following day's attack to seize high ground between Puisieux and Grandcourt.
When the attack was launched at 9 a.m. on 1st July 1916 Sidney's battalion emerged from their trenches an hour and a half after an attack from colleagues in the 11th Brigade to advance past those comrades and capture a portion of the Puisieux to Grandcourt ridge. It was rolling chalky country, overlooked by enemy positions, with the hamlet of Serre on top of the slopes that faced the Essex men. Their line of attack was by the right of Pendant Copse, directly on the church spire at Miraumont, which lay in a hollow on the River Ancre beyond the ridge. The battalion suffered considerably from shell-fire, but were able to reach and reinforce comrades in the Rifle Brigade and Warwickshire Regiment. Some troops entered the enemy's Munich trench and the western edge of Pendant Copse. From around 11 a.m. they were gradually pushed back in bitter fighting from those locations throughout the rest of the day to a position known as the 'Quadrilateral'. The survivors were replaced by fresh troops around midnight.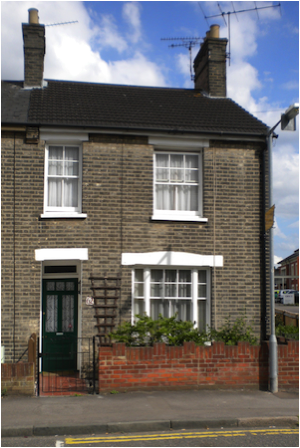 Sidney was born at Hertford, Hertfordshire in 1884, the son of Sidney William Tinsley and Ellen Tinsley (nee Mansfield). Sidney's father had been born in 1854 in South Mimms, Middlesex; his mother c1863 in Hertford.
They had married at All Saints' Church in Hertford on 3rd October 1880. At the time Sidney's father was 25 years old and working as a labourer. His bride was six years his junior. Both lived in Hertford.
Sidney's twelve siblings, were Annie Elizabeth Tinsley (1881-1957), Henry George Tinsley (1889-1947), Ellen Tinsley (1891-1895), Mary E. Tinsley (born in 1893), Ethel May Tinsley (1895-1984), Ernest Arthur Tinsley (1897-1972), Norah Florence Tinsley (born in 1898), Horace James Tinsley (1899-1975), Lillian Tinsley (1901-1982), Alfred John Tinsley (1903-1978), Alec Tinsley (1904-1978), and Florence Maud Tinsley (1907-1993).
Those up until and including Horace were born at Hertford - the remainder were Chelmsford-born.
At the time of the 1891 census Sidney, aged six, was living with his parents, three siblings, grandfather and two uncles at 15 Brewhouse Lane, Hertford. His father was employed as a gardener. The following census a decade later found Sidney and his
father lodging at 177 Canbury Park Road, Kingston, Surrey. Sidney was an 18 year-old cycle repairer; his father worked as a road foreman. Meanwhile, Sidney's mother lived at 2 Brewhouse Lane in Hertford with most of her other children.
Around 1902 the family moved to Chelmsford, and the 1911 census listed his parents and five siblings at 111 Mildmay Road. Sidney's father was a road and works foreman for Chelmsford Corporation. Meanwhile 27 year-old Sidney was boarding with Mrs Hance at Maypole House in Writtle. He was employed as a bricklayer's labourer.
By 1913 Sidney's father had moved to 62 Manor Road, Chelmsford (pictured). The house stands adjacent to the entrance to the former Chelmsford Corporation Depot where he worked.
Sidney lived and enlisted at Chelmsford and served in the 2nd Battalion of the Essex Regiment, a regular army unit that was at Sheerness in Kent at the start of the war. The battalion, including Sidney, crossed the English Channel from Southampton on the S.S. Corsican, landing in Le Havre, France early on 24th August 1914.
His battalion saw action at the 1914 Battles of Le Cateau, of the Marne, of the Aisne, of Messines and 1915 Second Battle of Ypres.
On 16th April 1915 the Essex County Chronicle included the following report:
"Chelmsford Soldier's Birthday Present – What he would like most – An interesting letter has been received from Pte. S. W. Tinsley, 2nd Essex Regiment, son of a well-known employee of Chelmsford Corporation, of 62 Manor Road, Chelmsford.
Writing to his father he says:- 'I hope all at home are quite well. I see Gunner now and again and also Harbour, who got a slight wound. He is fit again, but as for Johnson I have not seen him since he went away. A nail got up into the heel of his boot and it turned to blood poisoning,
There are not a lot of us left of those who came out with the Battalion. I have been out seven months now, but is does not seem long. The time soon pops, and it will pop quicker when we get on the move.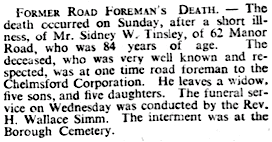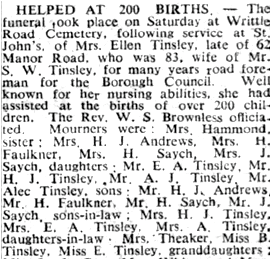 At the start of the day 24 officers and 606 other ranks of Sidney's battalion had gone into action, and by the evening had been reduced to only two officers and 192 other ranks. Sidney survived that day, but was to die from wounds, probably received on 1st July 1916, two days later while serving as Private 7785.
He is buried at Couin British Cemetery, some 15 kilometres east of Doullens in Pas de Calais, France (grave: I. D. 2). The cemetery was used by units and field ambulances during the Battle of the Somme.
On 21st July 1916 the Essex County Chronicle reported:
"Pt. S. W. Tinsley, of the 2nd Batt. Essex Regt., who died of wounds received in action, was the son of Mr. S. Tinsley, late road foreman of Chelmsford."
Sidney is commemorated on the Civic Centre Memorial, Chelmsford. He was not commemorated by the war memorial at St. John's Church, Moulsham.
He was entitled to the Victory, British War and 1914 Star medals.
Sidney's father was still living at 62 Manor Road in 1929. He died there in 1939, aged 84. Sidney's mother died in 1947, aged 83.
140120