William James Tuck was born and raised in the Hackney area of London. He moved to Chelmsford in the 1900s and married in the town in December 1907, producing a son as a result. He held a variety of jobs before joining the army early in the war. He died just four days before the Armistice from pneumonia during the great flu pandemic. His home was in Orchard Street. His widow committed suicide in 1926 on the railway at Widford.
TUCK, WILLIAM JAMES,
Private, Royal Army Medical Corps
On 15th November 1918 the Essex County Chronicle reported:
"A sad death occurred in hospital at Rouen on the 7th inst., where Pt. W. J. Tuck, R.A.M.C., passed away at the age of 35. He was on his way home on leave, after much good service at the Front, when he was seized with influenza, and died from pneumonia, He leaves a wife and little boy of 9, who live at 15 Orchard Street, Chelmsford, The deceased was a well-known man in Chelmsford, and he had served in the war for four years. Before that he was employed at the Shire Hall as assistant to the caretaker, Mr. J. H. Rowe, and before that he was at Messrs. Seabrook and Son's nurseries, He was one of the Chelmsford P.S.A., in which he took s great interest."
William is commemorated on the Civic Centre Memorial, Chelmsford, and the Moulsham Parish Memorial, St. John's Church, Moulsham. He was entitled to the British War Medal and Victory Medal.
The 1918 register of electors listed an absent William, and his widow, still at 15 Orchard Street. The neighbouring house, number 14, was the home of Stanley Percy Spurgeon who also lost his life during the war.
William's mother died in London in 1919.
His widow committed suicide on the railway at Widford in 1926, aged 56. The Essex Newsman reported:
"SAD CHELMSFORD TRAGEDY DEATH OF MBS. C. TUCK
A sad tragedy occurred at Chelmsford on Saturday morning, the severed body a woman, subsequently identified as Mrs. Caroline Tuck, aged 56, a widow, of 15 Orchard Street, Chelmsford, being found on the railway line at the Widford crossing. A train had apparently passed over her. The body, which was completely severed, was removed to the mortuary the Chelmsford Hospital.
The deceased was, well known and highly esteemed. She was a respected member Hall Street Primitive Methodist Church, and also of the late Mrs. F. A. Wells's Bible Class. Her husband, Mr. William Tuck, died while serving in the R.A.M.C. during the war. There is one young son, Mr. Ernest W. Tuck.
Much sympathy will be felt with him and the other relatives in their sad bereavement.
THE INQUEST.
Mr. Coroner C. E. Lewis held the inquest at the Hospital on Monday evening.
Charles Richard Halls, of 45 Mildmay Road, Chelmsford, identified the body as that his sister-in-law. He saw her the night before the tragedy, and noticed that she seemed brighter than usual, and she was making arrangements to go on a holiday. She had, however, been a little ' nervy" of late since the had had her teeth taken out.
Ernest Wm. Tuck, son of the deceased, said that on Friday his mother seemed about as usual. Next morning he found that she was not in her room, and that the back door, which had locked, was ajar. She had never threatened to take her life.
Philip Chaplin, Bearman's Farm, Galleywood, said he knew deceased. On Saturday morning, at about 6.40, he saw her in St. John's Road, and said, "Good morning, madam," to her. She answered, "Good morning." She was going in the direction of Moulsham Street, and she appeared to be fully dressed. Witness had never seen her out early before.
Dr. C. W. Alford said he had attended deceased for several years at intervals for nervousness and indigestion. He saw her last on July 13. He had advised her to have a number septic teeth out, and she had done so. She seemed quite cheerful when he saw her last. She was a woman who was easily depressed, and apt to worry over trifles. He was of the opinion that she worried as to whether she could keep her health so as to enable her to bring boy up.
Frank Hull, of Widford, said he was signalled to by the fireman of goods train on Saturday morning. The fireman told him there was a body the line towards Widford. He went to the spot indicated, and found the body of woman the down line. He removed it to the side of the bank. A woman's hat was found 85 yards on the Chelmsford side of the Widford crossing.
P.c. Percival said he proceeded to the Widford cutting, and found the body there. removed to the mortuary, where made a search, but found no letters of any kind.
Edward S. Whittle, Gough Road, Stratford, deposed "that Saturday morning he was the fireman of a down goods train, and about 40 yards the Chelmsford side of the Widford crossing he saw body the down line. He informed the driver, told a platelayer, and also gave information at Chelmsford Station. One portion the body was on one side of the rail, and part was on the other side. The body had evidently been run over by a previous train.
The Coroner recorded a verdict of Suicide during temporary insanity. The funeral took place amid many manifestations esteem and regret at the Borough Cemetery on Wednesday."
140121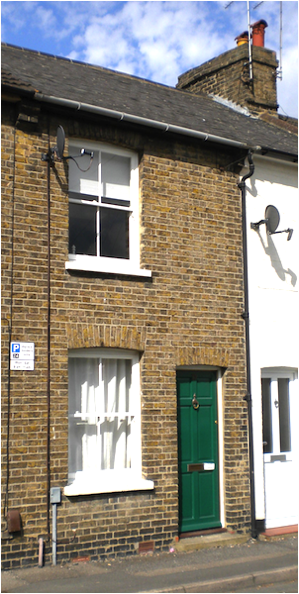 William was born around 1889 in Homerton, London, the son of William Henry Tuck and Elizabeth Sarah Tuck (nee Hewitt).
His father had been born in 1836; his mother in 1856, both in Hackney, Middlesex. The couple had married at St. John's Church in Hackney on 10th November 1884, The marriage register recorded William's father as a 40 year-old widower living at 39 Nisbert Street in Homerton, a tailor by profession. His mother was aged 28 and lived neary at 7 Nisbert Street.
The 1891 census recorded two year-old William living at 37 Nesbit Street, Hackney with his parents. His father, aged 55, was a journeyman tailor. The 1901 census found 12 year-old William with his parents at 83 High Street, Hackney, London. His father was a general labourer.
He married Caroline Chapman on 26th December 1907 at the Primitive Chapel, Hall Street. It was performed by the Rev. F. Clulow. The bride was attired in cream cashmere, with a silk hat to match, and was given away by her brother-in-law, Mr. H. Knight. The bridesmaids were the Misses Mabel Knight, Rosie Lavelle, Ethel Halls, Janie Sharman, nieces of the bride: two little girls the bride's Sunday School class, Eva Card and Lily Eve, prettily dressed in cream coats and caps of fur. Miss Storey played the "Wedding March" as the happy pair left the church. Among the numerous presents wasa handsome brass standard lamp from Mr. Stockwell, of London, who came down to attend the wedding ceremony. Mr. S. Frost was best man.
The couple had a son, Ernest William Tuck, born in Chelmsford in 1909. Two years later the census found William, his wife, son and a border at 15 Church Street, Roman Road
in Chelmsford (later renamed 15 Orchard Street). William was an insurance agent. He also worked for Seabrook and Sons' nurseries off Arbour Lane in Springfield, and later still as an assistant to the caretaker at Chelmsford's Shire Hall.
William's father died in 1915 in London, aged 79. By then William was in the army as Private 477282 in the 142nd Field Ambulance of the Royal Army Medical Corps. Towards the end of the war he was on his way home on leave when he was struck by influenza. That developed into pneumonia which claimed William's life on 7th November 1918. He is buried at St. Sever Cemetery Extension, Seine-Maritime, Rouen in France (grave: S. II. U. 5). Rouen was a major hospital centre for the Allies during the War.