Charles Henry Tunstall was born and raised in the Moulsham area of Chelmsford. His mother died before his tenth birthday. He worked as an errand boy and then at Marconi's. He joined the army in August 1915, and went to France in November 1917. While in France he was badly gassed. The following September he was badly wounded and as a result lost a leg. He and was discharged from the army in July 1920 as a result of his wounds. He died at Ilford Sanatorium in April 1922 from tuberculosis caused by being gassed during the war. His home was in Upper Bridge Road.
TUNSTALL, CHARLES HENRY,
Lance Corporal, Royal Engineers (later 21st Battalion, West Yorkshire Regiment)
On 2nd September 1915 he was examined at Landguard Fort, Harwich and found to be proficient as a turner. He served in France from 3rd November 1917. Charles later served as 238078 in the 21st Battalion of the West Yorkshire Regiment. While in France he was severely gassed.
On 4th September 1918 he suffered gun shot wounds and shrapnel wounds to the head, left shoulder and right leg. As a consequence his leg had to be amputated, and he was admitted to a hospital in Boulogne. He returned to England on 24th September 1918 and was later fitted with an artificial leg.
Charles was discharged from the army on 22nd July 1920 owing to wounds caused by active service overseas. He was 23 years and 11 months.
He rejoined Marconi's and worked for about a year until the onset of tuberculosis led his admission to the Ilford Sanatorium. After about seven months there he died on 10th April 1922, aged 24. He was buried at Chelmsford Borough Cemetery in grave B.2471 on 18th April 1922. His sister, 25 year-old Beatrice Annie Tunstall had been buried in the same grave on 14th May 1921, having died aged just 25.
On 14th April 1922 The Essex Chronicle contained the following family announcement:
"Tunstall. - On April 10th, at Ilford Sanatorium, Charles Henry, the only surviving son of George Tunstall, 32 Upper Bridge Road, Chelmsford, age 24."
The same paper also reported:
"War Tragedy.—-Another tragedy of the war was revealed by the death, which occurred on Monday, at the Ilford Sanatorium, of Mr. Charles Henry Tunstall, the only surviving son of Mr. Geo. Tunstall, of Upper Bridge Road. The deceased, who was only 24 was, prior the war, employed as an instrument maker at Marconi's, and joined early in 1915.
He went out to France with the West Yorkshire Regiment, and was severely wounded in the leg 1918, as the result which the was amputated. He was fitted with artificial leg, and being demobilised was able resume work at Marconi's.
For over year he continued to be employed, but, about seven months ago was admitted to the Ilford Sanatorium account of tuberculosis, which was the result of his being severely gassed while serving in France. He gradually got worse, and passed away as stated. Great sympathy is felt with the bereaved father, who only a year ago last daughter. The funeral will be Tuesday at o'clock at the Borough Cemetery."
A report on his funeral appeared in the Essex Weekly News of 21st April 1922:
"Funeral - The funeral of Mr. Charles Henry Tunstall, of Upper Bridge-rd., who died at Ilford Sanatorium, took place on Tuesday at the Borough Cemetery, Rev. W. H. Pace officiating.
The mourners were as follows: - Mr. George Tunstall, father; Mrs. S. Byatt and Miss Tunstall, sisters; Messrs. J. , W., and C. Tunstall, Mr. C. Sheldrick, and Mr. G Crush, uncles; Mesdames J. and C. Tunstall. and Mrs. G. Crush. aunts; and Mr. T. Tunstall, cousin.
The floral tributes included tokens from 'Comrades of the old Company, Essex Fortress R.E.', shop-mates at Marconi's Works; Workers Union Social Club; and neighbours in Upper Bridge-rd. - The undertakers were Messrs. A. J. Andrews and Son."
Charles is commemorated on the Civic Centre Memorial, Chelmsford. He is not commemorated by the Commonwealth War Graves Commission, nor by the war memorial at St. John's Church Moulsham.
He was awarded the British War Medal and Victory Medal.
In 1924 Charles' sister died after a long illness. aged 24. That meant that Charles' father had lost his wife and four of their five children by that date.
Charles' father remarried Lizzie Housden in 1926. He died in 1935, aged 68. Charles' step-mother died six years later.
140121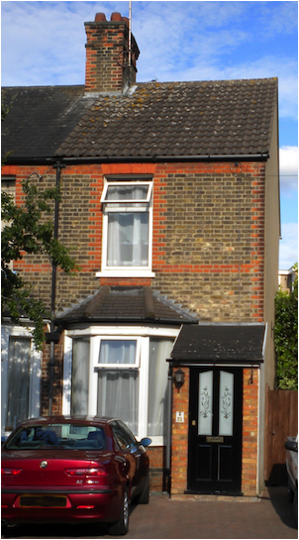 Charles was the son of carpenter George Straight Tunstall and Charlotte Tunstall (nee Sheldrake) and was born on 2nd February 1898 in Chelmsford. He was baptised at St. John's Church, Moulsham on 1st February 1899 at which time his father was a carpenter of 18 Mildmay Road, Chelmsford.
His father had been born in Billericay in 1866; his mother c1866 in Hatfield. The couple married in 1891. Shortly before their wedding Charles' father had been living at 21 Broomfield Road, Chelmsford.
Charles' siblings, all Chelmsford-born, included George William Tunstall (1892-1900) Dorothy May Tunstall (1894-1982), Beatrice Annie Tunstall (1896-1921) and Ruby Ada Lilian Tunstall (1899-1924).
The 1901 census found three year-old Charles living with his parents and three sisters at 18 Mildmay Road (now number 49); his father was still a carpenter. Charles was educated at Moulsham Infants School in Moulsham Street from 9th September 1901 to 22nd December 1904. His father lived at 18 Mildmay Road.
In 1909 Charles' mother died aged 44.
Two years later the census recorded 13 year-old Charles living with his widowed father and three sisters at 23 Upper Bridge Road, Chelmsford (subsequently renumbered as 32, pictured). Charles was an errand boy; his father was a carpenter at Marconi's; his sister Beatrice was a polisher also at Marconi's.
On 12th August 1915 Charles attested at Chelmsford for four years' service with the
Territorial Essex (Fortress) Royal Engineers. He was initially given the service number of 302, later and 530145, and rose to the rank of Lance Corporal. At the time he was resident at 32 Upper Bridge Road, Chelmsford. He was described as being 19 years old, five feet six inches tall, with a chest of 36 inches, and good physical development. At the time he was employed as an instrument maker at Marconi's.