William Arthur Warner grew up in the Arbour Lane area of Springfield working for a time as a gardner. He married a Springfield-woman in 1905 and they had a son named after his father. Prior to joining the army in 1916 he worked for a dozen years as a grocer's assistant in a High Street shop. He died of wounds in April 1917 near Arras. His home was in Arbour Lane. A nephew was also killed during the war.
WARNER, WILLIAM ARTHUR,
Private, 7th Battalion, Norfolk Regiment
In late 1916 William enlisted into the army at Chelmsford. Less than a year later he died from wounds near Arras on 29th April 1917 while serving as Private 26496 in the 7th Battalion of the Norfolk Regiment. He is buried at Duisans British Cemetery, Etrun, Pas de Calais in France (grave: III. H. 30). The cemetery was used for burials from the 8th Casualty Clearing Station, the 19th, and the 41st.
News of his death appeared in the Essex County Chronicle on 11th May 1917:
"Pt. Warner, Suffolk Regt., of Arbour Lane, Chelmsford, died of wounds, was in the employ of Mr. R. L. Mortimer, grocer, for over 12 years, He joined up near the end of last year, and had not been at the Front long."
The same day's Essex Weekly News reported:
"Pte. Warner, Suffolk Regt., whose wife lives in Arbour-lane, Springfield. has died of wounds. Deceased was employed by Mr. R. L. Mortimer, High-st., Chelmsford, for twelve years, and joined up shortly before last Christmas."
William is commemorated on the Civic Centre Memorial, Chelmsford and on the Springfield Parish Memorial at All Saints' Church. He was entitled to the Victory and British War medals.
On 26th April 1918 the Essex County Chronicle carried the following in memoriam notice for William:
"Warner. - In loving memory of William Arthur Warner, 3rd Norfolk Regt., died through wounds, April 29th, 1917, aged 32.
I often sit and think of him, and think of how he died; To think he could not say Good-bye before he closed his eyes. Could we but kneel beside his grave and shed a silent tear. But oh, he sleeps in a distant land - one we loved so dear.
Not forgotten by his wife, and child - 3 Arbour Lane, Chelmsford."
Similar notices would be published by his widow throughout the next decade. The 1918 register of electors listed her at 3 Arbour Lane (today's number 6, pictured).
William's nephew (son of his sister-in-law Annie Cadey), Thomas Breakspeare was also killed during the war.
William's mother died in 1920, aged 55; his father died in 1928, aged 65. His widow is beleived to have died in 1982, while their son died in 1990.
140302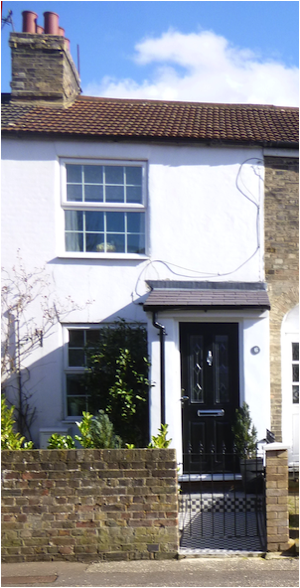 William was born in Springfield on 28th August 1884, the son of William Thomas Warner and Charlotte Warner (nee Bullen). He was baptised at Springfield All Saints' Church on 10th October 1884. At the time his father was described as a bricklayer resident in Springfield. That day also saw the baptism in the church of Frederick William Beckwith who was to also lose his life in the war.
William's father had been born in 1863; his mother in 1865. They had married in 1884. William's six siblings included Charles Henry Warner (born on 5th September 1886, died in 1939), Emily Elizabeth Warner (born on 19th July 1888, died in 1976), Christabel Warner (born on 2nd January 1898, died in 1984), Frederick Horace Warner (born on 18th January 1900, baptised at Holy Trinity Church in Springfield on 7th May 1910, died in 1982), and Sidney Jack Warner (born on 16th September 1901, baptised at Holy Trinity Church in Springfield on 7th May 1910, and died in 1985). All were Springfield-born.
The 1891 census found six year-old William, his parents and two siblings living with his maternal grandparents, four of their children and a grand daughter at Windmill Hill, Springfield (today's Arbour Lane). William's father was a bricklayer.
A decade later the 1901 census found 16 year-old William, his parents and four younger siblings living nearby at Knotts Croft in Arbour Lane, close to The Alma public house. William was a gardener, his father was still employed as a bricklayer and his brother Charles was a butcher.
William married Alice Cadey on Christmas Day 1905 at All Saints' Church in Springfield. At the time both were aged 21 and lived at Springfield, and William was employed as a
grocer's assistant for Mr. R. L. Mortimer of Chelmsford High Street - he would remain with him until joining the army. The couple had one child, William Thomas Warner, born in Springfield on 8th July 1907.
Four years later the 1911 census recorded William, his wife and son at 4 Arbour Lane in Springfield (today's number 8).