Thomas Breakspeare (sometimes 'Breakspear') was raised by his grandparents in Springfield, joined the army under-age and under an assumed name, and was killed in action near Cambrai in December 1917.
He was the son of Thomas Alfred Breakspeare and Annie Breakspeare (nee Cadey) and was born in Greenford or Willesden, Middlesex in 1899. His father had been born in Ealing, Middlesex in 1874; his mother in Chelmsford in 1879 spending most of her live living in Springfield. The couple had married on 30th May 1898 at St. Michael's Church, West Drayton in Middlesex. At the time both were living in West Drayton while 23 year-old Thomas Alfred, two years older than Annie, was a labourer.
The marriage appears to have been a difficult one: on 21st December 1900 Chelmsford Petty Session (the equivalent of today's magistrates' court) heard a case against Thomas' father by his mother for disobeying an order for maintenance made against him that summer. His mother, who had returned to live with her parents in Springfield, asked for the case to be dropped, but it was the shape of things to come.
BREAKSPEARE, THOMAS,
Private, 13th (Service) Battalion, Essex Regiment
Aged 15, Thomas enlisted into the Essex Regiment using a pseudonym and landed in Gallipoli on 1st December 1915. The Essex County Chronicle of 6th April 1917 reported:
"Brave Springfield Lad – Pt. Thomas Breakespeare, grandson of Mr. T. Cadey, 6 Arbour Lane, Springfield. Enlisted when he was 15 years old in the Essex Regt. He called himself 'Reed' [sic] in order that he might not be claimed by his friends, and gave his age as 18. He has distinguished himself for conspicuous bravery, and received the following letter:
'Your Commanding Officer and Brigade Commander have informed me that you have distinguished yourself by conspicuous bravery in the field on the 13th to 16th November, 1916. I have read these reports, and although promotions and decorations cannot be given in every case, I should like you to know that your gallant action is recognised, and greatly it is appreciated. W. G. Walker, Maj.-Gen. Commanding [censored] Division.'"
Thomas served as Private 10966 Thomas Read of the 13th Battalion of the Essex Regiment, also known as 'The West Ham Pals'. The battalion, part of the New Armies, had been formed by the Mayor of West Ham in December 1914 and had arrived in France in November 1915. The following month it was transferred to become part of the 6th Brigade in the 2nd Division.
In December 1917 Frederick's battalion was in the area between Bapaume and Cambrai in Pas de Calais, France. Thomas was killed in action on 4th December 1917, has no known grave and is listed on the Cambrai Memorial, Louveral, France. The memorial commemorates more than 7,000 servicemen of the United Kingdom and South Africa who died in the Battle of Cambrai in November and December 1917 and whose graves are not known.
The Commonwealth War Graves Commission's records suggest that Thomas' mother married Albert Henry Read and the couple subsequently lived at 2 Beatty Street, Tiryberth, Pengam, Cardiff. Thomas was entitled to the 1914-15 Star, British War Medal, and Victory Medal. On 23rd February 1920 his mother applied for a 1914-1915 Star in respect of her late son.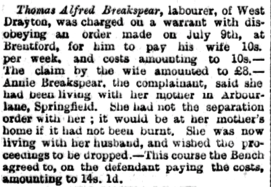 The census the following spring found one year-old Thomas resident with his parents at Money Lane in West Drayton, the home of his widowed paternal grandmother Jane Breakspeare. His father was a general labourer.
After a Thomas gained a sister, Annie Alice Breakspeare in 1904, his parents became estranged once more and Thomas and his mother went to live with his maternal grandparents in Springfield. It is unclear as to what became of Thomas' sister.
Thomas' grandfather, Thomas Cadey, was found in the 1901 census at Arbour Lane in Springfield, aged 43, born at Chelmsford and a general labourer. The rest of the household included Thomas Cadey's 44 year-old wife Harriet and children, David, Alice and Thomas – all born in Chelmsford.
Thomas' grandmother Harriet Cadey died in August 1910 and the following spring the census recorded 11 year-old Thomas living with his widowed grandfather and his children Harriett, David and Thomas Cadey at 6 Arbour Lane in Springfield. Thomas was a machinist at Hoffmann's ball-bearings factory in Chelmsford, his grandfather was a bone manure agent, aunt Harriett was a general servant, and uncle David was a general labourer. Meanwhile Thomas' father, Thomas Breakspeare was boarding at a house in Wealdstone, Middlesex. He was erroneously said to be widowed, and mail car driver.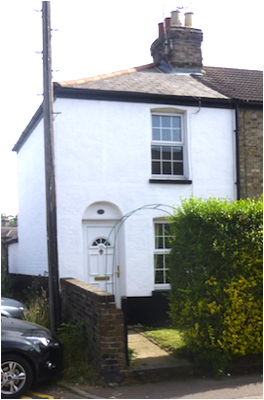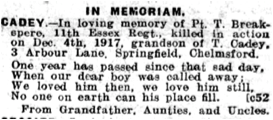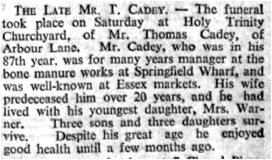 His death was referred to in an in memoriam notice in the Essex County Chronicle of 29th November 1918 (left).
Thomas is commemorated on the Civic Centre Memorial, Chelmsford and on the Springfield Parish Memorial at All Saints' Church.
The 1918 register of electors listed Thomas' grandfather, Thomas Cadey, at 6 Arbour Lane, Springfield (later renumbered as 12, pictured).
Thomas' uncle, William Arthur Warner, was also killed during the war.
He died in hospital in 1937, six years after Thomas Breakspeare died in Middlesex.
190813