James Brewer was brought up in rural Essex, was in the army early in the war and was killed in action at Arras. His parents lived in Primrose Hill.
BREWER, JAMES,
10th Battalion Private, Royal Welsh Fusiliers (formerly of the Essex Regiment)
The 1901 census found 19 year-old James living with his parents, three siblings and a nephew in Chignall Road, then part of Writtle. James was employed as a groom. A decade later James' elderly parents and three siblings were living at Springfield View in Broomfield. James has yet to be found in that census.
James enlisted at Chelmsford and served as 32374 in the Essex Regiment. He subsequently transferred and was killed in action on 13th June 1917 while serving as Private 56041 in the 10th Battalion of the Royal Welsh Fusiliers.
James has no known grave and is commemorated on the Arras Memorial and on the Civic Centre Memorial, Chelmsford. He was entitled to the 1914-15 Star, British War Medal, and Victory Medal.
The 1918 register of electors listed his parents at 46 Primrose Hill, Chelmsford (pictured), where his father died in April 1928, aged 83; his mother died a month later, aged 78.
130823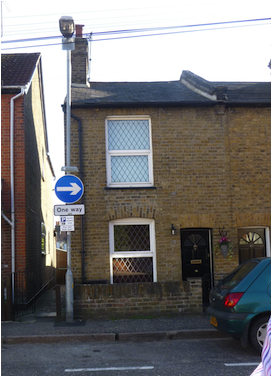 He was born at Chatham Green, then part of Great Waltham parish, around 1882, the son of William Brewer and Susannah 'Hannah' Brewer (nee Oddy).
His father had been born c1845; his mother in 1849. The couple had married on 10th October 1868 at Great Waltham. At the time James' father was aged 23, a labourer of Great Waltham, the son of James Brewer, a labourer. James' mother was said to be aged 19, living in Great Waltham, and the daughter of Thomas Oddy, a labourer. In both 1871 and 1881 the couple had been resident at Chatham Green.
James' nine siblings included Fanny Brewer (born 1869), Susannah Brewer (born 1871), Thomas James Brewer (born 1875), Charles Brewer (born 1876), Lucy Brewer (born 1879), Frederick Brewer (born c1888), Daisy Brewer (born 1890) and Percy Brewer (born 1899). The entire family had been born in Great Waltham apart from Percy who was Chignall-born.
Nine year-old James was recorded by the 1891 census living with his parents and five siblings at Chatham Green. His father was an agricultural labourer, as were his brothers Thomas and Charles.