Lewis Alfred Brewster was born and brought up in Pleshey, one of thirteen children, and joined the army before 1900. That year he married in east London. and he went on to have a daughter. He was killed near Ypres a year into the war. A brother was also killed. His wife and daughter lived in Nelson Road.
BREWSTER, LEWIS ALFRED,
Private, 9th (Service) Battalion, Essex Regiment
Lewis lived and enlisted at Chelmsford and served in the 9th (Service) Battalion of the Essex Regiment. The battalion was part of the 35th Brigade in the 12th (Eastern) Division, one of six Divisions which together formed the first part of 'Kitchener's Army' from August 1914. The battalion formed in initially at Shornecliffe in Kent. After training it went to France at the end of May/start of June 1915, with Lewis landing on 30th May 1915. His battalion entered the front line in July 1915 near Ploegsteert Wood, Belgium, close to the French border, a comparatively quiet sector.
Lewis was killed in action on 18th August 1915 while serving as Private 4450. He was aged 36. He is buried at Gunners Farm Military Cemetery, Belgium, ten miles south of Ypres (grave: A. 4).
Lewis is commemorated on the Civic Centre Memorial, Chelmsford and the war memorial at Holy Trinity Church in Pleshey. He was entitled to the 1914-15 Star, British War Medal, and Victory Medal. His brother, Christopher Frank Brewster, was killed in action on 26th September1915.
The 1918 register of electors showed Lewis' widow living at 19 Nelson Road, Chelmsford - a street parallel and to the west of Rainsford Lane, which contained 34 terrace houses, and has now been redeveloped as Cramphorn Walk. It is pictured in the course of demolition. She eventually died in 1968, aged 88.Lewis' mother died in 1937, aged 88, and the oldest person in Wickham Bishops.
140403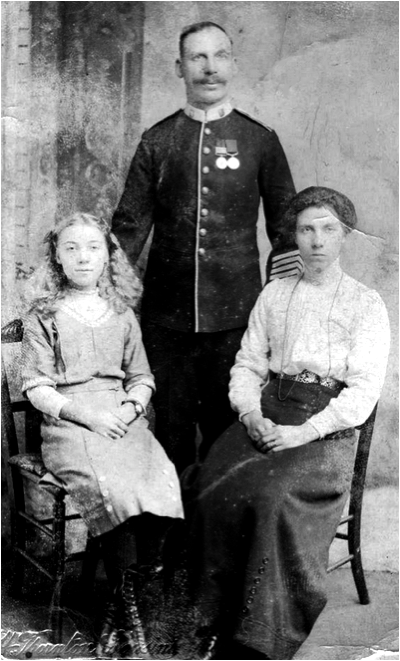 He was born at Pleshey in 1879, the son of George Brewster and Emily Brewster (nee Bowles). He was baptised at Holy Trinity Church in Pleshey on 29th June 1879. At the time his father was a labourer living in Pleshey who had been born there c1845; his mother at Woodham Walter c1849.
Lewis' parents had married in 1868 and in 1871 had been resident at Pleshey.
His twelve siblings included Clifford Brewster (1869-1952), Alice Jane Brewster (1871-1874) Sidney Brewster (born in 1873), William Brewster (born in 1877), Percy George Brewster (born in 1882), Harry Brewster (bon in 1883), Emily Brewster (born in 1885), Agnes Brewster (born in 1886), Christopher Frank Brewster (born in 1889)., and Maud Brewster (born in 1892) All the boys were Pleshey-born; the girls, at Great Waltham, apart from Alice Jane and Agnes who where also born in Pleshey.
The 1881 census found Lewis living with his family at Woods in Pleshey. His father was an agricultural labourer. A decade later the census recorded the family at Back Street in Pleshey. 12 year-old Lewis was an agricultural labourer, like his father and brother William.
Lewis married Violet Theresa Reeve at All Saints' Church in Poplar,

London on 9th August 1900. At the time he was aged 21, serving as a soldier and resident at 164 High Street, Poplar. His bride, who had also been born in Pleshey in 1879, also lived at 164 High Street, Poplar.
The couple had one child, a daughter, Violet who was born in Poplar c1901.
The 1901 census listed Lewis at Colchester Garrison where he was a private soldier in the infantry. A decade later the next census recorded 31 year-old Lewis living with his wife and daughter at 16 Britannia Road in Warley. Lewis was still a private soldier.