Christopher George Whipps lost his mother before he was six years old, and his father when he was just 17. He worked as a boot repairer and after enlisting into the army in February 1916 he was exempted from military service as his trade was vital for the war effort. After a letter of complaint was received by the army Christopher had his exemption removed and he was called up by the army. He landed in France in July 1918 and was killed in action fifty days later. His home was in Victoria Road.
WHIPPS, CHRISTOPHER GEORGE,
Private, 2nd Battalion, York and Lancaster Regiment
(formerly of The Hussars and Loyal North Lancashire Regiment)
Christopher was immediately placed in the army reserve and subsequently exempted from military service at a tribunal on 18th April 1916 - his bootmaking skills were required for the war effort. He worked as a master bootmaker at the Duke of York's Military School in Hutton.
When he moved from Shenfield to 64 Victoria Road in Chelmsford (pictured) with his sisters on 6th May 1916 he had still not been called up. On 12th December 1916 a Mr. F. Sanders of 8 Coptfold Road in Brentwood wrote the following letter to the recruiting authorities:
"Dear Sir, I hope you will excuse me writing to you but I beg to call your kind attention to a young man that I work with at the Duke of York by the bane of G C or c G Whipps of Chelmsford, a single chap 28 years of age should be called up for examination he has not been up since February when [several lines illegible] son who has got bad eyes is being trained for France not that I or my son is grumbling we have all got to do our bit and I don't see why this chap should not do his when there is a cripple chap waiting to take his place. He lives in Chelmsford I dare say you have his address or Mr Whipps boot repairer to Duke of Yorks Schools Hutton would find him [illegible]."
Mr. Sanders' letter was acknowledged by the authorities on 5th January 1917 who asked for details of the 'cripple' who could take Christopher's place, and questioned whether the man could do Christopher's work. Whether or not Mr. Sander's letter initiated a review of Christopher's case is unclear, but he was given a fresh army medical and his case was brought up for review before the Essex County Tribunal at Romford on 31st March 1917. The tribunal withdrew his exemption. Consequently Christopher was ordered to join the army on 16th April 1917. He was posted as 35259 in The Hussars on 18th April 1917.
As a postscript, on 5th April 1917 the Acting Commandant of Duke of York's Military School, Lieut. Colonel J. S. Dyke referred to the impending loss of Christopher wrote to the Directory of Army Contracts in London stating:
"I therefore have to request that an experienced shoemaker may be posted to the School to take his place as I am unable to procure the services of qualified man locally."
On 11th July 1917 Christopher was transferred to the Loyal North Lancashire Regiment. He crossed from Folkestone in Kent and arrived in Boulogne in France on 31st July 1918. He then transfered once again to the 2nd Battalion of the York and Lancaster Regiment whom he joined as Private 57895 on 13th August 1918.
After 50 days in France Christopher was killed in action on 18th September 1918. He was aged 30.
Today he lies at Chapelle British Cemetery, Holnon, Aisne, France (grave: IV. E. 14). The cemetery is six kilometres west of St. Quentin and was made after the Armistice, by the concentration of graves of 1917-18 from the battlefields west of St. Quentin and from two other cemeteries. Holnon village and wood were the scene of heavy fighting between the 6th Division and German forces on the 14th-19th September 1918, the period when Christopher lost his life.
On 11th October 1918 the Essex County Chronicle reported:
"Sig. Christopher George Whipps, York and Lancaster Regt., of 64 Victoria Road, Chelmsford, was killed in action on Sept., 15th, in France. Mr. Whipps was for many years a member of the All Saints' choir, Springfield, and an active member of the Church of England Men's Society."
Christopher is commemorated on the Civic Centre Memorial, Chelmsford, on the Springfield Parish Memorial at All Saints' Church and by the Chelmsford Parish Great War Memorial in Chelmsford Cathedral.
The 1918 register of electors listed an absent Christopher and his widow at 64 Victoria Road, Chelmsford. Christopher was entitled to the British War Medal and Victory Medal and his sister acknowledged their receipt on 10th December 1921.
Christopher's three sisters all died as spinsters in Sussex.
140201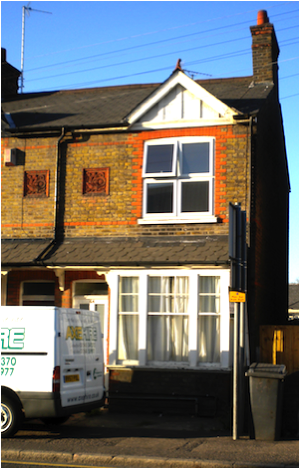 Christopher was born at Widford on 24th March 1888, the son of the grocer Edwin George Whipps (born c1846 in South Weald) and Clara Annie Whipps (nee Wenden who was born in Springfield in 1860). He was baptised at Widford on 27th May 1888. At the time his father was a farmer 'late of Springfield'.
His parents had married at St. Mary's Church in Islington, Middlesex on 1st September 1885. At the time Christopher's father was aged 38 and employed as a grocer. His bride was a dozen years his junior. Both lived at Hatfield in Essex.
Their first child had been Clara Annie Whipps born at Hatfield Peverel in 1886 (died in 1959). Christopher was followed by a sister Emily Florence Whipps who was born in Springfield on 18th October 1889, baptised at Holy Trinity Church in Springfield on 3rd August 1890 and died in 1958.
The 1891 census found the family of five at The Star public house in Baddow Road, Great Baddow. Christopher's 45 year-old, South Weald-born father was the publican. Edwin's sister, Mary J. Whipps (aged 34), assisted.
Christopher gained another sister, Katherine Martha (Kate) Whipps, born on 25th July 1892, though the following year Christopher's mother died aged 33 from consumption. Kate died in 1973.
By the time of the 1901 census the family had moved to 9 Phillip's Cottages, off Church Lane in Springfield. Christopher was described as a 12 year-old house boy. His widowed father worked as a grocer's assistant. Within five years he had died, aged 60, at Phillips' Cottages in Springfield.
By 1908 Christopher was living in Arbour Lane, Springfield and was recorded by the census of 1911 at 31 Arbour Lane (today's number 62), with his sisters Emily and Katherine. Christopher was a boot repairer; Emily was an assistant tobacconist.
On 12th February 1916 Christopher attested to join the army at Warley for the duration of the war. At the time he was 27 years and six months old, employed as a bootmaker, and living in Shenfield. He was five feet six and a half inches tall, had a 34 inch chest and his next of kin was his sister Katherine of the same addresses. He was a member of the Church of England.