Bernard Cecil White came to Chelmsford as a boy in the late 1890s when his father took up a prison schoolmaster's job in the town's gaol. In May 1912, within a year of his mother's death, Bernard, then working as a clerk, left Chelmsford and settled in Canada and it was there in September 1914 he joined the Canadian army. He landed in France in February 1915 and was killed north-east of Ypres in April 1915 when the Canadians 'saved the situation.' His widowed father lived in Park Avenue.
WHITE, BERNARD CECIL,
Lance Sergeant, 4th Battalion, Canadian Infantry (Central Ontario Regiment)
Battle of Gravenstafel Ridge, itself part of the Second Battle of Ypres.
Bernard's death was reported in 21st May 1915's edition of the Essex County Chronicle:
"Lance-Sergt, Bernard Cecil White, 4th Canadian Infantry (19th Lincoln's), of St. Catherine's, Ontario, killed in action near Ypres, was the youngest son of Mr. C. F. A. White, schoolmaster at Chelmsford Prison.
The 1st and 4th Canadian Battalions had just made their charge that captured the German trench, and were holding it against the enemy when he was mortally wounded. About three years ago deceased went out to Canada. Previous to the war he was in the 19th Lincolns (St. Catharine's Regt.), a corps of the Canadian Militia, the Territorial Force of the Dominion."
The same day's Essex Weekly News also reported his death:
"News has been received through the Canadian Record Office by Mr. C. F. A.White, of Park-avenue, Chelmsford, of the death of his youngest son, Lance-Sergt. Bernard Cecil White, 4th Canadian Infantry. For some years Sergt. White had been living in a civilian capacity at St. Catherine's, Ontario. Upon the outbreak of war he was among the first to offer his services. He came over to the Mother Country as a private with the first draft of Canadian troops. Before the contingent settled his regiment helped to guard the Welland Canal, the great grain-way connecting Lake Erie and Ontario.
Beyond the fact that he was killed in action, no details are known, but it is assumed that he lost his life in fighting around Ypres on April 23, when Sir John French reported that the Canadians had 'saved the situation'. It may be remembered that the Canadian Record Officer, in his official report, described the situation of the Fourth Battalion as follows - 'At one moment they came under a particularly withering fire. For a moment - not more - they wavered.
The astonishing attack which followed, pushed home in the face of direct frontal fire, made in broad daylight by battalions whose names should live for ever in the memories of soldiers, was carried to the first line of German trenches. This charge, made by men who looked death indifferently in the face - for no man who took part in it could think that he was likely to live - saved, and that was much, the Canadian left. But it did more - it secured and maintained during the most critical moment of all the integrity of the Allied line.' The late Sergt. White was widely known and popular both in St. Catherine's and Chelmsford, where his frank and open character made him many friends."

Bernard was born on 14th April 1890 at Northwood in the Isle of Wight, the son of the schoolmaster Charles Frederick Andrew White and Martha Jane Eva White (nee Bevis). His father had been born in Croydon, Surrey in 1856, and his mother at Gosport in Hampshire in 1854.
The couple had married in on 31st August 1878 at All Saints' Church in Poplar, London. At that time Charles ' father was a schoolmaster living at Newington. His bride was te daughter of a schoolmaster and in 1881 the couple had been living in Camberwell in south London.
Bernard one of seven children, one of whom was to die before 1911. They included four elder brothers – Charles Percy Dalrymple White born in Camberwell in 1879, Sidney Harold White born in Camberwell in 1881, Andrew John White born in 1884, and Leonard Frederick White born in 1886 (the latter two, also at Northwood).
At the time of the 1891 census Bernard was living with his family at 2 West Cottages, Parkhurst Prison, Northwood on the Isle of Wight. Bernard's father was employed as a schoolmaster at the Prison.
Bernard gained a sister, Dora W. White, born in Gosforth, Northumberland in 1893.
The 1901 census recorded the Whites (minus Sidney Harold) living at 2 Chestnut Villas in Park Avenue, Chelmsford. Bernard's father was aged 45 and employed as a prison clerk, presumably at Chelmsford Gaol. His mother was 46 while Bernard was aged 10. His brothers were all in employment – Charles Percy Dalrymple White as a builder's clerk, Andrew John White was a newspaper clerk, and Leonard F. White was an office boy.
Coincidentally, in November 1903, when Bernard's father was working at Chelmsford Gaol, a man named Bernard was executed having committed the 'Warley Gap Murder' of 21 year-old Maud Garrett.
The 1911 census listed Bernard's parents and brother Andrew living at 30 Park Avenue (later renumbered as 36, then 50 and is today's number 13, pictured). His 55 year-old father was employed as a prison schoolmaster, while his brother Andrew was a journalist.
Bernard's mother died later that year, on 20th July 1911, aged 57, and was buried at Rectory Lane Cemetery in Chelmsford.
On 18th May 1912 Bernard left Liverpool on board the White Star Dominion Line ship S.S. Canada, bound for Quebec, Canada. At the time he was 22 years old and a employed as a clerk. He crossed the Atlantic just over a month after S.S. Titanic had failed to do so.
The start of the war found Bernard still in Canada. He enlisted into the Canadian Over-Seas Expeditionary Force on 22nd September 1914 at Valcartier, some 25 kilometres north of Quebec City. His year of birth was incorrectly recorded upon enlistment as 1891. Bernard's attestation papers show that his father, of 36 Park Avenue, Chelmsford (today's number 13), was next of kin. Bernard was unmarried, a member of the Active Militia and had served three years in the Militia. He was described as five feet ten inches tall, with a 36-inch chest, fair complexion, blue eyes, brown hair, and was a member of the Church of England.
Bernard joined the 4th Canadian Infantry Brigade which was organized at Valcartier in August and September 1914. It was composed of recruits from Aurora, Brampton, Brantford, Hamilton and Niagara Falls. The battalion sailed from Quebec on 23rd September 1914 aboard the S.S. Tyrolia, arriving in Plymouth, Devon on 14th October 1914. The troops could not disembark at Plymouth and instead sailed to Avonmouth where they landed eight days later and began training at Bustard Camp on Salisbury Plain, Wiltshire. Training was hampered by the muddy winter conditions which prevailed for the next few months.
On 7th February 1914 the battalion moved to Avonmouth, Gloucestershire and sailed to St Nazaire in France, arriving on 11th February 1915. It became part of the 1st Division, 1st Canadian Infantry Brigade. The troops disembarked the following day and travelled by train to Strazeele, arriving there the next day. The battalion marched to Ouderstreen and then to the Armentieres area. In March 1915 it moved to the Fieuvail area and on the 4th its troops began their first tour in the line. Three four-day tours were completed during which time the battalion participated in the Neuve Chapelle fake attack. Around 28th March the battalion moved on to Neufberquin. On 16th April 1915 the battalion moved to the Ypres area and four days later was at Vlamertinghe.
On 22nd April 1915 it received a German gas attack, and a day later the battalion counter-attacked, gaining a hill north of Wieltje and Sint Jan to the north-east of Ypres. It was during this action that Bernard was killed. The 23rd April 1915 also saw the battalion's commanding officer Lt-Col Arthur Birchill killed in action. Bernard was Lance Sergeant 11027 in the 4th Battalion of the Canadian Infantry (Central Ontario Regiment). The action became known as the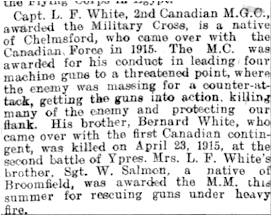 Bernard has no known grave and is one of 54,000 men commemorated on the Ypres (Menin Gate) Memorial, Ypres West-Vlaanderen. He is also remembered by the Civic Centre Memorial, Chelmsford and by the Chelmsford Parish Great War Memorial in Chelmsford Cathedral.
in 1918 Bernard's brother Leonard was awarded the Military Cross.
Bernard's father later lived at 32 Sedgeford Road in Shepherd's Bush., London. He died in December 1922.
191202