Archibald James Whitehead was born in Saffron Walden and came to Chelmsford by 1911 to work as a school teacher. He joined the army in 1915 and saw service in Egypt, Palestine and Macedonia before being drafted to France. He was killed in action in October 1918 near Ypres., less than a month before the Armistice. His home was in Anchor Street. A brother was also killed during the war.
WHITEHEAD, ARCHIBALD JAMES,
Lance Corporal, 2nd/14th (County of London) Battalion, London Regiment (London Scottish)
During 1915 Archibald enlisted into the army in London. He saw service in Egypt, Palestine and Macedonia before being drafted to France. There he was killed in action on 15th October 1918 by machine-gun fire while serving as Lance Corporal 512166 in the 2nd/14th Battalion of the London Regiment (London Scottish). He had previously held the service number 5919. He was aged 30.
He is buried at Derry House Cemetery No.2, Heuvelland, West-Vlaanderen, Belgium, some eight kilometres south of Ypres (grave: I. F. 1). He was entitled to the British War Medal and Victory Medal.
Archibald is commemorated on the Civic Centre Memorial, Chelmsford, and the Moulsham Parish Memorial, St John's Church, Moulsham.
On 8th November 1918 the Essex County Chronicle reported:
"We regret to report the death of Mr. A. J. Whitehead, killed in action in France about the 17th ult. The deceased soldier, before joining up in 1915, was an assistant teacher at St. John's Boys' School, and had served the London Scottish Regiment Egypt, Palestine, and Macedonia. Subsequently he was drafted to France, where he was killed by machine gun fire.
The deceased's mother lives a The Common, Saffron Walden. He was a clever football player, and very popular. He was also member of the Chelmsford Church Institute."
Archibald's brother Osborne also served in the army and was killed while serving with the Middlesex Regiment. Both are commemorated on Saffron Walden's war memorial which was erected by their father's company.
Archibald's mother died in 1945, aged 90. His father's monumental mason's business survives to this day as the Saffron Walden firm of Whitehead & Day (established 1857).
140302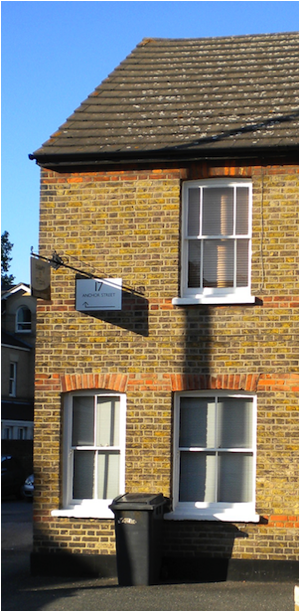 Archibald was born in Saffron Walden in 1888, the son of Osborne Whitehead and Maria Whitehead (nee Webster). His father had been born in Royston, Hertfordshire in 1847 and his mother in Edinburgh, Scotland in 1853. Archibald's parents had married on Christmas Eve 1877 and in 1881 had been resident in Saffron Walden.
Archibald's eight siblings were Kate Lydia Whitehead (1878-1894), Harold Aubrey Whitehead (1880-1932), Percy John Whitehead (1882-1962), Herbert Charles Webster Whitehead (1884-1946), Osborne Whitehead (1886-1915), Margaret Isabel Whitehead (1890-1981), Dora Marian Whitehead (1893-1987), and William Thomas Whitehead (1896-1984).
In 1891 the census found the family living on the west side of Common Hill, Saffron Walden, with Archibald's father employed as a stonemason.
The 1901 census recorded Archibald, aged 12, living with his parents and seven siblings at 4 & 5 Crown Hill, Saffron Walden. Archibald's father was employed as a stone and marble mason, with his sons Harold and Osborne Whitehead his apprentices. Percy John Whitehead was an estate agent's clerk and Herbert Charles W. Whitehead was a trainee teacher.
A decade later the 1911 census listed 22 year-old Archibald lodging with elderly Colchester-born spinster sisters Ellen and Alice Williams at 17 Lee Terrace, Anchor Street in Chelmsford (pictured). Archibald was an elementary school teacher for the Chelmsford Education Committee, working at St. John's Boys' School in Chelmsford. Meanwhile, Archibald's parents and four siblings remained at Crown Hill, Saffron Walden. His father was a master stonemason; his brothers Harold and Osborne were stonemasons.
Archibald's father died in 1916.