Henry Whitehead was the son of a well-known Victorian explorer, naturalist and professional collector of bird specimens who died on an expedition to the Chinese island of Hainan before Henry was two years old. He spent his early years in Witham and then lived in Springfield after his mother remarried. He was educated privately in Surrey and then at Cheltenham College, and from there joined the army where he gained an officers commission on November 1915. After less than a month at the front he was killed in the Somme region of France in June 1916. His home was in Springfield Road.
WHITEHEAD, HENRY,
Second Lieutenant, 4th Trench Mortar Battery, Royal Field Artillery
"Second-Lieut. Henry Whitehead, R.F.A, was killed in action on June 18 while engaged with a Trench Mortar Battery. Deceased, whose age was only 18 years and six months, was the only son of Mrs. George Wray, of Newstead House, Springfield.
He was educated at Cheltenham College, where he served in the O.T.C. for four years, and as soon as he reached the age of 18 he enlisted a commission in the Artillery, Lieut. Whitehead went to the Front on May 20. He was a popular young man, well known to a large circle of friends in Chelmsford, and deep sympathy will be extended to Mr. and Mrs. Wray in their bereavement."
The same day's Essex County Chronicle carried a similar report:
"Sec.-Lieut. Henry Whitehead, R.F.A., step-son of Mr. Geo. Wray, of Newstead, Chelmsford, was killed in action on June 13. The deceased, who was only 18.5 years of age. was educated at Cheltenham College, where he belonged to the O.T.C., and on reaching the age of 18 he received a commission. He left for France on May 20, and was appointed to a Trench Mortar Battery. He was an exceedingly popular young officer."
The same edition also carried a short family announcement:
"Whitehead - On June 13th, in France, killed in action, Henry Whitehead, Second Lieut. R.F.A., son of Mrs. George Wray, Newstead, Springfield, Chelmsford. aged 18."
The Essex County Chronicle of 15th June 1917 carried an in memoriam notice for Henry:
"Whitehead. - In loving memory of Sec.-Lt. Henry Whitehead, R.F.A., killed in action June 13, 1916, aged 18, son of the late John Whitehead, of Wimbledon, and Mrs. George Wray, Newstead, Springfield, Chelmsford.
Here a boy he dwelt through all the singing season
And ere the day of sorrow departed as he came."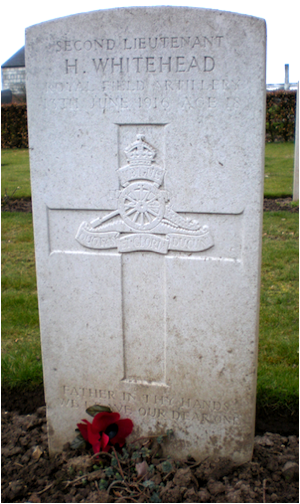 Henry was born in Witham on 13th October 1897, the only child of John Whitehead and Edith Mary Whitehead (nee Thorogood).
His mother had been born in 1870 at Witham while his father was a well-known Victorian explorer, naturalist and professional collector of bird specimens. who had been born at Colney Hatch Lane, Muswell Hill, Middlesex, on 30 June 1860, the second son of Jeffery Ludlam Baston Whitehead, stockbroker, of Newstead, Wimbledon, Surrey, and his wife, Jane Ashton Tinker.
Henry's father had been educated at Elstree, Hertfordshire, and at the Edinburgh Institution, where he began an interest in natural history. He developed a weakness of the lungs, and was compelled to winter in the Engadine in 1881–1882, and in Corsica in 1882 and 1883, when he began collecting birds, and discovered one new to science.
On his return to England Henry's father prepared for a collecting trip to Mount Kina Balu, North Borneo, which lasted from October 1884 to August 1888. He brought back examples of many new animals, including forty-five new species of birds, many of which were given latin names including 'whiteheadi' in recognition of their discoverer. The results of this trip were described in his book Exploration of Mount Kina Balu (1893).
In December 1893 Henry's father set out for the Philippines. He made nine different trips in those islands, and discovered on Mount Data the first known indigenous mammalian
fauna, returning to England in 1896, the year before Henry's birth.
Henry was baptised at St. Nicolas' Church in Witham on 12th November 1897. The baptism register described his father as a 'gentleman' resident in Witham.
In January 1899 Henry's father started for the Philippines again, intending to complete his researches there; but the war between the United States and Spain put an end to the plan, and, after waiting a few weeks at Manila, he sailed for Hong Kong, and then set out to explore the island of Hainan. The expedition was, however, plagued by fever. Henry's father struggled back with difficulty to the coast, and died at the port of Hoihow (Haikou) on 2nd June 1899. At the time of his death the family's home was at Walmer Villa in Witham. Henry's father left an estate valued at £2,605 3s.1d.
The 1901 census found Henry, aged three, living with his widowed mother and a servant in Maldon Road, Witham.
Henry's mother subsequently married George Wray (born 1875 in Springfield) a builders' merchant and only son of the stonemason James Hanley Wray at St. Anne's Church, Soho, London on 25th April 1905. The Essex County Chronicle reported on the wedding:
"WRAY-WHITEHEAD. The wedding took place at St. Anne's Church, Soho, on Wednesday, of Mr. George Wray, only son of Mr. J. H. Wray, of Springfield, Chelmsford, to Mrs. Whitehead, widow of the late Mr. John Whitehead, of Wimbledon.
The service, which was a quiet character and only attended by the immediate relatives and friends, was conducted by the Rev. Ramsey W. Conper. The honeymoon is to be spent at Brighton
At dinner given by Messrs. Wray and Fuller, at Stone House, Springfield, to the employees, several handsome presents were handed to Mr. G. Wray by the employees. Among those who attended the dinner was Mr. J. H. Wray,whose presence after two months' illness was warmly welcomed."
The family was lived at 15 Queen's Road, Springfield (today's number 30) from around 1908 to 1912. In 1913 the family was listed at Newstead in Springfield Road. The property, built in 1912, had the same name as the house in Wimbledon where Henry's grandfather had lived.
In 1911 the had census found 13 year-old Henry as a schoolboy at a private school in Lingfield in Surrey. He was subsequently educated at Cheltenham College from 19th January 1912 to 27th July 1915 where he was in the Officer Training Corps and rose to the rank of Lance Corporal.
His application for an officer's commission, completed on 5th November 1915 stated that his home was at Newstead and that he could ride a horse. That same day he passed his army medical at Chelmsford.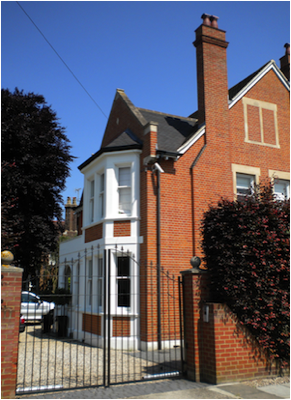 He was commissioned as a Second Lieutenant in the Royal Field Artillery on 8th November 1915. In December 1915 he was serving with 1B Reserve Brigade, Royal Field Artillery, which was later based at Forest Row in Sussex.
Henry went to the Front in May 1916 and was killed in action on 13th June 1916 while a Second Lieutenant in the 4th Trench Mortar Battery of the Royal Field Artillery. He was aged 18.
Three days after his death his mother received the dreaded telgram from the War Office:
"Deeply regret to inform you that 2nd Lieut. Henry Whitehead R.F.A. was killed n action 13 June. The Army Council confirms their sympathy."
Henry was buried at Mailly-Maillet Communal Cemetery Extension, Somme, France, some nine kilometres north of Albert (grave: D. 2), where he remains to this day. His tombstone is engraved with the epitaph "Father in thy hands we leave our dear one."
Henry's death was reported in the Essex Weekly News on 23rd June 1916: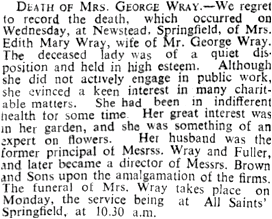 Henry is commemorated on the Civic Centre Memorial, Chelmsford and on the Springfield Parish Memorial at All Saints' Church. He was entitled to the Victory and British War medals.
Henry's personal effects which were sent back to his mother in Springfield comprised of: 1 pocket case and letters, 2 keys on a ring, 1 watch, 1 sovereign purse, 1 eyeglasses in a case, 1address book. 1 small diary, 1 scribbling pad, 1 fountain pen, 1 empty leather case, and 1 2 cheque books.
The 1918 register of electors recorded Henry's mother and step-father living at [Newstead] Springfield Road (renumbered in 1952 as number 266).
Henry's mother died at Newstead on 13th March 1940.
140205