Philip Herbert E. Whitehead came to Chelmsford as an infant, initially living in Springfield before moving to Moulsham. During the war he served in the army and died from wounds in France in October 1917. His home was in Upper Bridge Road.
WHITEHEAD, PHILIP HERBERT E.,
Private, 2nd Battalion, London Regiment (formerly of the 19th Battalion)
The 1914-15 register of electors listed Philip's father still at 164 Upper Bridge Road, Chelmsford.
Philip lived and enlisted at Chelmsford and served as 616749 in the 19th Battalion of the London Regiment. He later served as Private 245720 in the 2nd Battalion of the London Regiment.
Philip died from wounds on 4th October 1918. He is buried at Cagnicourt British Cemetery, Pas de Calais, France, 18 kilometres south-east of Arras (grave: I. C. 19).
The Essex County Chronicle of 15th November 1918 reported:
"Mr. and Mrs. E. W. S. Whitehead, of 164 Upper Bridge Road, Chelmsford, have sustained a great loss in the death of their eldest son, Pt. P. H. E. Whitehead, of the London Regt. He was only 18 years and 9 months old, and died on October 4th of wounds received while in action in France."
Philip is commemorated on the Civic Centre Memorial, and the Moulsham Parish Memorial, St John's Church, Moulsham. He was entitled to the Victory and British War medals.
Philip's father died in 1956, aged 80.
140206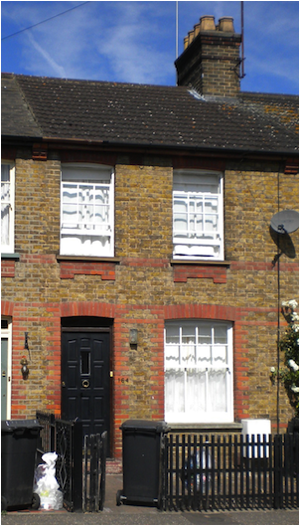 Philip was born in Stepney in east London in 1900, the eldest child of the electrical engineer Ernest William Spink Whitehead and Eliza Whitehead (nee Cadman). Philip's father had been born in Ipswich, Suffolk in 1876 and his mother in Fulham c1881.
The couple had married on 2nd April 1899 at St. Faith's Church in Stepney, Middlesex. At the time his father was a 23 year-old turner, living at 1 Cologne Street in Stepney. His bride was five years younger and lived at the same address.
Philip had five siblings, all Chelmsford-born: Ernest William Whitehead (1901-1974), Herbert William Whitehead (1904-1978), Leonard Arthur Whitehead (1906-1945), Maurice Ivor Whitehead (1908-1988), and Phyllis Whitehead (1911-1979).
Philip was resident at 1 Charlton Villas, Gaol Lane, Springfield in the 1901 census (now known as 47 Sandford Road). He was recorded as being born in Stepney, Middlesex, aged one. His father was an electrical engineer (turner).
A decade later the 1911 census found 11 year-old Philip living with his parents and five siblings at 157 Upper Bridge Road in Chelmsford (renumbered as 164 by 1914, pictured). Philip was attending school and employed as a newsboy. His father was a metal turner at an electrical engineer's.