William James (usually 'James') Whybrow was born and brought up in Chelmsford. He worked for the a local brick-making firm. He married in 1915 and went to France with the army the following year. After only a few weeks in the country he was killed in action in October 1920.
WHYBROW, WILLIAM JAMES,
Private, 11th (Service) Battalion, Essex Regiment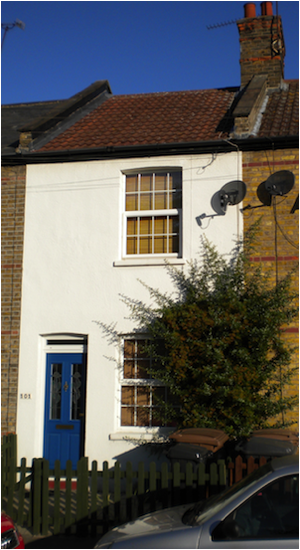 James was born in Chelmsford in 1897, the son of Harry Whybrow and Amelia Whybrow. (nee Hatley). James's father had been born in 1872 in Chelmsford; his mother in 1868 in Felsted.
The couple had married on 9th June 1894 at Felsted, at which time James's father was aged 22, a labourer, living in Felsted, and the son of the blacksmith Joseph John Whybrow. James's mother was aged 23, also of Felsted, and the daughter of Thomas Hatley, a labourer.
James's six siblings (all Chelmsford-born) were Francis Henry Whybrow (1895-1957), Cecil Whybrow (1899-1978), Blanche Evelyn Whybrow (1900-1967), Edith Mary Whybrow (1902-1989), Winifred Ethel Whybrow (1906-1958), and John Herbert Whybrow (1908-1993).
The 1901 census recorded four year-old James living with his parents and three siblings at 6 West End Terrace, (later renumbered 28, 40 and finally 101, pictured) South Primrose Hill, Chelmsford. At the time his father was an ordinary agricultural labourer.
In 1911 the census found James, aged 14, living at the same property, accompanied by his father and six siblings. He was a brickmaker's labourer at Messrs. Beach and Son's brickworks in Chelmsford. His father was a coal carman, and his brother Francis, a draper's errand boy.
James married Edith Emma Taylor on 20th September 1915 at All Saints' Church in Writtle. At the time he was aged 18, a carman, and lived at Writtle Oil Mills. His father was also a carman at that time.
James's bride was two years older, the daughter of Herbert James Taylor, a brickmaker. She also lived at Writtle Oil Mills. The couple had a son, Herbert J. Taylor, who was born and died in 1916.
During the war James served as Private 40006 in the 11th (Service) Battalion of the Essex Regiment, landing in France in the autumn of 1916. In early October that year his battalion was at Ville-sur-Ancre south-west of Albert in the Somme, where it received a draft of 50 other ranks and six new officers from the 3/5th Battalion of the Essex Regiment. James may have been amongst those men.
On 8th October 1916 James's battalion marched up from Ville-sur-Ancre over 'crowded and muddy roads' and took over trenches at Gueudecourt, relieving troops of the Somerset Regiment. When James's battalion was relieved on 10th October 1916 it went to Trones Wood, having suffered 47 casualties during its two and a half days' stay in the trenches. Among them was James who had been killed in action on 9th October 1916. He was aged 20.
James is buried at A.I.F. Burial Ground, at Flers, the village immediately south-west of Gueudecourt, Somme, France (grave: XV. H. 4).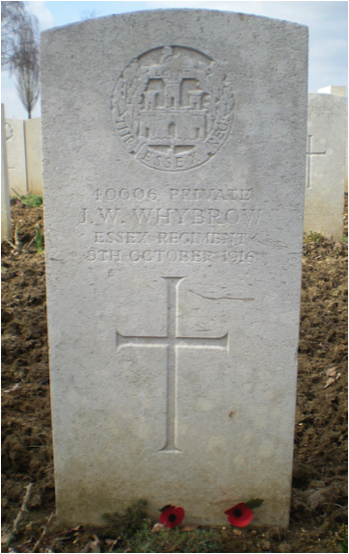 On 27th October 1916 the Essex County Chronicle reported:
"Pt. James Whybrow, Essex Regt., killed in action, leaves a young widow at Chelmsford, where he was formerly employed at Messrs. Beach and Son's brickworks. His father is employed by Messrs. Wells and Perry, Deceased, who was 20 years of age, had been in France only a few weeks. A brother of his is still in hospital suffering from the effects of gas."
On 13th September 1918 the Essex County Chronicle reported that James's brother Cecil had been wounded:
"Rifleman C. Whybrow, London Regt., son of Mr. H. Whybrow, 40 South Primrose Hill, Chelmsford, writes that he is in hospital with two bones in his forearm fractured by a bullet."
James is commemorated on the Civic Centre Memorial, Chelmsford. He was entitled to the Victory and British War medals. The 1918 register of electors showed his mother and brother Francis at the family home in South Primrose Hill (given its modern day number, 101, in 1946). James's mother died in 1941, aged 73; his father in 1945, aged 73.
James's widow married Ernest Augustus Matthams in 1918 and the couple had a son, Benjamin Charles Matthams (1922-2005). She died in 1963.
James was one of the 'South Primrose Hill Boys'.
140207