George Robert Wicks was born and brought up in Chelmsford, spending his early years at Glebe Road and French's Square. He joined the army by 1911 and was still serving at the outbreak of the war. He arrived in France in September 1914 and survived until May 1917 when he was killed in action near Arras. His family home was in Crompton Street.
WICKS, GEORGE ROBERT,
Lance Corporal, 19th (Queen Alexandra's Own Royal) Hussars
George landed overseas on 10th September 1914. He was killed in action on 20th May 1917 while serving as Lance Corporal 5568 in the 19th (Queen Alexandra's Own Royal) Hussars. He was aged 26.
He is buried at Nine Elms Military Cemetery, Thelus, about six and a half kilometres north of Arras, Pas de Calais in France (grave: I. B. 18).
The Essex County Chronicle of 15th June 1917 reported:
"Mr. and Mrs. G. Wicks, of Crompton St., Chelmsford, whose son, L-Cpl. G. Wicks, of the Hussars, was killed in action on May 20 by a shell, have received a letter from the deceased soldier's troop officer. The letter expresses the greatest sympathy with Mr. and Mrs. Wicks, and says that Cpl. Wicks was the best by a long way in the troop and squadron, and was exceedingly popular with officers and men.
The officer states that he knew Cpl. Wicks to have been a stout-hearted, clean-minded, and the finest fellow in the regiment. The deceased corporal had served with the B.E.F. from the beginning of the war and was last home on leave in Jan. Mr. and Mrs. Wicks have another son in the R.F.C., in Egypt."
George is commemorated on the Civic Centre Memorial, Chelmsford. He was not commemorated by the war memorial at St. John's Church, Moulsham,
He was entitled to the 1914-15 Star, British War Medal, and Victory Medal.
On 24th May 1918 the Essex County Chronicle included the following in memoriam announcement:
"Wicks. - In memory of our dear, beloved son, Lc.-Cpl. G. R. Wicks, 19 Hussars, who fell in action in France, May 20th, 1917. aged 27 years.
Not dead to us, we love him still;
Not dead, but gone before,
His memory lives with us to-day,
And will for evermore.
From Mother, Father, Sister, and Brothers."
The 1918 register of electors listed his parents remaining at 18 Crompton Street, Chelmsford (today's number 65) . His father died in 1923, aged 63.
140207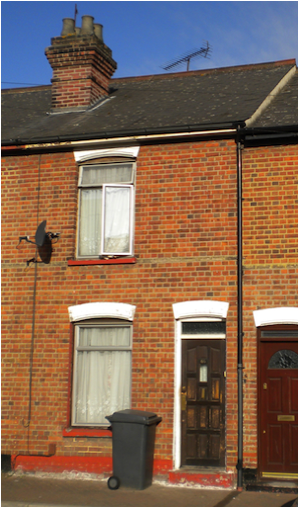 George was born at Chelmsford in 1891, the son of George Robert Wicks and Kate Emma Wicks (nee Leader). His father had been born in Chelmsford in 1861; his mother c1869.
George was baptised at St. Mary's Church, Chelmsford on 3rd September 1888, along with four of his siblings. At the time the family lived at 10 French's Square, Chelmsford.
George's seven siblings were: Harry Frank Wicks (1889-1960), Katie Emma Wicks (1893-1977), Alfred Ernest Wicks (1895-1976), Albert Stephen Wicks (1897-1975), William Walter Wicks (1899-1970), Ada Gertrude Wicks (1901-1901), and Stanley Wicks (1901-1901). The entire family was Chelmsford-born.
The 1891 census found three month-old George staying with his parents, maternal grandfather and uncles at 5 Glebe Road in Chelmsford. His father was a foundry labourer.
A decade later the census recorded ten year-old George living with his parents and five siblings at 10 French's Square, Chelmsford.
The 1911 census recorded George's parents and four brothers living at 3 Crompton Terrace, Crompton Street in Chelmsford. George's father was a labourer at an electrical engineer's; brother Harry, a milk carrier; and brother Alfred, a fitter's apprentice at an electrical engineer's.
Meanwhile 21 year-old George was serving in the army as a Private in the 19th (Queen Alexandra's Own Royal) Hussars, a cavalry unit, at Wellington Lines, in Aldershot, Hampshire.