Stanley William Wilks was born and brought up in Chelmsford. His lost his father, a soldier, in 1900. During the war he served in the Royal Marines and died on the Greek island of Lemnos, His home was in Lower Anchor Street.
WILKS, STANLEY WILLIAM,
Lance Corporal, 3rd Battalion, Royal Marine Light Infantry
The 1911 census recorded 14 year-old Stanley living with his mother, step-father, three siblings and four half-siblings at 73 Lower Anchor Street. Stanley was employed at Hoffmann's ball bearing factory in Chelmsford. His step-father was an engineer at Hoffmann's, while sister Kate was an assistant in a sweet shop.
The 1918 register of electors listed Stanley's mother and step-father still at 73 Lower Anchor Street (pictured).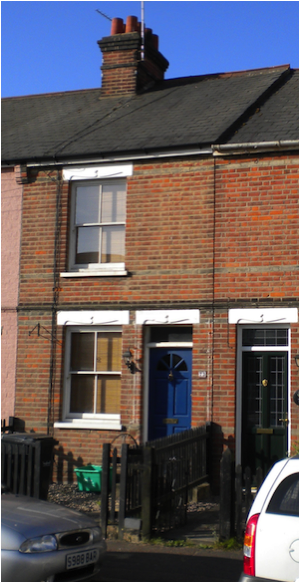 Stanley was born in Chelmsford on 22nd March 1897 (when his forenames recorded in alternative order), the son of a soldier, Ernest Stanley Wilks and Mary Josephine Wilks (nee O'Connor). His father had been born in Writtle in 1867, and his mother had been born Tralee, Kerry, Ireland around 1873. The couple had married in Tralee in 1892.
Stanley's three siblings, all Chelmsford-born, were Ellen Wilks (1894-1929), Catherine Wilks (1895-1971) and Annie Mary Wilks (1899-1974).
Stanley's father died in 1900 and later that year his mother married James Ager. Her second husband had been born in Cressing in 1875. They went on to have four children all born in Chelmsford: Harry Ager (1901-1959), Lily Florence Ager (1902-1991), Cyril James Ager (1903-1965), and Violet Winifred Ager (born in 1906).
At the time of the 1901 census four year-old Stanley was living with his mother, her second husband and three siblings at 1 Lower Anchor Street, Chelmsford. James Ager was a general carman.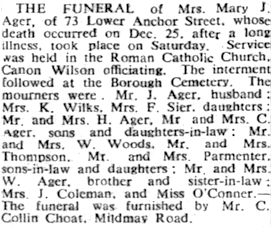 Stanley drowned on 18th May 1919 while serving as Lance Corporal CH/19792 in the 3rd R.M. Battalion of the Royal Marine Light Infantry. He was aged 22. He is buried at Portianos Military Cemetery on Lemnos, a Greek island that had been an important Allied base for the Gallipoli campaign, (grave: II. B. 370).
The Essex Chronicle reported:
"L-Cpl. S. W. Wilks, R.M.L.I., son of the late Sergt. Wilks and of Mrs. M. J. Ager, Lower Anchor Street, Chelmsford, was reported missing and presumed drowned at Mudros on May 18. Mrs. Ager has now received notification that his body was recovered and buried with full military honours on the 25th May."
Stanley is commemorated on the Civic Centre Memorial, Chelmsford. He was not commemorated by the war memorial at St. John's Church, Moulsham,
His mother died on Christmas Day 1943, aged 72; his stepfather died thirteen years later.
140208