Stanley George Willis came to Chelmsford from north London. He joined the army in November 1915 having worked previously as a grinder. He was fatally wounded in the head in November 1917. His home when he joined up was in Bradford Street.
WILLIS, STANLEY GEORGE*,
Private, 6th Battalion, Queen's Own (Royal West Kent Regiment)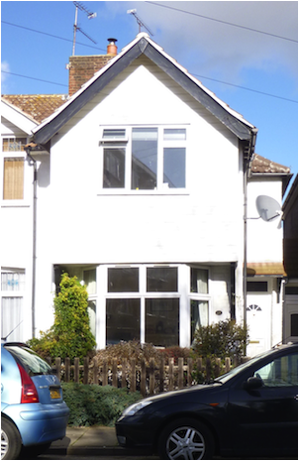 Stanley was born in Stamford Hill, Middlesex in 1897, the son of Bernard Willis and Eleanor J. Willis. His father had been born in 1865 in Stebbing, his mother c1867 in Hatfield, Hertfordshire. Bernard's mother had previously been married to Mr. Collier, and the couple had four children (all born in Tottenham, Middlesex): Joseph Collier (born c1885), Harry Collier (born c1887), Percy Collier (born c1890), and Nelly Collier (born c1892).
Bernard's six siblings (all born in Stamford Hill) were: Albert Willis (born c1896), Elsie Willis (born c1899), Marian Olive Willis (born in 1900), Bernard Willis (born c1901), Frederick WIllis (born c1906), and Francis Willis (born c1908).
In 1901 the census found three year-old Stanley living with his parents, two siblings and four step-siblings at 36 Franklin Street, Tottenham, Middlesex. At the time Stanley's father was a milkman. A decade later the 1911 census recorded Stanley, aged 13, living with his parents, six siblings and a boarder at 22 Benlah Grove in Croydon, Surrey. Stanley was still at school and his father remained employed as a milkman.
On 15th November 1915 Stanley attested at Chelmsford for Short Service (duration of the war). At the time he was 18 years and eight months old, lived at 8 Bradford Street in

Chelmsford (pictured) and was employed as a grinder. His army medical record shows that he was five feet, three and a half inches tall, had a chest of 33 and a half inches, and 'required dental treatment'. His next of kin was his father of the same address.
Stanley was posted as Private G/10696 to the 3rd Battalion of the Queen's Own (Royal West Kent Regiment) on 18th November 1915. On 3rd October 1916 he was posted to the Infantry Base and joined the 6th Battalion of the Queen's Own (Royal West Kent Regiment) two weeks later.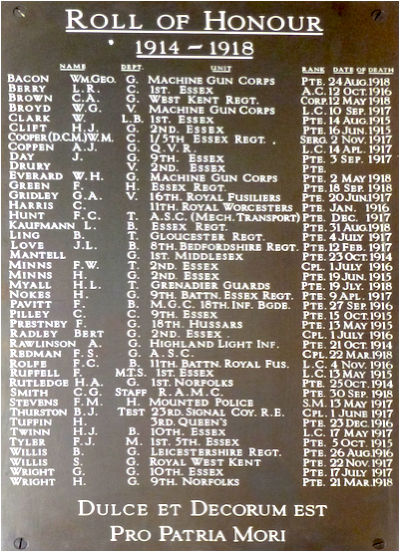 Stanley received a gunshot wound to his head, fracturing his skull, and he died from his wounds on 22nd November 1917 at the 10th General Hospital in Rouen, Seine-Maritime, France. Today he lies at St. Server Cemetery Extension, Rouen (grave P.111 P. 9B).
In 1918 Stanley's surviving effects were posted to his father, by then living at 142 Cloven Road, Welling in Kent.
Stanley's name is not one of the 359 remembered by the Civic Centre Memorial, Chelmsford. He was commemorated by the Hoffmann Manufacturing Company's war memorial which is now sited in Chelmsford Cathedral. Stanley was entitled to the British War Medal and Victory Medal.
140418