Stephen John Willsher (sometimes just 'John') was born and brought up in Plumstead where he joined the army in August 1912. He landed in France in October 1914, but returned to England the following month where he remained until discharged in April 1916. He married in 1917, his wife's family resident in Baddow Road. The couple had a child who died in infancy. John died in Chelmsford in November 1918.
WILLSHER, STEPHEN JOHN,
Guardsman, Grenadier Guards
He saw service as Private 15986 in the Grenadier Guards 'at home' until 4th October 1914 when he landed in France. However, he returned to England on 1st November 1914 and remained there until his discharge from the the army on 10th April 1916, having been assessed as no longer fit for war service. He had three years, 242 days' service, but less than a month overseas.
John married Emily Saville in 1917. She had been born in 1891 in West Hanningfield and in 1911 had been living with her parents and seven siblings at Mill Cottage in Baddow Road, Chelmsford. The couple had a daughter, Joyce E. Willsher, who was born in 1917 and died the following year. John's mother died in 1917.
In 1918 John was involved in a drowning incident near his home. The Essex County Chronicle reported:
"PLAYMATE'S PLUCKY ACT. An inquest was held at Co-operative Hall, Chelmsford, on Monday, before Mr. C. E. Lewis, coroner, on Herbert Thomas Tredgett, aged four years, son Mr. and Mrs. William Tredgett, of 22 Mildmay Road, drowned in the Navigation on Saturday afternoon.
The mother said her son left home at two o'clock, and she told him not to be long as she was going to buy him some boots. She sent her daughter to find him, and found that had gone to play with Leslie Boon, aged six. Thinking he had forgotten the boots, she went for them without him, and while in the shop she was informed of her boy's death. She had never known him go to the Baddow Meads to play.
John Willsher, Meadow View, Baddow Road, said he heard someone call out that a little boy had fallen into the river. He saw Leslie Boon, who was crying, and who returned with witness to the river. He saw the deceased's body floating, with the head under a stub in the bank. He pulled the body out and once resorted to artificial respiration, but there was sign life, death having taken place some time before witness got the spot.
Boon, crying, said, could not get him out; was too heavy.P.s. Hyslop said the body was recovered about 500 yards below Marriage's Mill. The water there was very deep, and could see children's footprints six feet away. Boon told witness they were trying to get piece of wood from the river, which was in flood. The child Boon said Bertie (the deceased) went for a piece wood in the water and slipped in. I got a long stick and let Bertie catch hold it. tried to pull him to the side. He came to the side, and I tried to get him out but I could not, and I went, and told someone. The jury returned a verdict of Accidental drowning."
John died on 26th November 1918, his 24th birthday and was buried in grave B.2111 at Chelmsford Borough Cemetery in Writtle Road on 30th November 1918. His address was Mill House, Baddow Road. The funeral service was conducted by the Reverend W. J. Pressy, Vicar of Moulsham. The epitaph on his tombstone reads: "Only good-night beloved not farewell."
John is commemorated on the Civic Centre Memorial, Chelmsford, and the Moulsham Parish Memorial, St John's Church, Moulsham.
His widow married Claude Jubilee Walford on 5th September 1928 at St. John's Church, Moulsham. She died in 1964.
140208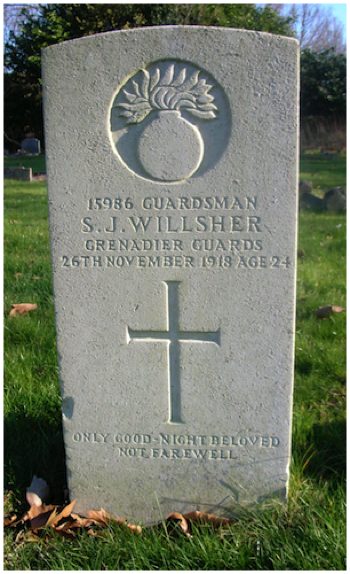 John was born on 26th November 1894 in Plumstead, Kent, the son of Ernest Willsher and Ada Mary Willsher (nee Brownfield). His father had been born in 1860 in Maidstone, Kent; his mother in 1866 in Plumstead. In 1891 the couple had been living in Plumstead.
John's siblings, all born in Plumstead except Leslie, included Edgar William Willsher (born in 1888), Sidney Willsher (born c1890), Frances Alice WIllsher (born in 1890), Beatrice May Willsher (born in 1893), Roland George Willsher (born in 1897), Leonard Alfred Willsher (born in 1899), Albert Edward Willsher, (born 1904) Charles Henry Willsher (born 1906) and Leslie Willsher (born c1908 in Crayford, Kent). A tenth sibling died by 1911.
The 1901 census found John aged six, living with his parents and six siblings at 23 Gunning Street in Plumstead. His father was an engine turner.
John was educated at Plumstead High Street School which he left on 19th April 1907.
In 1911 16 year-old John was recorded by the census living with his parents and six siblings at 74 Villers Street in Plumstead. John was a van boy for a carpenters. His father was an engineer's fitter; his brother Edgar a skilled labourer, and sister Frances a nurse. His father died later in 1911.
John attested at Woolwich, Kent to join the Grenadier Guards for 'short service' (three years in the regular army and nine in the reserve) on 12th August 1912. He was aged 18 years and one month and employed as a van guard. He was described as five feet nine and a half inches tall, weighed 129 pounds, had a 35 inch chest, fresh complexion, grey eyes and brown hair and was a member of the Church of England. He had scars on his left elbow, right knee and a pulse rate of 80 when medically examined at Woolwich on 29th July 1912. His next of kin was his mother of 89 Elms Street in Plumstead.