Edward Charles Woodroof was born and raised in Chelmsford, losing his father in a drowning accident when he was six. He worked as an under gardener and served in the Essex Regiment for ten months before emigrating to Canada in 1909 where he worked on a farm. He joined the Canadian army in April 1916. He arrived in the Ypres salient in October 1915, and for hfs gallantry the following June he was awarded the Distinguished Conduct Medal. He was subsequently gassed and wounded. After returning to his unit he was fatally wounded by a piece of shrapnel in December 1916. His mother lived in New Writtle Street.
WOODROOF, EDWARD CHARLES, Distinguished Conduct Medal,
Company Sergeant Major, 4th Canadian Mounted Rifles (Central Ontario Regiment)
(formerly of the Essex Regiment)
The citation for the D.C.M. read:
"For conspicuous bravery and devotion in volunteering and going out as a scout during a heavy bombardment on two occasions and obtaining much valuable information."
Promoted later in June 1916 to corporal and then in August 1916 to sergeant, on 12th September 1916 at Mourquet Farm on the Somme he was wounded by shrapnel. He remained on duty but was gassed on the 17th September 1916 and was removed to hospital. He recovered in time to rejoin the battalion below Vimy Ridge in October and was promoted to CSM.
On 6th October 1916 the Essex Weekly News reported:
"Sergt. E. C. Woodroof, of the Canadian Rifle Brigade, who recently gained the D.C.M. for gallantry in the field, has been gassed. He is a son of Mrs. Woodroof, of Chelmsford, and the youngest brother of Mr. William Woodroof, of Vicarage-road Chelmsford."
On 22nd November 1916 Edward was given ten days leave in England.
On 2nd December 1916 he was back to the trenches at Rochlincourt below Vimy and on the 11th December 1916. he received a Christmas package of various correspondence, cakes, socks and tobacco from the Schomberg Home Comfort Society.
The next day he wrote the following letter in response:
Dear Friends - I received a box of Xmas gifts from you last night and must thank you very much for same. It brings to mind all kinds of pleasant memories to know I am still remembered by the people of Schomberg, with whom I lived for so few years. Coming as it did last night makes it doubly cheerful as I had just returned to the trenches after spending a most enjoyable 10 day rest in England with my people. I might say it was hard to leave home; I felt it worse than at any previous time, but I suppose there are others that are perhaps worse than I was. If so I pity them. I thank you so much for your kind words. Let me say that if I have done anything to bring honour to my regiment or to the country I represent, I always feel that I have brought credit to Schomberg and vicinity, where I lived for some time. I cannot relate to you any of my experiences now; but should I be spared to live through this terrible war, I would be only too glad to tell you of some of them. I would like to tell you where we now are, but it would only be erased by the censor. - The very best wishes to the ladies of Schomberg, sincerely yours, Serjt.-Maj E.C. Woodroof
Eight days later, on 20th December 1916, forward of the front line trenches in Sap 20 a few hundred yards in front of Rochlincourt, he volunteered to go on a trench raid by this battalion. This raid was to act as a diversion for the withdrawal of a larger 400-man raid by the 1st Canadian Mounted Rifles on their left. The diversion worked and before they could get the raid started proper, his battalion's raiding party in Sap 20 received the retaliatory German barrage.
Charles was wounded by a large piece of shell fragment that tore through his thigh fracturing the femur. The wound proved fatal and he died at the 8th Canadian field ambulance near Ecurie the same night. He was the only man from the battalion killed in the raid. Edward was 30. Today he lies at Louez Military Cemetery, Duisans, four kilometres from Arras in Pas de Calais, France (grave: III. C. 2).
News of his death was reported in the 5th January 1917 edition of the Essex Weekly News:
"Sergt.-Major E. C. Woodruff. D.C.M., Canadian Mounted Infantry, youngest son of Mrs. Woodruff, of 37, New Writtle-street, Chelmsford, was killed in action by a bullet wound in the thigh on Dec. 20. Deceased, who was 30 years of age, was formerly employed at the Arc Works, and was well known in the town. Some years ago he went to Canada, where he engaged in farming, and afterwards entered the motor trade. He joined the Forces early in the war and quickly gained promotion, also winning the D.C.M. for bravery on the field. He was home on leave a short time ago, and had been recommended for a commission."
News of his death also appeared in a Canadian newspaper around the same time:
"The sad news was received here on New Year's Day of the death in action of Sergeant-Major E. C. Woodroof. Sergeant-Major Woodroof had returned a few days previously from England, where he had been decorated with the Distinguished Conduct Medal for conspicuous bravery. Mr. Woodroof was well and favourably known about Lloydtown and vicinity, and his wide circle of friends regret his untimely death...A memorial service in [his] honour.... will be held in Lloydtown Anglican Church next Sunday (Jan. 7th) at 11 a.m."
On 20th December 1918 the Essex County Chronicle included the following in memoriam notice:
"Woodroof. - In ever loving memory of a dearly loved son and brother, Sergt.-Major E. C. Woodroof, 4th Canadian Mounted Rifles, killed in action, December 20th, 1916, aged 30. Never forgotten - From his Mother, Brother, and Sisters, 37 New Writtle Street, Chelmsford.
Two years have gone since that sad day The one we loved was called away; Our loss was great, we'll not complain, We hope in Heaven to meet again.
Mother, Brother, and Sisters."
Edward is commemorated on the Civic Centre Memorial, Chelmsford, the Moulsham Parish Memorial, St John's Church, Moulsham and at the Aurora and Schomberg Cenotaphs in Canada.
His widowed mother remained at 37 New Writtle Street until at least 1920. She died in 1934 in Epping.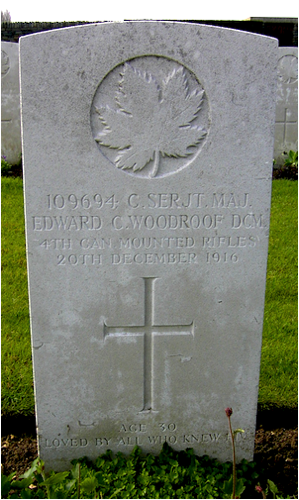 Edward was born at 24 New Writtle Street Chelmsford on 21st January 1885 and baptised at St. John's Moulsham on 3rd June 1885. He was the youngest son of groom and gardener William Woodroof and Elizabeth Mary Woodroof. (nee Higgins)
Edward's father had been born in Little Bradley, Suffolk on 24th July 1853; his mother in London on 11th April 1851.
They had married at St. John's Church, Moulsham on 15th August 1878, at which time Edward's father was aged 24 and employed as a groom. His bride was three years older and both lived in Moulsham.
By 1879 they were living at 24 New Writtle Street, Chelmsford.
Edward's siblings, all born in Chelmsford and christened at St. John's Church, Moulsham were: Mary Elizabeth Ann Woodroof (1879-1966), Ellen Kate Woodroof (1880-1968), William Walter David Woodroof (1882-1919), Ethel Lilian Emma Woodroof (1883-1974), Alice Maud Mary Woodroof (1886-1928), and Winifred May Woodroof (1888-1893).
Edward's father was drowned in the River Can in Chelmsford on 5th June 1889.
At that time of the census two years later six year-old Edward was living with his widowed mother and six siblings at 24 New Writtle Street. Edward's mother was a machinist.
A decade later the 1901 census recorded Edward, now known by his middle name, aged 16 and employed as an under gardener, living with his mother and two siblings at 37 New Writtle Street (the same house as in 1889, but renumbered in the interim). Edward's mother was a laundress; and his brother William was a groom. Edward's three older sisters were all in service and living away from home by that time. His youngest sister Winifred had died in 1893 aged only five.
Edward emigrated to Canada, arriving in Halifax, Nova Scotia on 12th March 1909 on board S.S. Virginian from Liverpool. He subsequently worked in a dairy farm in Ontario.
He enlisted into the Canadian Over-Seas Expeditionary Force on 16th April 1916 in Toronto, Canada with 20 of his friends. He was aged 30 years and 3 months. His attestation papers show that he was a brass finisher by profession and that his next of kin was his mother Elizabeth Woodroof of 37 New Writtle Street in Chelmsford.
He was unmarried and had formerly served for ten months in the 2nd Battalion Essex Infantry. He was described as being five feet nine inches tall, with a 36-inch chest, a fair complexion, brown eyes, brown hair, and was a member of the Church of England. His distinguishing marks included two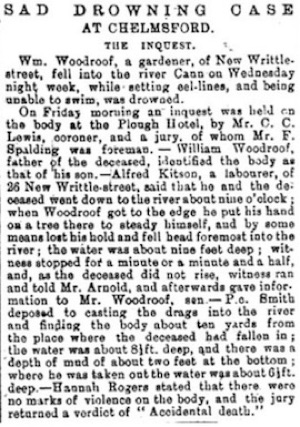 vaccination marks on his left arm, a scar at the end of the coccyx and 'all upper teeth gold except two central'. he was given the army number 109694.
Edward trained as a scout and a sniper and arrived with the battalion in the Ypres Salient via France and England in October 1915.
On 2nd June 1916 at Mount Sorrel a German attack by artillery, mines, flame throwers and infantry decimated his battalion with only 56 men returning out of a front line trench strength of about 700. During this attack Edward not only got out, but went back to the front lines twice under fire, to provide current information on the situation there and to bring out wounded. For that he received the Distinguished Conduct Medal. One of his letters indicates that of he and the twenty 'chums' he joined up with, he was the only survivor of 2nd June.
On 1st September 1916 the Essex County Chronicle announced the award of the Distinguished Conduct Medal to Edward:
"The D.C.M. has been awarded to Lc.-Cpl. E. C. Woodroof, Canadian Mounted Infantry, son of Mrs. Woodroof, of New Writtle Street, Chelmsford."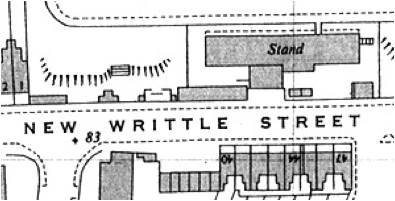 The site of 37 New Writtle Street, which for many years looked over the site of Chelmsford City's football ground, is now occupied by garages. The house was of the same vintage as numbers 40 to 47 which still survive.
140209