Benjamin Albert Woodyard was born and brought up in Chelmsford. During the war he served in the army and was killed in action in October 1918, less that three weeks before the Armistice. His home was in South Primrose Hill. A brother was accidentally killed while serving with the Royal Engineers two months later.
WOODYARD, BENJAMIN ALBERT,
Sapper, 79th Field Company, Royal Engineers
accident at Dovercourt while serving in the Royal Engineers.
Benjamin's mother died aged 62 on 6th March 1920 at her South Primrose Hill Home and was buried at Chelmsford Borough Cemetery four days later. Her husband was buried in the same grave on 20th November 1924 having died aged 70.
Benjamin was one of the 'South Primrose Hill Boys'.
140209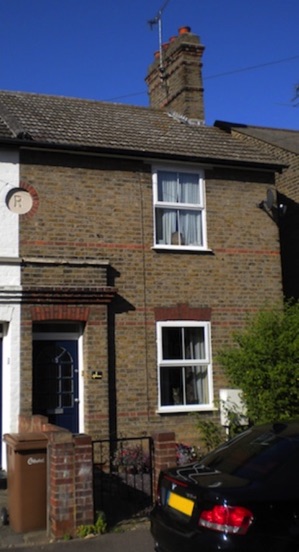 Benjamin was born in Chelmsford in 1896, the son of the stone mason Joseph Alfred Woodyard and Alice Woodyard (nee Willis). He was christened at St Mary's Church, Chelmsford on 31st July 1896. At that time his father lived at 14 South Primrose Hill.
Benjamin's father had been born in 1854 in Chelmsford; his mother c1854 in Islington, London. The couple had married at St. Mary's Church, Chelmsford on 19th November 1876.
At the time Benjamin's father was aged 22, a stone mason, resident in Chelmsford, and the son of Frederick Woodyard, a carpenter. Benjamin's mother was aged 21, resident in Chelmsford, and the daughter of William Wills, also a carpenter.
By 1881 Benjamin's parents had moved to 22 Broomfield Road, Chelmsford, with Benjamin's father employed as a stone mason.
In 1891 they were living at 11 South Primrose Hill (today number 54). Benjamin's father remained a mason, working for the firm of Wray & Fuller of Springfield Road..
Benjamin's had seven siblings, all Chelmsford-born: Joseph Adams Woodyard (1877-1919), Harry Godfrey Woodyard (1879-1956), Alice Rebecca Woodyard (born in 1881), Leonard Herbert Woodyard (1883-1883), Clara Marion Woodyard (1884-1966), Agnes Mary Woodyard (1887-1956), and Ethel Louisa Woodyard (1893-1971).
At the time of the 1901 census five year-old Benjamin was living with his parents and five elder siblings 14 South Primrose Hill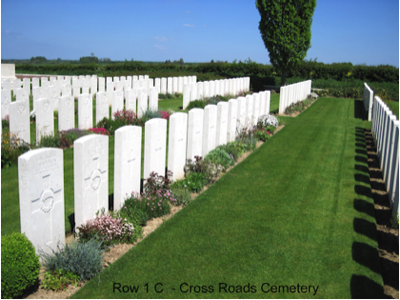 (subsequently renumbered twice and today's number 68). His father a stone mason, his brother Joseph was a carpenter and his brother Harry was an electrical engineer.
A decade later 15 year-old Benjamin was recorded by the 1911 census living at the same house as in 1901, but then numbered 18, accompanied by his parents and sister Ethel. Benjamin was an attendant; his father a labourer at Hoffmann's and his sister a cashier at a china shop.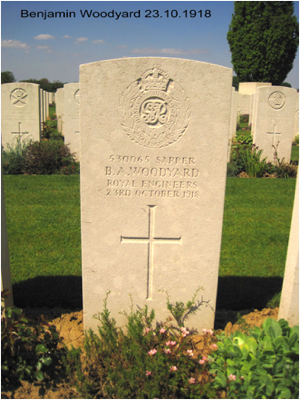 Benjamin enlisted into the army at Chelmsford. He was killed in action on 23rd October 1918 while serving as Sapper 530065 (at one time T212) in the 79th Field Company of the Royal Engineers. He is buried at Cross Roads Cemetery, Fontaine-Au-Bois, Nord, France (grave: I. C. 20). He was 21.
On 15th November 1918 the Essex County Chronicle published the following family announcement:
"Woodyard (Ben). - Killed in action, 23rd Oct., 1918. 530065 Sap. B. A. Woodyard, R.E., of 30 South Primrose Hill, Chelmsford."
Benjamin is commemorated on the Civic Centre Memorial, Chelmsford and by the Chelmsford Parish Great War Memorial in Chelmsford Cathedral. He was entitled to the British War Medal and Victory Medal.
The 1918 register of electors listed Benjamin's parents at the same house as in 1911, then numbered 30 South Primrose Hill (today's number 68).
Benjamin's eldest brother, Joseph Adams Woodyard, was killed three months later, on 25th January 1919, in a motorcycling