Robert Arthur Brewster was born and brought up in Writtle where he worked as an agricultural labourer. He joined the army in November 1914 and in January 1916 married at Writtle. He was killed on the opening day of the Battle of the Somme in July 1916. His mother lived in Queen Street and his widow lived in Lower Anchor Street. A brother was also killed during the war at Gallipoli.
BREWSTER, ROBERT ARTHUR*,
Lance Corporal, C Company, 2nd Battalion, Essex Regiment
The deceased ran up the garden and witness pursued him, but fell. She lit a lantern soon possible and summoned her husband, who brought another lantern. The two traced deceased's footmarks into the field on the opposite side the road, and in the ditch on the right hand side the gateway they found the deceased lying the water. He was on his face and was quite still. The ditch was about four feet deep, but there was not much water.
The deceased appeared quite dead. His face was completely under water. —A juror : About how long was lie in the water ?—Witness: Not more than ten minutes or a quarter of an hour.
— William French, husband of the last witness, gave corroborative evidence. He said the ground was very slippery near the ditch.—Mrs. Jane Cower, who laid the. body out, said that; beyond the injury to the left eye there were no bruises or marks of violence on it.
—Mr. E. Shedd, surgeon, said he was called to the deceased on; Tuesday. Deceased was suffering from traumatic erysipelas, the wound being a contusion of the left eye. He inquired daily deceased had been delirious, but was informed that this was not so. Witness went to see him Sunday morning about 10.30, and was surprised to that was dead. He was of the opinion that the immediate cause of death was suffocation from drowning. Police-sergeant Lunniss said he had been informed that the deceased had suffered from erysipelas previously.
—After the Coroner had summed up, Mr. Wallace, juror, said : This accident would never have happened if it hadn't been for the blow.—The Coroner: We cannot go back so far as that. We cannot trace the matter back to the blow, and return a verdict of manslaughter against the man who gave him the blow. Another Juror: never would have been the ditch if it hadn't been for the blow. Mr- Shedd : I can say that he would have been ill if he hadn't received the blow. His was a bad state of health.—A Juror : He told me that after received the blow and his head felt as if it would split.—The jury eventually found that the deceased met his death by drowning."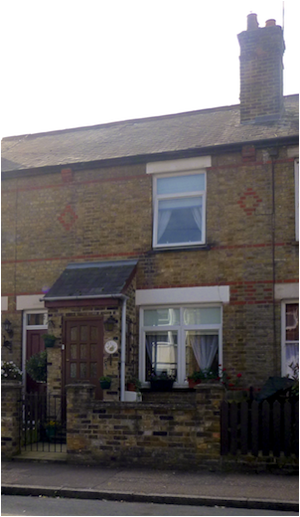 Robert was born in Writtle around 1890, the son of James Brewster (1885-1893) and Ann Marie Randall (born 1856 in Norfolk). His siblings were: Alice Mary Brewster (born 1881), Elizabeth Maria Brewster (born 1883), James Robert Brewster (1886-1915), Frederick Brewster (born 1889), and Edith Brewster (born 1893).
In 1891 the census recorded him, aged eleven months, with his parents and four siblings at Little Oxney Green near Writtle where his father was an agricultural labourer.
Robert lost his father in strange circumstances in January 1893. A report in the Essex County Chronicle on Friday 27 January 1893 read:
"Early on Sunday morning the dead body of James Brewster, aged 37, an engine driver, was found in a ditch near his home at Oxney-green, Writtle. Brewster had been suffering from erysipelas in the face, which is supposed have been caused by a blow received rather more than a week ago. Mrs. French, wife of Win. French, neighbour, sat up with him Saturday night. About five o'clock on Sunday morning he went out, although advised not to do so. As he did not return, Mr. and Mrs. French went in search of him, and discovered him lying face downwards in ditch, containing about eight inches of water. How the deceased got into the water is a mystery, There is nothing to lead to the supposition that committed suicide. The deceased worked for Mr. White, threshing machine proprietor, of Margaretting, and he leaves a widow and several children."
The inquest which followed was reported as follows:
"An inquest was held on the body by Mr. C. C. Lewis, the Chequers Inn, Oxney-green, on Tuesday evening.—Mr. John Challis, farmer, was foreman of the jury.—Mrs. Mary Brewster, of Harold Wood, mother of the deceased, gave evidence of identification.—The Coroner : You know nothing of the cause of death ?—Witness: I was there when he was brought home after he had the blow.—The Coroner: You were about to relate that he had disturbance with some other man?—Yes.—When was that?— Last Friday night week.—The Coroner decided to hear the other evidence before taking this statement.
—Mrs. Eliza French said she knew deceased had been suffering from an injury to one his eyes since Friday night week. About one o'clock on Sunday morning Mrs. Brewster sent for her. Witness at once went to Brewster's cottage. The deceased was sitting dressed in the bedroom. Witness said, "Brewster, you ought not to have got up,'' and deceased replied, "If you had lain there and seen them pull the house to pieces you would have got up." The deceased was delirious. Witness persuaded the deceased to undress and go to bed, which he did, afterwards eating a basin of broth. In about hour and half the deceased got up and said, "I must dress myself." He afterwards insisted on going outside, although witness tried to prevent him by standing with her back against the door. At that time it was very dark, and raining hard.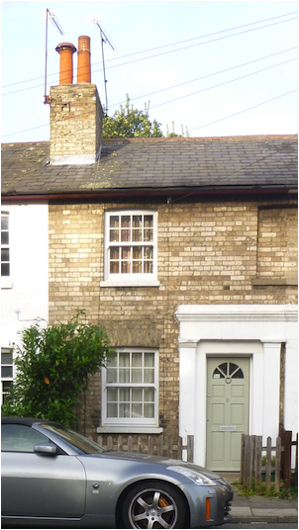 The next census in 1901 found Robert, aged 15, with his widowed mother, his two brothers and three sisters at Vine Cottage, The Causeway in Writtle.
In 1911 he was recorded by the census aged 20, working as an agricultural labourer and living with his mother and youngest sister at Vera Cottage in Writtle.
In November 1914 Robert enlisted at Chelmsford into the 3rd (Special Reserve) Battalion of the Essex Regiment and he was subsequently posted to C Company in the regiment's 2nd Battalion where he was a Lance-Corporal. His service number was 3/3536.
On 16th January 1916 Robert married Sarah Hannah Horsley at All Saints' Church in Writtle. At the time he was aged 25, serving as a Lance-Corporal in the 2nd Battalion of the Essex Regiment, with his home in Writtle. His bride was aged 26, lived in Princes Risborough in Buckinghamshire and was the daughter of John Horsley (deceased).
Less than six months later Robert was killed in action, on the opening day of the Battle of the Somme on 1st July 1916. Today he lies at Serre Road Cemetery No 2 (grave I. F. 3.).
Robert's brother, James Robert Brewster, was killed in action in Gallipoli on 28th April 1915.
Robert's widow died, following illness, aged 31 in October 1920, days before the unveiling of the Moulsham War Memorial which included his name. At the time of her death she was living with her sister and brother-in-law at 61 Lower Anchor Street in
the Moulsham area of Chelmsford (pictured opposite column left). Robert's other connection to Moulsham was via his mother, who was resident at 6 Queen Street in 1918 (pictured above).
130519