Albert Ernest Bullard was born in India, the son of a soldier whose postings took the family all over the world. In March 1905 he joined the army where he remained until December 1912. He re-joined in November 1913 and was serving at the outbreak of the war. He landed in France in April 1916 and was killed in action five months later. His father lived in St. John's Road.
BULLARD, ALBERT ERNEST*,
Rifleman, 2nd Battalion, Rifle Brigade (The Prince Consort's Own)
On 5th March 1905 Albert, then aged 18 years and for months, followed in his father's foot steps and attested to join the army at Winchester. He joined the 4th Battalion of the Rifle Brigade (The Prince Consort's Own) for a planned period of nine years with the colours and three in the reserve. He was transferred to the 2nd Battalion of the Rifle Brigade on 27th December 1906.
After almost eight years in the army he was placed on the army reserve on 30th December 1912.
In the summer of 1913 Albert's mother died at Silvertown and soon afterwards Albert was back in the army - he re-engaged for a further year on 17th November 1913, and on 16th July 1914 rejoined the colours.
On 20th April 1916 Albert landed in France having been posted to the Rifle Brigade's 2nd Battalion.
He was killed in action on 26th September 1916 having been reported as missing, and was later assumed to have been buried in a dugout. Today he has no known grave and is commemorated on the Loos Memorial (panel 129), Pas de Calais in France, and the Moulsham War Memorial at St. John's Church, Moulsham Street, Chelmsford.
At the time of his death Albert's next of kin was his father who was resident at 25 St. John's Road in Chelmsford with his second wife Mabel Harriet (formerly Wrighton and Bell) (1870-1957) whom he had married in Chelmsford in 1917. The property was later re-numbered 52 St. John's Road.
Albert was entailed to the British War Medal and Victory Medal the receipt of which was acknowledged by his father on 10th March 1921.
His father died at 31 Bouverie Road in August 1948.
140301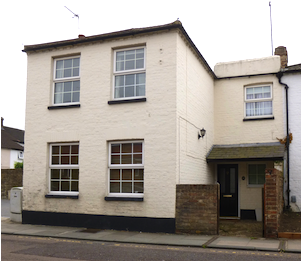 Albert was born on 4th November 1887 in Fyzabad, Bengal, India. He was the son of the soldier George Robert Bullard (1863-1948) and Irish-born Mary Ellen Bullard (nee Kenny) (1864-1913). His parents had married in Ireland in 1883 and then followed a fairly nomadic existence as Albert's father was posted to places such as Ireland, India and Warrington. While with the army Albert's father reached the rank of Company Sergeant Major.
Albert's siblings were: Mary Lavinia Bullard (born 1884), George R. Bullard (born 1886), Ivy Osbourne Edward Bullard (1891-1916), Kathleen Bullard (born 1893)
Frederick Bullard (born 1895), Harry Bullard (1898-1944), William James Bullard (1901-1976), Eileen Bullard (born 1903), plus three others who were to died by 1911.
In 1901 the census recorded 13 year-old Albert, his parents and six siblings living in Silvertown where Albert's father was a soldier instructing volunteers in the 4th Voluntary Battalion of the Essex Regiment. He left the army on 26th April 1904 and later worked for H.M. Customs.