Thomas James 'Tom' Coleman was born and brought up in Widford where his father worked on the railway. He joined the army by February 1915 and was killed when a shell burst on his dug-out in April 1917. His home was in Railway Cottages in Widford.
COLEMAN, THOMAS JAMES*,
Rifleman, 1/9th Battalion, London Regiment (Queen Victoria's Rifles) (formerly Essex Regiment)
During the First World War Tom enlisted at Chelmsford and served initially with the 1/5th Battalion of the Essex Regiment. He subsequently served as Rifleman 6635 (later 393915) in the 1/9th Battalion of the London Regiment (Queen Victoria's Rifles). He was already in the army by February 1915.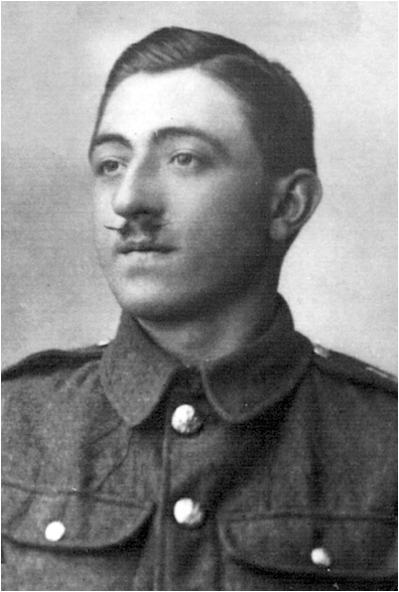 Tom was born in Widford on 27th January 1894, the youngest son of railway worker David Little Coleman (1867-1940) and Emma Jane Coleman (nee Pepper) (1861-1935). He was baptised at St. Mary's Church in Widford on 25th March 1894 - at that time his father was described as a railway plate layer of Widford.
Tom's parents had married some five years earlier at St. Mary Magdelens's in Great Burstead and arrived in Widford around 1891.
Tom was one of seven children: David Frederick Coleman (1889-1980), Arthur George Coleman (1892-1982), Emma Jane Coleman (1896-1947), Agnes Mary Coleman (1898-1973), Albert Charles Coleman (1902-1965), and Henry Benjamin Coleman (1903-1903).
The 1901 census recorded Tom, aged seven, with his parents, five siblings and a boarder living in Widford. At that time Tom's father was still employed as a plate layer. A decade later the next census found 17 year-old Tom living with his parents
and five surviving siblings in a cottage on the south side of what is now Widford Road. Tom was employed as a house boy; his father remained a plate layer for the Great Eastern Railway, while one brother worked at an electric light works and another at Chelmsford golf links.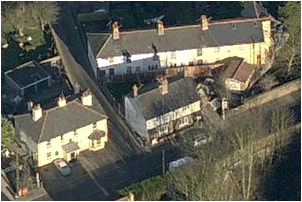 On 27th April 1917 Tom's mother received news that Tom killed instantaneously by a shell busting into his dug out in France on the night of 11-12th April 1917. He was 23 years' old.
The May 1917 edition of the Widford Parish Magazine reported:
"On April 11th, Private Tom Coleman laid down his life, 'killed in action'. The last time we saw him was at the Funeral of the late Lieut.-Col. Taylor, in whose Battalion he served until he left for service abroad, when he was transferred to another Regiment. We have seen Tom grow up
from childhood to manhood, and we now grieve that the great fight against materialised evil has needed that he shall lay down his life: but again, we are proud of the way he died, fighting the good fight. How good it is to know that he was not ashamed of the Cross of Christ during life, for we know what Jesus said, 'Whoso shall confess Me before men him will I confess before My Father.'"
Tom has no known grave and is commemorated on the Arras Memorial, Pas de Calais, France, and by the war memorial in St. Mary's Church, Widford, where both of his parents are buried. He is not commemorated by the Civic Centre War Memorial in Chelmsford.
During the war Tom's brother Arthur served in the Army Service Corps, while his brother David served in the Essex Regiment.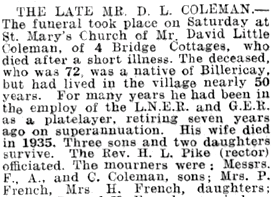 At the time of his death Tom's parents were living at Railway Cottages in Widford. The property became part of the Borough of Chelmsford when parts of Widford were absorbed into an expanded Borough in 1934 - prior to that the boundary between the two had run largely down the centre of what is now Widford Road with the parish on the northern side and the Borough on the southern.
Tom was entitled to the British War Medal and Victory Medal.
His mother died in 1935; his father died in 1940 having worked on the railway as a platelayer for over 40 years.