Frederick William Hawkes was born and brought up in Springfield. During the war he served in the Royal Navy and died within three weeks of the Armistice, a victim of the flu pandemic at the end of the war. His home was in Lawn Lane.
HAWKES, FREDERICK WILLIAM,
Stoker 1st Class, H.M.S. Princess Royal, Royal Navy
lived for many years in Lawn Lane until his death in 1931. William's home for all 85 years of his life was 1 Lawn Lane.
140304
Frederick was born in Chelmsford on 2nd April 1889, the son of the single woman Elizabeth Hawkes.
At the time of the census in 1891 Frederick was aged two years old living with his mother, uncle William Hawkes and elderly grandparents at 1 Lawn Lane in Springfield.
The property stood on the western side of the lane midway between Church Lane and the lane to Springfield Hall, just north of the modern day junction of Lawn Lane with Waveney Drive (south) - see map, left.
A decade later the 1901 census recorded him aged 11 with his mother, uncle and widowed grandmother at Lawn Lane.
During the First World War Frederick served as Stoker 1st Class K/8577 in the Royal Navy on board H.M.S. "Princess Royal".
Frederick died, aged 29, at the Royal Navy Hospital at Granton, Edinburgh, Scotland from influenza at 6.29 a.m. on 22nd October 1918. He had been ill for eight days.
At the time of his death his usual abode was in Lawn Lane, Springfield where his mother still lived.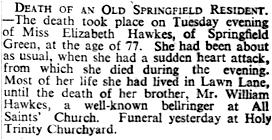 Today Frederick lies in Seafield Cemetery in Edinburgh (grave: Screen Wall. M. 66). He is commemorated on the Springfield Parish War Memorial at All Saints' Church.
He is not commemorated by the war memorial at the Civic Centre, Chelmsford.
Frederick's mother died in 1937, aged 77, when her home was at Miss Seabrook's Almshouses on Springfield Green. She was buried in the grave of her brother, William Hawkes, with whom she had