Henry William George Herring (usually known as Billy) was born and brought up in Chelmsford. He worked as a draftsman for Crompton's and joined the Territorials before the war. Mobilized at its outbreak he served at home and abroad, marrying in May 1918 while home on leave, He became ill and died in an Ipswich hospital in September 1920. His home was in Lower Anchor Street.
Billy was born in Chelmsford in 1883, the elder of two sons of George Albert Herring (born 1864) and Laura Herring (nee Stonehold) (1865-1914).
The 1901 census recorded seven year-old Billy with his parents and a younger brother, Stanley James Herring (1896-1962), at 20 Roman Road in Chelmsford. At the time his father was a printer compositor with the Chelmsford firm of John Dutton.
A decade later the 1911 census recorded the family of four still at 20 Roman Road, John was aged 17 and employed as a design electrician at Crompton's Arc Works in Chelmsford; his father remained a printer compositor, while Billy's younger brother was shop assistant in a hardware store.
HERRING, HENRY WILLIAM GEORGE*,
Sapper, Royal Engineers
Billy showed considerable skill as a draughtsman, and served for a long time in France with a Field Company of the Royal Engineers, and was subsequently attached to General Headquarters as a draughtsman in France.
On 25th May 1918, whilst home for a month's leave from the drawing office of the Royal Engineers Training Depot in France, Billy married Alice Kate Ward (1895-1975) at St. John's Church in Moulsham Street, Chelmsford. He was aged 24 and a soldier. She was two years younger and was the youngest daughter of George Ward. Both bride and groom lived with Mr. and Mrs. Ward at 10 Belle Vue in Chelmsford. She was on the staff of the Despatch Department at Crompton's. The couple's honeymoon was spent in Weymouth.
Billy became ill and was sent to Felixstowe in Suffolk in an attempt to aid his recovery. he was then moved to the East Suffolk Hospital in Ipswich where he died on 19th September 1920. He was 27.
Billy's funeral was held on 25th September 1920 at the Borough Cemetery in Writtle Road, Chelmsford.The interment was preceded by a short service in St. John's Church, the Rev. G. C. Twist officiating.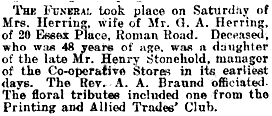 Three years later Billy's mother died at 20 Roman Road, aged 48.
In the period up to the war Billy continued to work as a member of staff for Crompton's in the Engineers' Office. He was a Territorial, like many of his colleagues from Crompton's in the Essex Fortress Engineers, Royal Engineers. His unit was mobilised at the start of the war for coastal in the Notts & Derbyshire Regiment.
defence duty and he served as Sapper 133. Later he was given the service numbers of 530018, and WR/179728 when posted to other units of the Royal Engineers. He is also thought to have served at one point as Private 94528

Billy is not commemorated by the Commonwealth War Graves Commission, but is remembered on the Moulsham War Memorial at St. John's Church, Moulsham. At the time of his death Billy's home was at 99 Lower Anchor Street in Chelmsford. His widow did not remarry and died in 1975.
Billy's father died in London in 1941.
130519