Harry Jarvis was born and raised in Widford. He joined the army early in the war and landed in France in May 1915. He was killed in action at Arras in July 1917. His home was in what is now Widford Chase. A brother was also killed during the war.
Harry was born in Widford on 6th August 1894, the son of John Jarvis (1851–1915) and Elizabeth Jarvis (nee Porter) (1850–1908). He was baptised at St. Mary's Church, Widford on 13th October 1894 at which time his father was a labourer living in Widford.
JARVIS, HARRY*,
Private, 9th Battalion, Essex Regiment
Harry's family was not without tragedy: Around 4 p.m. on 31st March 1915 John's widowed father was found dead, hanging by a neckerchief from a nail in the washroom at the back his premises in Widford by his neighbour Miss Ethel Tarbun. An inquest into the 64 year-old's death took place the following afternoon at the Rising Sun public house in Chelmsford where Mrs. Ethel Dance, daughter of the deceased said that she had been keeping for her father for six until the previous Tuesday, when she left him because was so unkind to her. The parting appeared to have upset her father who 'had been very strange his mind for some time, and had several times threatened to drown himself or go on the railway line.' The Jury found a verdict of Suicide temporarily insane.
Harry landed in France on 30th May 1915 but was killed in action at Arras on 18th July 1917. Harry has no known grave and is commemorated on the Arras Memorial. He was entitled to the the Victory, British War and 1915 Star medals.
The September 1917 edition of the Widford Parish Magazine reported:
"At the beginning of August news was received in Widford that Harry Jarvis had been killed in action. He enlisted early in the war and had seen much fighting. Many Widford people have known him form birth and we sigh as we realise that in him we have yet another one, who will not return to his native home. But we do not forget that he died fighting for a great cause, and that his name is inscribed, with those of his fallen comrades, in the hearts of men and women for whom he gave his life. RIP. 'In sacred sleep they rest; say not of brave men they die'"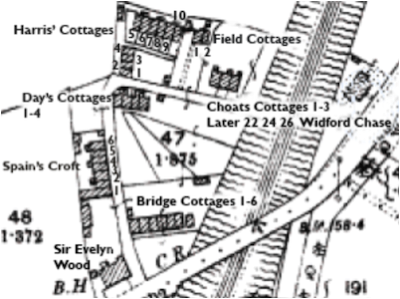 John's siblings included George William Jarvis (1871–1918), Alfred James Jarvis (born 1874), Alice Elizabeth Jarvis (born 1876), Ellen Kate Jarvis (1879–1945), Elizabeth Mary Jarvis (1882–1883), John Charles Jarvis (1884–1916), Florence Jubilee Jarvis (born 1887), Martha Ethel Jarvis (1890–1965), and William Thomas Jarvis (1897–1977).
In 1901 the census recorded six year-old Harry living with his parents and three sibling at Sidings Cottages,
Widford where his father was a brickmaker.
At the time of the 1911 census 14 year-old Harry, his widowed father and two siblings were resident at 5 Spain's Croft in Widford. Harry was an apprentice to a turner at Crompton's electrical engineering works in Chelmsford. 5 Spain's Croft was demolished in the late 1930s.
During the First World War Harry served as Private 12021 in the 9th Battalion of the Essex Regiment. He and his brother Thomas were both serving in the army by October 1914.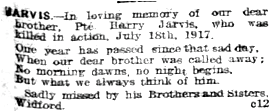 Harry's brother, John Charles Jarvis, was killed on 26th June 1916 while serving with the Royal Engineers. Although by then resident in Grays. John, like Harry, is commemorated by the war memorial at St. Mary's Church, Widford.
Harry's brother, George, was killed in 1918 when he was knocked off his bicycle in New Street, Chelmsford and run over by a petrol tanker.
Harry's brother-in-law, James Stivans Sach (husband of Ellen Kate Jarvis), was killed during the First World War and is commemorated by the Civic Centre Memorial in Chelmsford. Harry's nephew, Robert George Dance was killed in the Second World War.
Spain's Croft became part of the Borough of Chelmsford when parts of Widford were absorbed into an expanded Borough in 1934 - prior to that the boundary between the two had run largely down the centre of what is now Widford Road with the parish on the northern side and the Borough on the southern.
140305