Charles Thomas Johnson was born in Chelmsford and moved to Widford while a boy where he was neighbour to Harry and John Charles Jarvis. He worked for Clarkson's steam bus company before joining the army early in the war and was killed in action near Ypres in May 1915. His home was in what is now Widford Chase.
Charles was born in 1897, the eldest of six sons of coach painter James Johnson and Florence Mary Johnson of 4 Spains Croft, Widford. His father had been born in 1861 in Chelmsford; his mother c1875 in Durham. the couple had married around 1896. Charles was christened at St. John's Church in Moulsham on 19th January 1898, when his father was coach painter of 5 Friars Place, Chelmsford.
JOHNSON, CHARLES THOMAS*,
C Company, 2nd Battalion, Essex Regiment
On 13th August 1915 the Essex Weekly News carried the following appeal for information:
"Mr. and Mrs. Johnson of 4 Spains-croft, Widford, would be glad to receive any news concerning their son, Pte. Charles Johnson 10310, 2nd Essex, who was reported missing by the War Office on May 13 after the battle of Ypres."
An almost identical report was featured in the same day's Essex County Chronicle. Eight months later the 14th April 1916 edition of he Essex Weekly News carried further news on Charles:
"The War Office have intimated in reference to Pte. Charles T. Johnson, 10310, Essex Regiment, who has been missing since May 13, 1915, that they are reluctantly constrained to conclude that he is dead. A communication expressing the sympathy of H.M. the King has been received from Lord Kitchener. Deceased, who was formerly employed at Messrs. Clarkson's works, was the son of Mr. and Mrs. James Johnson, of Spains Croft, Widford. Another son, Pte. Frederick E. Johnson, 10940, Essex Regiment. was admitted to hospital on Feb, 29 suffering from diphtheria (suspected), severely. He was formerly employed by Mr. Green, butcher, Moulsham-street, Chelmsford. Mr, Johnson has two other sons serving with the Forces - Ernest, in the Engineers, and James, in the East Anglian Cyclists."
A similar report was carried by the day's Essex County Chronicle.
Charles has no known grave and he is commemorated on the Ypres (Menin Gate) Memorial in Belgium and the Widford Memorial. He is not commemorated on the Civic Centre Memorial, Chelmsford.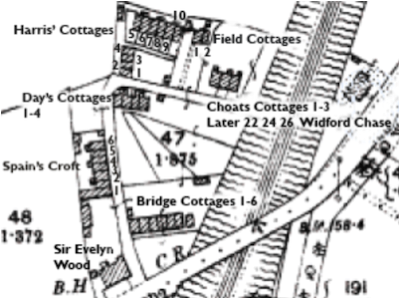 Charles' father had previously been married (in 1883) to Annie Sophia Jacobs who was born in Chelmsford in 1863. She produced a son, Albert Ernest Johnson (born in 1886), but died in 1893.
Charles' siblings, all Chelmsford-born, were Frederick Edward Johnson (born in 1899), Annie May Johnson (born in 1900), William Henry Johnson (born in 1904), Elizabeth Mabel Johnson (born in 1906) and Florence Lydia Johnson (born in 1910).
The 1901 census found three year-old Charles
living with his parents, half-brother Albert, and two siblings in New London Road, Chelmsford. His father and elder brother were both coach painters. In 1911 the census listed 13 year-old Charles with his parents and four siblings behind the Sir Evelgn Wood public house at 4 Spains Croft in Widford. His father was a coach painter.
Charles was in the army by September 1914 and was recorded as such in the Widford Parish Magazine in October 1914. By June 1915 his brother Frederick was also serving in the army.
Charles went missing in action on 13th May 1915 while serving as Private 10310 in C Company of the 2nd Battalion of the Essex Regiment. In July 1915 the Widford Parish Magazine reported:
"Our sympathy goes to Mr and Mrs Johnson in their anxiety as to the fate of their son Charles who is reported 'missing'. No further news comes to hand, and suspense in such a case is very painful to the parents. Let us pray to the Father that this soldier may still be restored to his parents."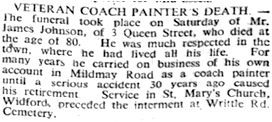 Spain's Croft became part of the Borough of Chelmsford when parts of Widford were absorbed into an expanded Borough in 1934 - prior to that the boundary between the two had run largely down the centre of what is now Widford Road with the parish on the northern side and the Borough on the southern.
Charles' father died in 1942, aged 80.
130511