Colin George Smith was brought up in north London and Romford, marrying at the latter in 1913. He came to Chelmsford soon after to work as a clerk and timekeeper at Hoffmann's and made his home in Upper Bridge Road. He volunteered for the army soon after the outbreak of the war and was fatally wounded by an exploding shell six weeks before the end of the war. He had a daughter.
SMITH, COLIN GEORGE,
Private, 5th Field Ambulance, Royal Army Medical Corps
In 1913 Colin married Amy E. Perry in Romford. The couple had a daughter, Grace A. Smith, born the following year in the Chelmsford District.
Colin served as Private 3962 in the 5th Field Ambulance of the Royal Army Medical Corps. He was wounded by a shell on 29th September 1918 and died the following day.
On 18th October 1918 the Essex County Chronicle reported:
"Pt. Colin George Smith, R.A.M.C., was struck by a piece of exploding shell on Sept. 29, and died next day in a casualty clearing station. He was 32 years of age, and leaves a widow and a little girl of four, living in Upper Bridge Road, Chelmsford. He was a native of Romford. Before the war he was clerk and timekeeper at Hoffmann's. and when war broke out he was among the first to offer his services."
Today Colin lies at Doingt Communal Cemetery Extension, Somme in France (grave: III. C. 12). Three other Chelmsford men lie in that cemetery.
Colin's name is not one of the 359 remembered by the Civic Centre Memorial, Chelmsford and is also omitted from the Moulsham war memorial.
The 1918 register of electors listed an absent Colin at 226 Upper Bridge Road.
Colin's nephew, Colin George Viney, born in 1920, was named after Colin.
140302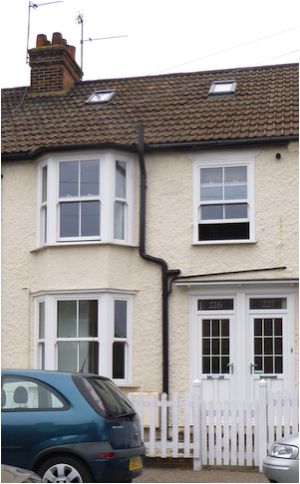 Colin was born on 5th June 1886 in Islington, the son of the printer George Acason Smith and Louisa Eliza Smith. His father had been born in 1858 in Barnet, Hertfordshire; his mother in 1865 in Barnet, Hertfordshire. His parents had married around 1883.
Colin was christened at St, Barnabas Church in Islington, Middlesex on 25th July 1886. At the time his father was a printer of 1 Lorraine Road in Islington.
Colin's siblings were Ethel Miriam Madeline Smith (born in 1884 in Brighton, Sussex), Edward A. Smith (born c1885 in Islington), Cecil John Smith (born in 1888 in Islington), Dorothy May Smith (born c1891 in Harringay, Middlesex), and Nora Kathleen Smith (born 1893 in Harringay).
In 1901 the census recorded 14 year-old Colin, living with his parents, four siblings and a boarder in Lower Holloway, Islington. His father was the manager of a letterpress printers.
A decade later Coin, by then aged 24, was found by the 1911 census living with his parents, four siblings and a lodger at 43 Manor Road in Romford. Colin was a works clerk; his father was an assistant editor and printer; his brother Cecil a process engineer; and his sister Dorothy was an editorial assistant.