Percy Thomas Brewer was born in Chignall Road to a single woman. After probably being brought up by his maternal grandparents he pursued a career as an electrical engineer, interrupted by service in the Royal Naval Air Service during the First World War. In the 1930s he helped install 'the Tote'. He married in Devon in 1937 and had a baby daughter born in London in 1943. The following year he was killed by a V-1 flying bomb in Wandsworth.
Percy Thomas BREWER, Civilian
Killed by a V-1 flying bomb in Wandsworth. Aged 45
Percy's last job for Standard Telephones and Cables Ltd commenced on 11th April 1940 in Hull. Two and a half months' later, on 26th June 1940, the Home Office issued a restriction order against Percy intended to prevent him 'acting in a manner prejudicial to the public safety or the defence of the realm'. The order meant that Percy could not enter a protected area; had to notify the police where he was living and his daily movements; could not move without their permission; and was not permitted to use or make any wireless equipment. The reason for the order is unconfirmed, but possibly Percy was a conscientious objector. He subsequently appealed against it and on 12th September 1941 the Home Office wrote to him agreeing to revoke the restriction order.
By 1941 Percy was living in Westover Road in Wandsworth, London. He was appointed Street Leader for the Fire Guard at post E41.In July 1943 Percy and Grace had a daughter born in Wandsworth but soon afterwards his wife and baby daughter moved to live with Grace's mother and siblings in Okehampton. Meanwhile Percy remained in the capital and worked at Wimbledon Stadium.
He was killed on Sunday 6th August 1944 by a V-1 flying bomb at his home, 79 Westover Road in Wandsworth SW18. His was the only fatality from that street. At 4.45 p.m. that day the following telephone message was passed to Devon Constabulary by their London counterparts:
"Please inform Mrs. Brewer of No. 9 Leeholes Avenue, Okehampton that her husband Mr. Brewer has been killed by enemy action today at no. 79 Westover Road, Wandsworth. Body now lies at mortuary at Magdalene Road, Wandsworth. Please attend to identify and reply."
Three days later his employers, a co-operative of Wandsworth, Park Royal, Charlton and Mitchum Stadiums, wrote a letter of sympathy to Percy's wife stating:
"We shall feel his loss very, very deeply, as his kindly nature had made him a great friend of everyone with whom he came into contact."
Another letter from the firm's Mr. A. G. Williams included:
"I had the pleasure if knowing and working with Pete for over two year, and I found he had a sterling character and one which I greatly admired. I cannot adequately express in words my sense of personal loss."
Percy's wife travelled to London to collect Percy's body for burial in Devon. On 18th August 1944 The Western Times reported:
"Mr. Percy T. Brewer, Okehampton. The funeral took place at Okehampton on August 10th of Mr. Percy Thomas Brewer, aged 45, who was a victim of a flying bomb incident. Deep sympathy is extended to the young wife and tiny daughter, who are now residing at Leeholes Avenue, Okehampton. Mrs. Brewer is the youngest daughter the late Mr. J. Knight and Mrs. Knight.
The service at the Congregational Church was conducted by Rev. R. J. Frost. The hymns, " Abide with me" and "God moves in a mysterious way." were sung. Mrs. A. Tenby being at the organ.
The principal mourners were: Mrs. P. T. Brewer, widow: Mr. George Knight, Miss Elsie Knight, Mr. and Mrs. H. Knight, Mr. and Mrs. E. Dunscombe, Mr. and Mrs. E. Northcott. Mrs. P. Knight and Mrs. Knight, brothers-in-law and sisters-in-law; Misses Joan and Marie Knight, nieces: Mr. B. Hawking, uncle: Mrs. J. Muxlow. aunt; Mr. S. G. Knight (Dolton). cousin; Miss F. Hocking and Mrs. R. Brown, friends; and Mrs. F. Saunders (Chelmsford), sister.
Those unable to attend were: Mrs. J. Knight (mother-in-law). Rosemary, M. S. S. Knight. L.-Cpl. M. Knight, the two last-named being on active service.
Beautiful floral tributes were sent by the wife; Baby Janet: Dais (Chelmsford; Mum, brothers and sisters; nieces and nephews; Joan and Marie; all at Dolton; all at 6 Weirfield-road, Exeter; friends at the Stadium; Hilda. Charlie and Karl: Messrs. T. C. Westcott and Co.; Flo and Will (London): Mrs. Dyment and family; Mrs. Hanlen and family (Torquay); Mrs. Pudner and Annie; J and A. Rayment; E. Huxtable: Gwen (Dartford); Lily Wright; June: Mrs. Brock. George and Gladys; Mill and Joe: Bill and Joan; Mrs. H. Drew and family: Mesdames Mitchell, Tubbs, Bissett and Webber; Mr. and Mrs. W. May: Betty. Barbara and B. Allen; Eddie and Lena: Mr. and Mrs. Harris and Ruby; M. Lee and family. Mr. G. Moreton."
Percy left an estate valued at £685 18s 5d.
Percy's widow never remarried and died in Devon in 1993. He is commemorated on the Civilian War Dead Roll of Honour in Westminster Abbey, London.
151020

At the time he was described as a 'son' of his grandparents, while his mother was absent from the household - suggesting that a decision had been made for them to bring him up. Further evidence for this followed later - when his maternal grandparents died within five weeks of each other in the spring of 1928 reports of their funerals in Chelmsford newspapers also referred to Percy as their son rather than grandson. The reports also listed four daughters, one of whom was married to a Mr. F Barrett - she was Percy's mother, Lucy. No trace of her has been after 1928.
On 2nd June 1917 Percy enlisted into the Royal Naval Air Service (RNAS) for the duration of the war. At the time he was five feet ten and a half inches tall, had a 34.5 inch chest, brown hair, grey eyes and a fresh complexion. He was already working as an electrical engineer. The RNAS became the Royal Air Force on 1st April 1918, and Percy had the service number 229969. On 20th August 1918 he was a cadet with 4 Squadron, part of 8 Cadet Wing at 110 Marina, St. Leonard's-on-Sea, Sussex. He was demobilized on 21st March 1919.
On 1st June 1920 the Mayor of Chelmsford, James Gainsford Dixon, father of Leonard Frederick Dixon (commemorated by the town's Civic Centre war memorial), wrote the following reference for Percy:
"I am very pleased to be able to testify to the excellent character bourne by Mr. P. Brewer. He is every way a gentleman, and his private character will bear the strictest investigation. I have known him all his life and can recommend him to any position of trust."
It is not known for which employer the reference was written, but Percy subsequently followed a career as an electrician. At that time Chelmsford was home to the large electrical engineering firms of Marconi's and Crompton's and it may be that he commenced his career with one of them.
On 3rd February 1936 Percy began working for Standard Telephones and Cables Ltd. when living at 34 Marlborough Road in Newport, Monmouthshire. Over the following four years he travelled to, and worked in, many towns and cities across England working on telephones and installing equipment for the Government owned bookmaker 'The Tote', which had been established in 1929.
On 27th March 1937 Percy, then aged 37, married 26 year-old Edna Florence Grace 'Grace' Knight at Ebenezer Chapel in North Lane, Okehampton in Devon. At the time he was an electrician living at 9 Leeholes Avenue in Okehampton. On the marriage certificate his first name was recorded and signed as 'Percival', before being corrected. His bride also lived at 9 Leeholes Avenue, her parents' house. She had been born in Okehampton in 1910, the daughter of John Knight, a decorator.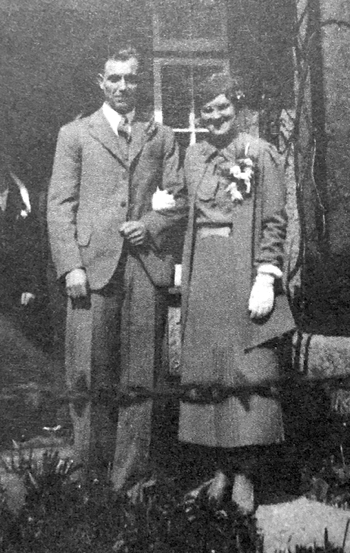 Percy was born in Chignall Road, Chelmsford (then part of Writtle civil parish) on 22nd April 1899, the son of the single woman Lucy Brewer (born in 1879). In his adult life he was known as 'Pete'. Lucy's brother, James Brewer, was killed in 1917 and is commemorated on Chelmsford's Civic Centre War Memorial.
Percy was baptised at St. Mary's Church, Chelmsford (today's Cathedral) on 16th July 1899, with no father's name recorded in the baptisms register.
Two years later the 1901 census found two year-old Percy living with his mother, maternal grandparents and three of his mother's siblings in Chignall Road. His mother was then a 21 year-old domestic servant.
A 1908 Chelmsford newspaper report mentioned a Percy Brewer who was one of 2,000 children competing in the school children's sports competion at the Recreation Ground in Chelmsford. He was third in the fifth egg and spoon race for boys 7-10 years, and attended Victoria Boys' School in New Street, Chelmsford.
In 1911 the census recorded eleven year-old Percy living with his maternal grandparents and two of his mother's siblings at 1 Springfield View in Broomfield.