Charles Richard BRETT, Civilian
Killed during air raid on Hoffmann's factory, Rectory Lane, Chelmsford. Aged 40
Charles Richard Brett was a Londoner who married there in 1925 and went on to have three children - the latter two were born in Wickford where the family moved to by 1928. Charles worked in the building and decorating trade and by 1942 was travelling from his home in Wickford to work at Chelmsford's massive Hoffmann's bearing factory. He died at the factory in July 1942 when a lone German aircraft bombed Hoffmann's in a daring early Sunday morning raid.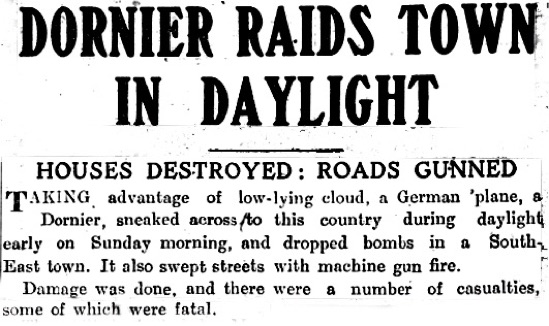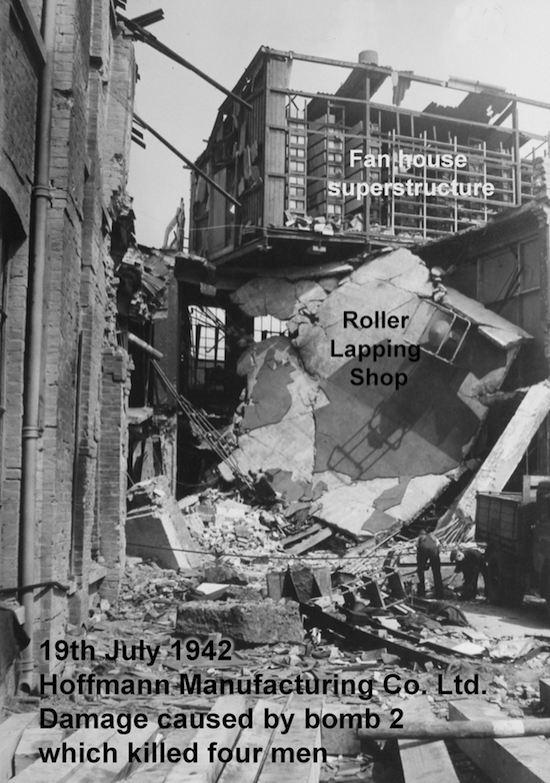 Charles was born at Bellevue, North Worple way, Mortlake, Surrey on 24th April 1902, the son of Thomas Friend Brett and Ann Brett (nee Hall).
Charles' parents had married in Middlesex in 1889.
Charles' siblings included: Thomas George Brett (1890-1904), Robert Edward Brett (1892-1915), Philip Albert Brett (born in 1895), John Adolphus Brett (born in 1896), Herbert Archibald Brett (born in 1899) and Annie E. Brett (1900-1905).
Charles' mother died in 1905. Six years later the census found eight year-old Charles living with his father and his four surviving siblings at 23 North Worple Way in Mortlake. At the time his father was a metal turner. In 1916 Charles' brother Robert died from wounds while serving with the 1/6th Battalion of the East Surrey Regiment.
In 1925 Charles married Violet Hilda Mary Mash in Mortlake. The couple had five children and moved to Wickford. Their children were: Thomas Charles Brett (1925-2013), James Brett (1927-1954), Muriel Alice Brett (1928-1934), Phillip Brett (1931-2016), and Gladys Brett (1935-1987).
Charles worked in the building and decorative trade in Wickford and was for a time honorary secretary of the South East Essex Goat Club.
In June 1942 Charles' father died in Surrey. At the time Charles was living at Nubian Lodge, Oakhurst Drive in Wickford, and working at Hoffmann's, the ball-bearings manufacturer with a large factory in New Street and Rectory Lane in Chelmsford. The factory was a natural target for the German Air Force which bombed the site on several occasions.
On 19th July 1942, around 6.15 a.m., a lone German Dornier Do 217 aircraft performed a precise and daring low level daylight attack on Hoffmann's. The aircraft approached the factory from the south-east over Victoria Road and the railway embankment, and with machine guns blazing it released four 500 Kg SC high explosive bombs before making off into the clouds. Three of the bombs scored hits on Hoffmann's, whilst another went astray and exploded amongst residential properties in Rectory Lane.
Four workers were killed at Hoffmann's by a bomb that struck the roller lapping shop - amongst them was 40 year-old Charles. The dead were: James Aloysius Brennan, Charles Richard Brett, Daniel Gannon, and Walter Patrick Moffatt.
He was subsequently buried in Wickford. His widow died in 1982.
In December 1946 a memorial garden was dedicated at Chelmsford Borough Cemetery to the Hoffmann workers who had lost their lives as a result of enemy action during the war. A memorial plaque was also erected in the factory's canteen and a memorial service was held at Chelmsford Cathedral. The Essex Chronicle reported:
"CATHEDRAL WAS CROWDED FOR MEMORIAL SERVICE MEMORIAL service was held last night at the Cathedral for thirty-six members of the Hoffmann Manufacturing Co.. Ltd., who lost their lives through enemy action while at work on the 19th December 1944, 19th October. 1942; and 19th July 1942. The plaque, to be hung in the works canteen, was dedicated by the Provost, Very Rev. W. E. R. Morrow, who read out the complete lisl of names. was assisied the Precentor.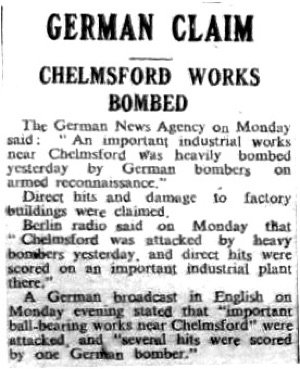 The large congregation included managing directors of the company, fellow workers, and bereaved relatives.
Dr. J. Roland Middleton was at the organ, and the lesson was read by an official of Hoffmann's. The choir of Hoffmann Company gave a special rendering of My soul, there is country. Other hymns were Rod of ages and Abide with me. Psalm 23 was sung.
The impressive service dedication of the Memorial Garden was conducted by the Provost and the Rev. Herbert Stock, Congregational minister. The Provost dedicated the Garden with the words: "This Garden dedicated to the memory the employees of the Hoffmann Manufacturing Co., Ltd., who lost their lives in enemy action, 18 of whom are buried here. 'On the day when make My jewels, they shall Mine.'
Magnificent wreaths chrysanthemums and evergreens were placed in the Garden by representatives of Hoffmann's — Miss Holden, and Messrs. Talboys, Heiner, Johnson, Strutt. and Ameiy. During the ceremony the Union Jack flew at half-mast in the snow-covered Garden. Afterwards bereaved parents placed their own individual wreaths on the graves. Among the large gathering was the Mayor (Aid. A. VV. Andrews).
Relatives of those who had lost their lives returned to Hoffmann's for tea and inspect the memorial plaque. The plaque, which is of stainless steel on a polished wood base, was designed and made in the Works. The inscription reads: 'To the memory of the men and women ot this Company who lost their lives by enemy action while work: July 19, 1942; October 19, 1942: December 19. 1944 "; and at the base, 'They died in the service of their country.'
The names on the plaque are : James Brennan, Charles Brett. Daniel Gannon, Waller Mollatt, Edward Miller. Frederick Birt, Albeit Radley; Leonard Outtcn. Winifred Johnson, Arthur Jackson. Emily Harvey, Edith Everett, Charles Mollis, Marjorie Scott, Dorothy Hancock. Joan Munson, William Thorpe. Cissic Dcvcnish. Catherine Murphy, Muriel Outten. Henry Brown, Harold Foley. Arthur Seager. Muriel Mullender. Alfred Stuart-Smith. Annie Stcrry, Phyllis Evans, Vera Baker. Winifred Boyce, Constance Franklin. Leonard Bailey, Lilian Home, Edith Piper. Edward Driscoll, Barbara Thorogood, Joyce Phillibrown."
181019
Photograph courtesy of David Brett and Jennifer Byrne.