honours) at Northampton Polytechnic. Later he became a member of the Institute of Electrical and Electronic Engineers.
During the Second World War Bertram served as a Sub-Lieutenant at H.M.S. Daedalus, the shore based headquarters of the Royal Navy's Fleet Air Arm at Lee-on-Solent in Hampshire, having joined the service late in 1941.
With his electrical engineering background it is thought that Bertram was involved in research into radar.
At 7.15 a.m. on 20th April 1942 Bertram was in Station Road, Swanage in Dorset when the town was subject to a 'tip and run' attack by the German air force. A single bomb was dropped, accompanied by machine-gun fire, fatally injuring Bertram.
On 24th April 1942 the Essex Chronicle reported:
"On Monday evening a telegram arrived at 126 Swiss Avenue, Chelmsford from the Admiralty. It read: 'Deeply regret to inform you your son, Sub-Lieut. B. T. A. Ewers, killed by enemy action'. And so the news came to Mr. and Mrs. T. W. Ewers that their only son had died.
The next morning, Tuesday, the postman brought a letter from Bertram, written on Sunday, saying he would probably be home soon. That was the hardest of all to bear. He wrote that he did a lot of walking now, and when he came home he would take some civilian clothes with him.
He had been home only the weekend before. The he asked his mother if he could take back some of her home-made jam. 'He was always so interested in everything I did', his mother said, 'and I always used to make a lot of jam, because he loved it so.' And she showed me the notebook in which she keeps a record of the jam, as she had shown it to her son, and asked him which he would like best.
And he had laughed, and said he did not know which to choose. 'You'd better do it mum', he said.
At school he was a brilliant scholar. He was always the youngest boy in his class. At fourteen he matriculated, at sixteen he took the higher school certificate.
Bertram Thomas Albert EWERS, Sub-Lieutenant, H.M.S. Daedalus, Royal Naval Volunteer Reserve
Fatally injured in an air raid in Swanage, Dorset. Aged 23
Then, though his parents would have liked him to stay on at the Grammar School, he left and took a job in the research department of a factory. Four or five nights a week after he came home from work he would pick up a package of sandwiches and go off to the Northampton Polytechnic, where he later took a science degree. Although he only attended evening classes, when he left he was awarded the prize for the best all-round student.
'He liked getting over things', his father said.
He did not have much spare time, he worked so hard. The little he had he spent with the Pathfinders, or on a yacht at Osea Island, which he and three friends had bought between them. Then he joined the Arts Theatre Group, and played the Archbishop of Canterbury in 'The Rose Without a Thorn'. 'And he was far more frightened of that than any of his exams. Exams did not frighten him, he was always so calm'.
He joined the Navy five months ago. he had been trying to for twelve months previously, but he was engaged in important work, his occupation was reserved, but he was determined. 'if my work is important here, it will be doubly so in the Navy', he would say, and at last he went. He never talked about what he did. But he kept a diary, and now his parents will know. When he went away the first time they asked him what he would like for a present. He asked for a Bible, and kept it always by the side of his bed.
On March 29 he was twenty-three. His mother made a cake for him. She intended to send it to him, but he managed to come home. He was an usher at a wedding the same day, and shortly afterwards his mother was introduced to another guest in these words: 'You remember that handsome young
Bertram Thomas Albert Ewers was born and brought up in Chelmsford, the son of a engineer's fitter who worked for over 40 years at the town's Hoffmann's bearings factory. Bertram was educated at Chelmsford's grammar school and later studied at the University of London and Northampton Polytechnic, gaining a B.Sc. at the latter. During the war he joined the Royal Navy and was involved in research work. He was killed in Swanage in Dorset in April 1942 when a single German aircraft performed a 'tip and run' raid on the town. His home was in Swiss Avenue, Chelmsford.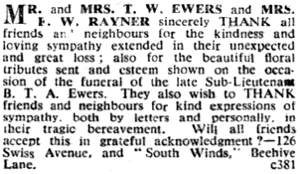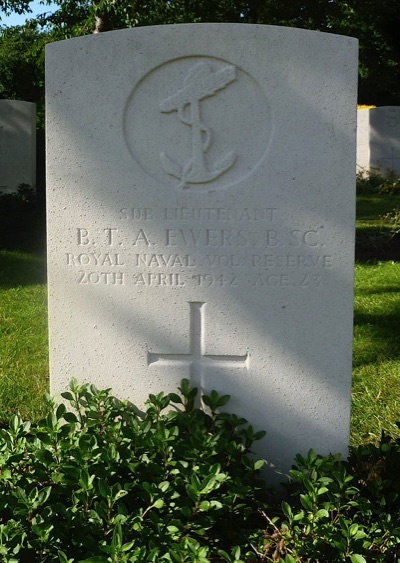 Bertram was born in Chelmsford on 29th March 1919, the only son of Thomas William Ewers and Margaret Frances Ewers (nee Thomas).
The couple had married at St. Mary's Church, Chelmsford (today's Cathedral) on 24th August 1907. At the time Bertram's father was a 25 year-old mechanic, living at 6 Broomfield Road in Chelmsford. His bride was four years younger and lived at Hill House in Little Baddow.
Bertram had an elder sister, Edna Margaret Ewers, born in 1915.
His father worked at Chelmsford's Hoffmann's bearings factory for more than 43 years.
Bertram's uncle, Arthur Evan Thomas, lost his life in 1919.
Bertram was a gifted student. After education at King Edward VI Grammar School in Chelmsford he passed the Intermediate Examination in Engineering at the University of London late in 1936. He then obtained a B.Sc. (1st class
naval officer at the wedding? Well this is his mother."
While I was talking to the parents another telegram came asking whether they would prefer a Service funeral with honours or a private one at home. 'A Service funeral with honours. I think he deserves it', his mother said.
But a private one at home means that the father and mother will be able to take flowers to the grave more often than if it were at his base. So he will make his last journey through his home town, where he has spent all his young life.
The funeral of Sub-Lieut. Ewers will take place tomorrow (Saturday), a service at the Cathedral at 3.15 p.m., to be followed by interment at Writtle Road Cemetery."
Today Bertram lies in grave 5701 in Chelmsford Borough Cemetery, in Writtle Road, Chelmsford. His epitaph reads" "Loved In Life Loved in death A Beautiful Memory Left Behind."
He is commemorated by the King Edward VI's Grammar School War Memorial.
Bertram left an estate valued at £307 27s. 2d.
His father died on 29th March 1946; his sister in 1969, and his mother in 1971.
140630