James Robert 'Jim' Farrow was born in Suffolk in 1923, the son of Robert Henry Farrow (1899-1958) and Beatrice Farrow (nee Allum) (1903-1993). His parents married in Suffolk in 1921, and produced at least two siblings for Jim; William Farrow (born 1921) and Albert William Farrow (1925-1941). The latter was born in Chelmsford, suggesting the family arrived in the town around 1924.
He was educated at King's Road School in Chelmsford and afterwards was employed at the Regent Theatre in the town.
In 1941 Jim's brother, Albert William Farrow, died at work, aged 15.
During the Second World War Jim served in the Royal Air Force. He was posted from 51 Base to 61 Squadron on 18th June 1944. He then participated in the following operations: 21st June 1944 - Gelsenkirchen, 27th June 1944 - Vitry, 4th July 1944 - St Leu de Esserrent, 7th July 1944 - St Leu de Esserrent, 12th July 1944 - Culmont, 18th July 1944 - Caen, 18th July 1844 - Revigny, 20th July 1944 - Coutrai, 23rd July 1944 - Kiel, 24th July 1944 - Dinges. and 25th July 1944 - St Cyr.
James Robert FARROW, Flight Sergeant , 83 Squadron, Royal Air Force Volunteer Reserve
Killed in air operations over Germany. Aged 21
At 5.07 p.m. on 8th February 1945 Jim was Flight Engineer on board a Lancaster Mk.III (serial number ND696), hull code OL-O, which took off from Coningsby in Lincolnshire for a raid on Pölitz near Stettin. The other crew members were: Flight Lieutenant (Pilot) 174301 Derrick George Bates (aged 20), Pilot Officer (Navigator) 189608 Augustus Michael Burnard Hughes (aged 23), Flight Lieutenant (Airbomber) 425118 Gordon Oliver Cameron (Royal Australian Air Force) (aged 23), Flight Sergeant 1238674 (Wireless Operator/Air Gunner) Frederick William Cotton (aged 22), Flying Officer (mid-upper) 157571 J. Fletcher and Flight Sergeant (rear gunner) 1836447 D. Hancock.
Jim's aircraft was shot down by a night fighter and crashed 9.45 p.m. near Papendorf, three kilometres west of Lassan in Mecklemburg-Vorpommern killing Jim and four of the other six men on board. Jim was 21 years old. The two air gunners were survived and were taken prisoner of war: Flying Officer J. Fletcher and Flight Sergeant D. Hancock.
The raid on Politz involved 475 Lancasters and 7 Mosquitos of Nos 1, 5 and 8 Groups. Jim's was one of a dozen Lancasters lost, 1 of them coming down in Sweden. The attack took place in 2 waves, the first being marked and carried out entirely by the No 5 Group method and the second being marked by the Pathfinders of No 8 Group. The weather conditions were clear and the bombing of both waves was extremely accurate. Severe damage was caused to this important synthetic-oil plant. It produced no further oil during the war.
At the time of his death Jim had served for nearly four years and was the veteran of 29 operations. His parents were then living at 15 King's Road in Chelmsford. Confirmation of his death did not reach Chelmsford until November 1945.
Today the five crewmen killed rest in Berlin 1939-1945 War Cemetery, with Jim in grave 8. E. 24.
140629
James Robert 'Jim' Farrow arrived in Chelmsford from his native Suffolk as a baby. From King's Road School he went to Chelmsford's grammar school and later went to work in tha town at the Regeent Theatree. He joined the R.A.F.'s Bomber Command and in June 1944 was posted to 61 Squadron and two months later moved to 81 Squadron where he participated in many operations. He was killed in February 1945 when his aircraft was shot down over Gemany during a raid on Pölitz. His home was in King's Road, Chelmsford.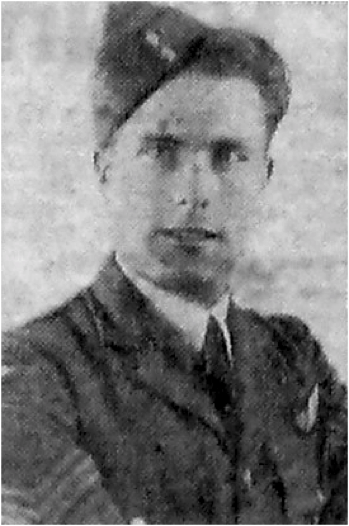 On 6th August 1944 Jim was transferred to 83 Squadron where he ultimately became a Flight Sergeant (service number 1339259). He then participated many operations including: 18th August 1944 - Bremerhaven, 19th August 1944 - Munchen Gladbach, 23rd August 1944 - Munster, 27th August 1944 - Kaiserlauten, 4th November 1944 - Ladbergen, 21st November 1944 - Ladbergen, 13th December 1944 - Horten (attack on warships Emden and Koln), 18th December 1944 - Gdynia, 28th December 1944 - Horten, 31st December 1944 - Horten, 5th January 1945 - Royan, 7th January 1945 - Munich, 1st February 1945 - Siegen, and 7th February 1945 - Ladbergen.