Thomas was born in New York State in the United States of America on 5th April 1920, the son of Michael Goergen (1881-1962) and Florence Goergen (nee Wehrfritz) (1885-1972). his siblings included James Goergen (1910-1910), Martha B. Goergen (1912-1965), Mary Cecelia Goergen (1913-1986), William Richard Goergen (1915-1975) and Jane Loretta Goergen (1923-1998).
In 1930 the United States census found nine year-old Thomas living with his parents and six siblings in Buffalo, New York. At the time his father was a house painter.
He enlisted 'or the duration of the War or other emergency, plus six months, subject to the discretion of the President or otherwise according to law' at Fort Niagara, Youngstown, New York on 5th February 1942. At the time he was described at the time as having four years' if high school education, was single without dependents, and was semi-skilled in the painters, construction and maintenance industries. His home was in Erie County, New York State.
Thomas served as Private 32212798 in the Headquarters Company of the 816th Engineer Battalion, U.S. Army Air Force where he was a sign writer.
Thomas Aloysius GOERGEN, Private, 816th Engineer Battalion, US Army Air Forces
Killed in an air raid on Chelmsford. Aged 23
According to another source Thomas was killed by a bomb splinter, suggesting he died as a result of an explosion. That source also gave his home address as 613 Bell Street, Buffalo, New York, U.S.A. Thomas was the first casualty suffered by the 816th Engineer Battalion during the war.
On 1st October 1943 the Essex Chronicle reported:
"Corporal Thomas A. Goergen, of the U.S. Army was killed when German aircraft raided Chelmsford last May. Corporal Goergen's home town was Charleston. in pretty Virginia. He was 23. one of his friends was young A.T.S., Gladys Jones. daughter of Mr. and Mrs. S. F. Jones, of New Street, Chelmsford. Then, after Chelmsford was raided in May Gladys saw no more of Tom. She thought that perhaps he had gone overseas. But surely, she thought, Tom would have told her. Gladys wrote to Tom's brother, Bill, in America. seeking news of Tom's whereabouts. Brother Bill's reply told her that Tom had been killed in Chelmsford by enemy action - that he had died 'while rescuing others from a public building'. For this Tom had been awarded the honour of the Purple Heart. With the letter was a photograph of Tom. Under it were the words 'His spirit will live on with those who fought for liberty. and he will be ever young who died to keep men free."
Today Thomas lies at the American Cemetery near Cambridge (Plot D Row 3 Grave 53).
120504
Thomas Aloysius Goergen came from New York State where he was a painter. He joined the United States military in February 1942 and arrived in England six months later to participate in the construction of an American aerodrome at Gosfield. He was killed in Chelmsford during or as a result of the heaviest air raid on the town in May 1943.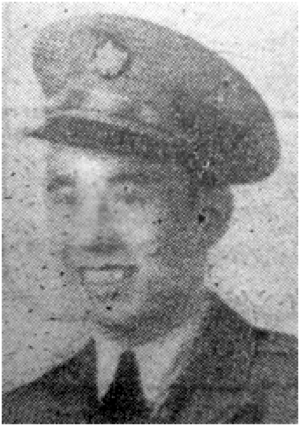 His unit arrived in England in August 1942 to begin construction of a aerodrome for the U.S. Army Air Force at Gosfield. In March 1943, most of the 816th's men were transferred to work on another new aerodrome, Andrew's Field before returning to Gosfield in May 1943.
On 14th May 1943, when aged 23 Thomas lost his life in Chelmsford. In the early hours of that day Chelmsford experienced what was to prove to be its heaviest air raid of the war. In a sharp attack that lasted for just over an hour, the German air force, the Luftwaffe, dropped a large number of high explosive, incendiaries and parachute landmines which caused extensive damage to residential, commercial and industrial properties in the town, and led to the deaths of more than 50 people.
A report in the Essex Chronicle said that Thomas died in hospital from injuries that he sustained whilst attempting to rescue a woman and two children from a bomb damaged house in Chelmsford.