Barry John Gowen, an only child, was born in Chelmsford in the early 1930s. By 1941 his father was working at Chelmsford s Hoffmann s bearings factory, and the family lived in a flat in Coval Lane. Barry was killed with his mother when their home was destroyed during a German air raid in May 1941.
Barry John GOWEN, Civilian
Killed in an air raid at Coval Lane, Chelmsford. Aged 9
The rescue services, consisting of three stretcher parties, four ambulances, a sitting case car, police wardens and fire brigade were quick to arrive on the scene. Five seriously injured and three slightly injured people were rescued from the wrecked flats. However, five bodies were recovered and a sixth was to die in hospital later. Some 244 properties in the area suffered some degree of blast damage.
Barry's father was called to the scene from work at Hoffmann's and waited for an hour before being told that his wife and son had been recovered dead.
The other deaths were Esther Meggy killed at 18 Coval Lane, Lucy Emma Coulcher killed at 22 Coval Lane, Winifred Kate Stokes killed at 28 Coval Lane, and William Howard, who was injured at 28 Coval Lane and died later in hospital. Ellen Barritt of 24 Coval Lane died on 29th May 1941 having been buried in her home until rescued.
Despite the large number of deaths in the Coval Lane incident and that at Marconi's New Street factory two weeks earlier, none of the emergency graves, which had been dug in the Borough Cemetery for such contingencies were required.
The Coval Lane bombing would prove to be Chelmsford's last major bombing incident for more than a year. Indeed there were to be just three more occasions when bombs would fall on the whole Chelmsford district in the rest of 1941.
Barry and his mother were buried at Braintree Cemetery on 27th May 1941 (grave: 7997).
110703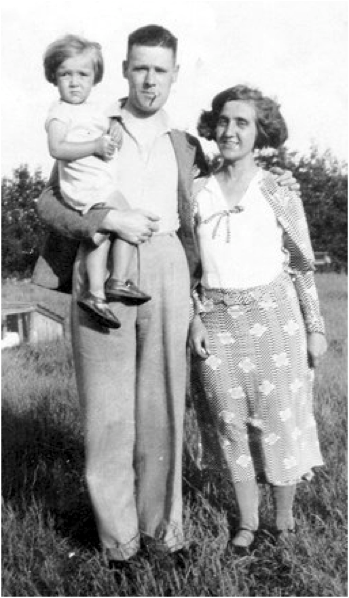 Barry was born in the Chelmsford District in 1931, the son of Arnold John Gowen and Winifred Gowen (nee Farrant). The couple had married on 11th April 1925 in Braintree.
At that time Barry's father, aged 23, was a turner living at 8 Church Street in Sudbury, Suffolk. His mother was also aged 23, employed as a viewer and lived at La Boiselle, Rayne Road, Braintree. The family are pictured left.
By 1941 Barry and his parents were living at 26 Coval Lane in Chelmsford, one of ten flats in a block on the road's western side. Barry's father was an employee at Hoffmann's ball-bearings factory in Chelmsford.
At 12.50 a.m. on 21st May 1941 Barry and his mother were two of six people who died as a result of a heavy calibre bomb dropped by a German aircraft onto the block of flats. What the intended target may have been is unclear. The resulting explosion demolished the flats. Sleeping residents, many of them elderly, were buried in the debris.