Joseph Charles O'Shea was born and brought up in Chelmsford. He was apprenticed at teh town's electrical engineers, Crompton-Parkinson's and married in 1936 shortly after completing his apprentiship, producing a son. Around that time he joined the Territorial Army and after the outbreak of the war joined the Army, becoming a member of R.E.M.E. on its formation in 1942. He became ill while posted to York and after five weeks died in a Newcastle hospital. His wife and son lived in West Avenue.
Joseph Charles O'SHEA, Staff Serjeant, Royal Electrical and Mechanical Engineers
Died from illness in Northumberland. Aged 28
in the 1960s.
Joseph's funeral service was held on 21st June 1943 at St. Peter's Church, conducted by Rev. D, Ford followed by interment at Chelmsford Borough Cemetery (grave 5687). His brother Frank was unable to attend as he was serving in the military in India. The Essex Chronicle reported:
"THE FUNERAL took place on Monday of Staff-Sergt. Joseph Charles O'Shca, of West Avenue, whose death occurred at the Newcast!e-on-Tyne Hospital on June 16, in his 29th year, after an illness of live weeks. He was the younger son of Mrs. J, Bates, of 4 Cramphorn Road, and before joining H.M. Forces at the outbreak of the war was engaged in the Fractional Dept. at Messrs. Crompton Parkinson's. He had recently transferred to the R.E.M.E's. He leaves widow and young son. Service at St. Peter's Church preceded the interment in the Square of Honour at the Writtle Road Cemetery, the Rev. D. Ford officiating. The mourners were: The widow ; Mr. and Mrs J. Bates, step-father and mother; Mrs. P. G. Butcher, mother-inlaw ; Miss O. Butcher. Mr. and Mrs. G. P. Butcher, Mr. and Mrs. C. Butcher, Mrs. F. O'Shea, Miss V. Butcher (A.T.S.), brothers-in-law and sisters-in-law; Mr. and Mrs. S. Rodgers, Mrs. S. Chadwick, uncle and aunts; Miss Chadwick, Mr. and Mrs. J. Knight, cousins; Mr. and Mrs. G. Algar and Mrs. F. Moules. —The undertakers were Messrs A. J. Andrews and Son, 20 Duke Street."
Joseph's widow remarried in 1949. His mother died in 1965.
110925
Joseph was born at 4 Cramphorn Road, Chelmsford on 2nd November 1914, the son of Cornelius Christopher O' Shea and Amelia O' Shea (nee Harris). The property remained his home until his marriage. Joseph's parents had married at St. Mary's Church, Chelmsford (later Chelmsford Cathedral) on 1st July 1911.
Joseph had an elder brother, Frank Christopher P. O' Shea (1913-1997).
Joseph's mother's brother, Thomas Harris was killed in 1918 in France and is commemorated by Chelmsford War Memorial, as was another brother, Alfred Harris who was mortally wounded in Gallipoli in 1915.
Joseph attended St. Peter's School in Primrose Hill, Chelmsford, but may have spent the last few weeks of his education at the newly opened King's Road School in the town.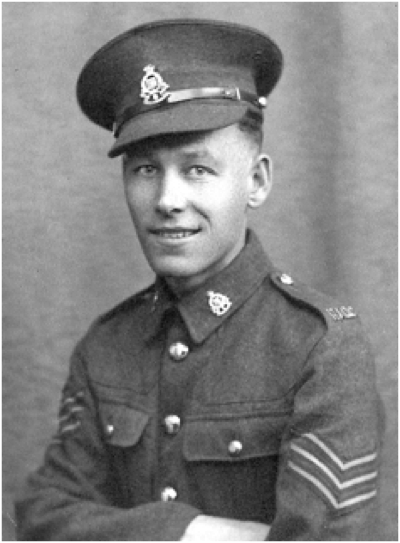 He was apprenticed at the Chelmsford electrical engineer's Crompton Parkinson's as an engineer's machinist. He qualified shortly before his marriage as a centre lathe turner.
On 30th May 1936 Joseph, then aged 21, married 21 year-old Ivy Butcher at Chelmsford Cathedral. At the time Joseph was employed as a turner and lived at 99 Ockelford Avenue in Chelmsford. His bride, the daughter of the plumber Percy Butcher, lived at 30 North Avenue in Chelmsford. The couple went on to have a son born in 1937. Later that year Joseph's father died at the age of 56.
It was around this time that Joseph joined the Territorial Army. His son would later recall his mother saying that the Territorial Army was a bit of a 'lads thing', occasional meetings, annual camp and an annual payment or 'bounty'.
It was his membership of the Territorial Army that took him into the Army. His son recalled that had it not been for that he would have been considered in a 'reserved occupation', and as such excused military service.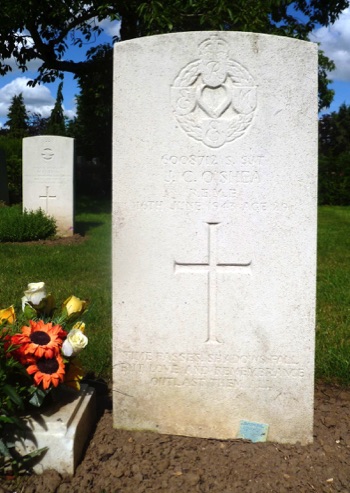 As a territorial Joseph was called up at the outbreak of the war. He began his service in the Royal Army Ordnance Corps (R.A.O.C.), gaining promotion to Sergeant. He was transferred to the Royal Electrical and Mechanical Engineers (R.E.M.E.) on its formation late in 1942 where he had the service number 6008712. He was further promoted to Staff Serjeant and posted to the Command Workshops in York. It was here he became ill with acute encephalitis (inflammation of the brain) which led to other complications. He was initially treated in York Military Hospital but as his condition worsened he was transferred to Newcastle where he died on 16th June 1943 having been ill for five weeks. Joseph was aged 28.
At the time of his death his wife and son were living at 88 West Avenue in Chelmsford, while his mother, who had been widowed in 1937, was living at 4 Cramphorn Road in Chelmsford with her second husband Joseph E. Bates. Cramphorn Road, which ran off Rainsford Lane, parallel and to the south of South Primrose Hill, no longer exists, having been redeveloped as Wheatfield Way